(RFE/RL) -- A leading member of the Russian human rights group Memorial has assailed derogatory comments Chechen President Ramzan Kadyrov recently made about slain activist Natalya Estemirova.
Memorial has blamed Kadyrov for the July 15 murder of Estemirova, the head of the organization's Chechen branch. But in an
exclusive interview with RFE/RL
, Kadyrov denied any responsibility for the killing and said Estemirova was a woman without "honor or sense of shame."
"If they say that Kadyrov or his people are to blame, let them prove it," Kadyrov said. "Why would Kadyrov kill women that no one needs?"
Aleksandr Cherkasov, a member of Memorial's Executive Committee, tells Veronika Bode of RFE/RL's Russian Service that Kadyrov's remarks served to reinforce his conviction that Memorial made the right decision to stop its work in Chechnya in the wake of Estemirova's slaying.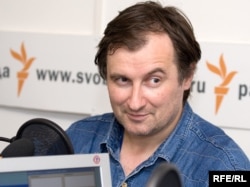 Aleksandr Cherkasov
"Our decision to stop work in Chechnya was correct. Because as Ramzan Kadyrov's comments illustrate, carrying out work that is not complimentary of the authorities or in some way displeases them can be life-threatening," Cherkasov says.
Cherkasov also chided Kadyrov by noting that his comments about Estemirova strongly resembled remarks by Russian leader Vladimir Putin three days after the October 2006 murder of Anna Politkovskaya, whose influence Putin dismissed as "extremely insignificant."
"Putin made a similar statement about the killing of Estemirova's friend, Anna Politkovskaya, right away. It took Kadyrov three weeks to come up with the same comment," Cherkasov says. "Kadyrov's comments say more about him than about anything else."
As the head of the Chechen branch of Memorial, Estemirova had been a staunch critic of Kadyrov. Witnesses reported seeing her being forced into a car near her apartment in Grozny on July 15. Her body was found in Ingushetia hours later. She'd been shot in the head.
Days later, Memorial announced that it would suspend its work in Chechnya, citing an unacceptable level of danger to its workers.
Cherkasov insists that Memorial is not giving up on Chechnya and adds that by suspending its work the venerable organization is also making a statement about the human rights situation in the North Caucasus republic, where kidnappings and contract killings are rampant.
"The absence of reports [on the human rights situation] from there probably speaks louder than regularly giving negative information," he says. "It says the problem there is bigger than we can show without risking people's lives. I am not prepared to be brave on somebody else's behalf."
No arrests have been made in Estemirova's killing. Memorial officials have called for the investigation to be taken out of the hands of officials in Chechnya and placed directly under Moscow's control.
Cherkasov tells RFE/RL that Chechnya is plagued by a culture of impunity that will hamper a serious investigation of Estemirova's killing.
"Most of these cases are opened and after two months they are closed because they could not find people who could be held legally responsible for the crime," Cherkasov says. "I hope that this will not meet the same fate of thousands of others and that it will be investigated."