It is arguably modern Europe's flagship ideal: the freedom to move across borders and seek a better life elsewhere.
But in the Europe of Nicolas Sarkozy, Silvio Berlusconi, and others, the privilege has its limits -- and its paradoxes. Effectively excluded, it seems, is the one group singly most identified with a nomadic and peripatetic existence: the continent's 10 million-strong Romany population.
The expulsion in the past month of at least 1,000 Roma from France highlights an issue that has been simmering for years. It also challenges the European Union's benevolent self-image as a bastion of open borders, ethnic integration, and nondiscrimination.
The sight of impoverished citizens reluctantly exiting one of the EU's founding states to return home to Romania also coincides with a worrying rise across the continent of the far right, which has capitalized on a fear of immigration and racial minorities to burrow its way into the political mainstream.
The trigger for a dispute that has sent shock waves throughout the EU was provided by a leaked memo from the French Interior Ministry. The memo confirmed that Roma were being deliberately targeted in official French raids aimed at dismantling traveler camps.
Disclosure of the memo -- which suggested France was breaking European laws by singling out a group based on ethnicity -- provoked a furious response from the European Commission. Viviane Reding, the justice commissioner, called the Roma deportations a "disgrace" comparable to the treatment of Jews during World War II.
That prompted a sharp riposte from Sarkozy, the French president, who called on Reding's native Luxembourg to accept the unwanted Roma and demanded an apology for the analogy with Jewish persecution.
'My Personal Backing'
The argument dominated last weeks' EU summit in Brussels and produced a
heated exchange
between Sarkozy and Jose Manuel Barroso, the commission president. Barroso supported Reding's assertion that France had breached European laws.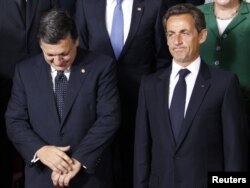 European Commission President Jose Manuel Barroso (left) had words with French President Nicolas Sarkozy over the Roma issue at last week's EU summit in Brussels.
"The commission position is clear. Community law has to be respected," Barroso told journalists. "The prohibition of discrimination based on ethnic origin is one of the European Union's most fundamental values. And the European Commission will do whatever is necessary to ensure the respect for this principles. Vice President Reding has made this clear and she has done so with the full backing of the colleagues and with my personal backing."
More importantly, perhaps, the succession of barbed exchanges overshadowed the fact that France's expulsion of Roma who had traveled west from relatively new EU member states such as Romania and Bulgaria has been continuing for some time -- and is mirrored by the policies of other countries.
Some 8,000 have been expelled from France so far this year, while more than 10,000 were deported in 2009.
Italy pre-dated France in provoking an international outcry in 2008 when Berlusconi's government proposed mass fingerprinting of its Romany community after declaring it to be a security threat. The idea was subsequently dropped amid widespread condemnation, but forced evictions have continued and Berlusconi, Italy's prime minister, made a point of backing Sarkozy at last week's summit.
Elsewhere in July, Denmark sent 23 Roma back to Romania and Sweden expelled 50. In July last year, Germany paid more than 100 Roma to return to Romania.
Widespread Stereotype
Politicians such as Sarkozy have justified their policies by arguing that traveler camps have become breeding grounds for petty crime and prostitution. Romany communities have also been accused of exploiting the benefits systems of the richer EU states while contributing nothing to society.
Feeding such rationalizations is a widespread stereotype of Roma that includes children begging at railway stations and gangs of organized pickpockets on public transport and in major thoroughfares.
As against that, advocacy groups say widespread discrimination in the Eastern European countries from which they come has reduced many Roma to underclass status and forced them to travel west in search of better conditions. Campaigners also say France is guilty of hypocrisy in restricting the rights of immigrant Roma to work and then accusing the community of scrounging off the welfare state.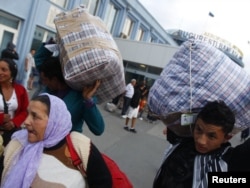 A Roma family arrives in Bucharest on a flight from Marseilles earlier this month.
Yet according to Michele Mezard, of the France-based Romeurope campaign group, the circumstances Romany migrants experience in shantytowns and squatter camps in France are still an improvement on the lives they have escaped in Romania.
"In Romania, they cannot get a job and they can't earn a living," says Mezard. "In France it's also difficult, because they don't in practice have access to the labor market. But they still manage to have parallel economic activities -- I would say -- which allow them to have sufficient resources."
French 'Dialogue' With Roma
The intensity of discrimination in France is also mild compared to Romania, she says.
"[In Romania] discrimination is a daily problem, with people being put aside into ghettos and they don't speak to those who are not Roma," Mezard says. "In France, however, there's a dialogue with the French population."
Others dispute the picture of Roma as a socially excluded community as one-dimensional and based on unrepresentative -- and often racist -- impressions. Rob Kushen, director of the Budapest-based European Roma Rights Center (ERRC), says it overlooks the many individual Roma, including trained professionals, who lead "productive lives."
"If you ask a person in Paris what is your experience of the Roma, the only experience they know about or have seen is a Romany child begging at the subway station," argues Kushen. "But that ignores that fact that there are many travelers and Roma in France who are leading productive lives."
He cites the example of a Bulgarian Romany family who recently felt forced to leave France even though the woman of the household had been working in regular employment for seven years and was living in an apartment in Paris.
"These are the people that you don't see; they're less noticeable," Kushien adds. "You don't see or notice the Romany lawyers that are working in the ERRC office in Budapest."

Far-Right Resurgence
The Roma controversy has coincided with a resurgence of the political fortunes of the far right, with anti-immigrant parties polling strongly in recent elections in the Netherlands, Austria, Italy, and -- on September 19 -- in Sweden, where the right-wing Sweden Democrats party
won 20 seats
to enter parliament for the first time.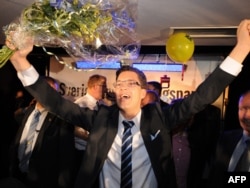 Jimmie Aakesson, leader of the far-right Sweden Democrats, celebrates after the results of the country's parliamentary elections.
Richard Howitt, a British Labour member of the European Parliament, blames the trend on mainstream politicians pandering to racist agendas in an unprincipled scramble for votes -- a phenomenon he says has made groups like the Roma easy prey.
"I am afraid even in my own country, Great Britain, there has been the rise of the far right and I have to say, those of us that are in the mainstream in politics deserve to be told we have some responsibility for it," says Howitt, "because there has been too much pandering to racist sentiment, sometimes covered up into code."
In Austria, Howitt points out, one-third of the population voted for the far-right party in recent elections.
"The main reason is that all the mainstream parties have pandered to racist sentiment and legitimized the far right and therefore given the choice, people went for the extremist party," he says. "At some point, you draw a line in the sand and you say whatever the populist motive, if something is wrong it's wrong. And what France has done is wrong."
If the present unsavory politicking can produce anything positive, according to Jean-Denis Mouton, director of the European Center at the University of Nancy in France, it is a better EU-managed policy to combat anti-Roma discrimination in Romania and Bulgaria. But even if that happens, Mouton warns, the expulsion policies of France and others may have done lasting damage to one of the EU's most basic freedoms -- that of movement.
"What is particularly worrying on this issue is that until now we had the impression that these type of reactions involved issues -- let's say -- rather peripheral, as opposed to the core of the European construction," says Mouton. "[But in the Roma-France] issue, we are dealing with a fundament of the union's law -- the people's freedom of movement.
"It's a twist which concerns one of the fundamental freedoms on which the European Union developed. This is what's particularly dangerous [because] it threatens to affect what constitutes the fundaments of the European construction."
RFE/RL correspondent Antoine Blua contributed to this story