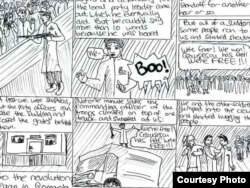 VIEW: Click on image to read Alida Tomiuc's "graphic novel" recounting the events of 1989 through her parents' eyes.
In late 2004, I was surprised by a request for an interview on how I remembered the 1989 Romanian Revolution 15 years earlier. I was perhaps most amazed that the person doing the requesting -- or demanding, rather! -- was my own daughter, then nearly 15 years old.
The catch was that it was to be part of a school project. Students were to draw a graphic novel based on someone else's account of a historical event.
The project was inspired by Art Spiegelman's Pulitzer Prize-winning autobiographical graphic novel "Maus: A Survivor's Tale." "Maus" depicts Spiegelman's father's struggle to stay alive as a Polish Jew during the Holocaust.
My daughter told me that the stories that my wife and I had told her about the final days of communism in Romania sounded a lot like "Maus."
There was another reason my daughter, Alida, chose December 1989 as her theme: She had participated indirectly in the events, as my wife was pregnant when guards pointed a rifle at her on December 22, 1989.
I kept a copy of my daughter's project, which shows how the next generation regards the dramatic events that led to the collapse of Nicolae Ceausescu's hated dictatorship.
It all starts with that cold and gloomy night of December 17, 1989, on a railway platform in Brasov, Romania...
-- Eugen Tomiuc