ZAVYALOVO, Udmurt Republic -- Farid Valitov, the head of a large farm in this Volga district republic, stands in the middle of a field filled with wilting stalks of feed corn.
Pulling one from the parched ground, he looks dejectedly at its stunted roots and says this summer's record-breaking heat wave will have dire consequences for his farm and livestock.
"There's nothing here. Rain wouldn't even help at this point. There won't be any food to feed the animals," says Valitov, who tends more than 800 cows and 1,700 other animals on his farm. "We're trying to find as much hay for them as we can. As of today, we're about 60 percent short on feed, so we'll have to cull almost half our livestock. It's going to be a hard winter. Our farm has already lost 41 million rubles."
It's a familiar refrain throughout Russia and many of the former Soviet republics, where weeks of extreme weather -- most notably heat and drought, but also flooding and windstorms -- have killed crops and dramatically cut harvest forecasts.
Deadly Blazes
In Russia, the unrelenting heat -- with temperatures reaching as high as 39 degrees Celsius -- has caused more immediate challenges. Most notably, it has sparked dozens of massive forest fires that have destroyed hundreds of houses and killed at least 34 people in a number of Russian regions, including the Moscow suburbs.
"There are nearly 150 fires a day," said Igor Vlaznev, the head of a firefighting unit in the Voronezh region some 500 kilometers south of Moscow, in an interview with Reuters. "All of them are caused by dry grass, dry forests. The fires spread through villages, farms, agricultural fields."
The Kremlin says the cost of fire damage could soar into the billions of rubles. Prime Minister Vladimir Putin, consoling residents in the fire-ravaged Nizhny Novgorod region, has pledged to reconstruct all destroyed homes by winter.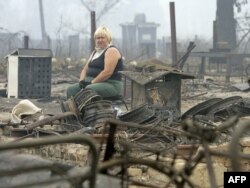 A woman sits surrounded by the remains of her home in the Russian village of Mokhovoye on July 31.
But even if the government makes good on its promise to rebuild lost homes, it faces innumerable other challenges as a result of the hottest temperatures on record in 130 years.
Some 2,000 people have drowned this summer seeking respite from the oppressive temperatures. And growing numbers of people -- many of them nursing-home residents or prisoners kept in stifling conditions -- are reportedly dying as a result of the heat.
Russian officials have refused to release statistics on how many people may have died as a result of heat exhaustion, and journalists have reported being turned away from hospitals reluctant to discuss the human cost of the extreme weather.
The growing crisis -- reminiscent of the 2003 heat wave in Western Europe, which caused the death of 15,000 mainly elderly people in France alone -- may present the Kremlin with uncomfortable questions as the broader consequences of the heat wave become clear.
Grim Harvest
There is also the looming reality that the country is facing one of the worst harvests in recent memory. Authorities have acknowledged that yields of the country's most significant crop, wheat, will drop dramatically this year. Russian grain producers have forecast a 20 percent drop in the nation's grain harvest, a dip that may force officials to cut back lucrative wheat exports by as much as half, from 18 million tons to 9.5 million.
The slimmed-down export forecasts for Russia -- one of the world's biggest wheat exporters -- have sent global wheat prices soaring and proved a boon for American wheat suppliers, prompting at least one disgruntled Russian academic to speculate that his country's heat wave had been masterminded by the Pentagon.
Indeed, some of the temperatures have been so extreme it's easy to see why
conspiracy theories about Western climate-tampering
could readily gain currency. Siberian outposts that have recorded some of the world's coldest temperatures are now experiencing protracted bouts of 32-degree weather. In the central Kirov region, temperatures have edged towards a baking 50 degrees.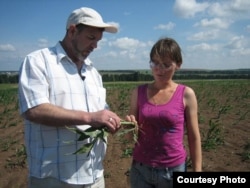 Farid Valitov (left) says the drought will have dire consequences for his farm.
Mansur Nasipov heads the Kalinino agrofirm in the Kirov town of Malmyzh, says if things continue the way they are, "no one will be left alive" at the region's collective farms.
"Today the temperature here is 47 degrees," he said. "Everything has simply dried up. There's not a patch of green anywhere. Not a single gram of water is left in our well. In the morning it's possible to draw three or four buckets, but after that there's no water."
Price Hikes?
A state of emergency has been declared in 23 regions because of the drought, with conservative estimates stating that the dry spell has already devastated nearly one-fifth of all farmland. The crisis has inevitably prompted fear of price hikes as grains for bread and feed grows scarce.
The Kremlin appears determined to fight off the bugbear of higher food prices and the political liability they represent. Deputy Prime Minister Viktor Zubkov, who heads a working group tasked with monitoring the consequences drought, has confidently stated there will be no food shortage and that fears of price hikes have "no economic foundation."
But some are skeptical. "I think we can expect prices to go up," says Ruslan Grinberg, the director of the economic institute at the Russian Academy of Sciences. "It's clear that the authorities should always radiate optimism, and it's clear that the deputy prime minister belongs to the optimists' camp. Our citizens understand that if there's less of something -- if grain yields go down -- then it will get more expensive."
Lost Exports
That fear of price hikes has spread to other wheat-growing countries in the region -- notably Ukraine, where Prime Minister Mykola Azarov today said his country had sufficient grain reserves to prevent any rise in bread prices.
Ukrainian crops have been alternately battered by floods and drought during the summer months, and last year's wheat harvest of nearly 21 million tons could drop to 18 million or even lower.
Customs officials in Kyiv have imposed new controls on wheat exports in the face of the weak harvest, with international grain experts predicting Ukraine's wheat exports will dip from 9.3 million tons to 6.8 million. (Another of the region's major grain producers, Kazakhstan, will see a smaller drop from 7.8 million tons to 7 million.)
Ukrainian officials, however, remain bullish, with Agriculture Minister Mykola Prysyazhnyuk conceding that grain production has slowed but nonetheless offering an outsize prediction for the country's export volume, saying Ukraine would export "16 to 17 million tons" of grain this year.
New Reality
The long-reaching consequences of the long, hot summer of 2010 have prompted speculation that Russia and its neighbors may be forced to acknowledge the growing issue of climate change, which so far has gained little political traction in the Kremlin or elsewhere.
Belarus has experienced its own volatile season of oppressive heat -- with temperatures holding steady at 30-35 degrees -- and fierce windstorms that left much of the country without electrical power. Like Ukraine and Russia, it is facing its own diminished harvest, with officials reporting failing potato, sugar beet, and corn crops because of the dry conditions.
The heat wave has been so intense it has forced authorities in Minsk to drop a ban on window air conditioners, which had been deemed too unsightly for the capital city.
Dzmitry Martsinkevich, an air-conditioner supplier, suggests authorities are accepting the fact there may be many hot summers to come.
"People are having a hard time. Food is going bad, the elderly are experiencing fainting spells," he says. Air conditioners, he adds, "are no longer a luxury but a necessity. The main thing is for these stores and businesses not to wait until summer -- not to wait until the chocolate starts melting or the jars start popping. You have to be prepared."
RFE/RL's Belarus, Russian, Tatar-Bashkir, and Ukrainian services contributed to this report