(RFE/RL) -- Kyrgyzstan's self-proclaimed new leaders say they have no plans to negotiate with President Kurmanbek Bakiev, who fled the capital Bishkek following this week's bloody riots.
Speaking to news organizations from his native Jalal-Abad in southern Kyrgyzstan, Bakiev -- who has refused to relinquish power -- said earlier today he was ready to negotiate with opponents who claimed to be in charge of the country.
But Roza Otunbaeva, who leads the self-proclaimed interim government, said "no negotiations with Bakiev are foreseen."
"What terms could he want to resign when more than 1,000 patriots suffered" in violence this week? she said to reporters today.

She also said she would guarantee Bakiev safe passage out of the country, on only the condition that he resigns.

Bakiev told the BBC that he believes he will be killed if he returns to Bishkek.

Today Kyrgyzstan began mourning ceremonies for the victims of this week's clashes between antigovernment protesters and security forces.

Some families of the dead have decided to hold private funerals, and the first of those burials took place today.

'Volatile' Situation

The International Committee of the Red Cross (ICRC) described the situation in Bishkek as "volatile."

Sporadic gunfire was heard in Bishkek overnight but there were no reports of new casualties.

Due to the turmoil on April 9, the group has had trouble moving around the city to deliver assistance, an ICRC spokesman, Simon Schorno, said in Geneva.

According to Red Cross figures, hospitals in Bishkek have treated at least 500 people wounded in riots. The Red Cross along with the World Health Organization is flying in more medicines and medical kits to the country.

Bakiev, who had himself came to power in the aftermath of nationwide demonstrations in 2005, has refused to step down.

In an interview with a Russian radio station, Bakiev said on April 8 he remains Kyrgyzstan's legitimate leader, though he acknowledged he no longer controlled any real levers of power.

Bakiev vehemently denied speculation that he might try to exploit the deep division between the country's more liberal north and deeply conservative south.

Asked about rumors he might be gathering his supporters and giving them arms to go to Bishkek, he said, "How could a president elected by the nationwide vote, possibly go against his own people with weapons in his hands?"

Bakiev has insisted he did not give any order for security forces to fire on protesters in Bishkek.

Otunbaeva said her interim government has launched a probe into the role of security forces during the unrest, and today the acting prosecutor-general announced that criminal cases have been launched against President's Bakiev's two sons, Marat and Maksim, and and his brother, Janysh.

Baitemir Ibraev told RFE/RL that the three face charges of premeditated murder and attempted murder in connection with this week's protest. He said arrest warrants for the three, whose whereabouts are unknown, have been issued.

At a news conference in Bishkek, Bakiev said the criminal case was opened "in connection to the fact that we have testimonial evidence that fully supports the fact that the shootings against our citizens took place under these people's orders."

Support for Bakiev is strongest in his native Jalal-Abad and other southern areas, although many southerners have in recent months expressed their disillusion with Bakiev's rule.

A local people's congress was meant to convene on April 10 to decide whether to support Bakiev or the new leaders in Bishkek. But RFE/RL's Kyrgyz Service reports the congress was postponed after local leaders deemed the situation too dangerous.

Questions About Manas

In the meantime, the new team in Bishkek sent a delegation to Moscow today to seek financial aid from Russia. The delegation is led by Almazbek Atambaev, a deputy head of the self-proclaimed interim government.

Otunbaeva's self-proclaimed government -- consisting of 13 leading political opponents of Bakiev -- claims it has Moscow's backing.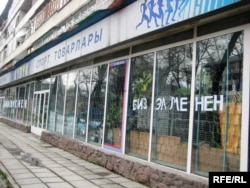 A sign on a Bishkek shop window reads: "We are with people"
Speaking after visiting some of those injured in the unrest in hospital today, Otunbaeva said "Russia has a lot of sympathy here."
She added that she appreciated "words of sympathy" from Prime Minister Vladimir Putin, who on April 8 was the first known foreign leader to call Otunbaeva once she claimed to be in charge.
An RFE/RL correspondent accompanying Otunbaeva reports she also sought to reassure on the U.S. air base at Manas, saying "they are very welcome" and that "we will honor agreements and the commitments we have signed."
The self-proclaimed interim leaders have given mixed signals about their plans for Manas, which is used to support operations in Afghanistan.
Omurbek Tekebaev told Reuters there was now a "high probability that the duration of the U.S. air base's presence in Kyrgyzstan will be shortened."
President Dmitry Medvedev of Russia -- which also has an air base in the country -- said Moscow is closely monitoring events in Kyrgyzstan, Russia's "strategic partner."
In Washington, State Department spokesman Philip Crowley said U.S. officials were in contact with both opposition figures and officials of the Bakiev government. He said the United States was not taking a side and was watching events carefully.
The U.S. Embassy in Bishkek was closed to the public today and called for calm and nonviolence.
"We are in active discussions with all parties to encourage peaceful and orderly behavior," the embassy said in a statement.