MOSCOW -- Russia is remembering the millions who were repressed during the Soviet era, with Russian President Dmitry Medvedev warning that society's development should not come at the cost of human life.
But rights watchers used the annual Day of Remembrance of the Victims of Political Repressions to warn that the country is living through a fresh round of repressions reminiscent of Soviet times.
The commemorations began of October 29, when activists and relatives of Soviet-era victims gathered in the shadow of Lubyanka, the former KGB headquarters, to read out the names and fates of 3,000 people killed during the Stalinist regime.
Vladimir Lukin, Russia's human rights ombudsman, began the ceremony with the words "Abanin Fyodor Stepanovich, 53 years old, a member of the Seventh Soviet Congress, shot September 14, 1937. Abdullayev Faiza, 39 years old, representative of the Faizuima Khadzhayev collective farm, shot June 20, 1938."
During Stalin's Great Terror of 1937-38, more than 1.5 million people were arrested and 600,000 were shot. More than 30,000 people were executed in Moscow alone.
The names read outside Lubyanka were from all parts of society -- from farm workers to artists from the Bolshoi Theater. In total, an estimated 15 million-30 million people were affected by the Soviet-era repressions.
A Father's Story
"I've been coming here for the past three years so I can remember the innocent people who were executed -- our dead fathers, mothers. And to talk about my own, about my father, who was a good architect, but was shot in 1942, on April 1," said Yelena Silvesterova, who was barely able to hold back her tears.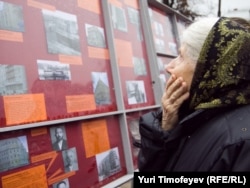 Russians remember tragedies past -- and present.
"He left for the war as a volunteer, rebuilding bridges in the construction brigades. They shot him for praising the German Fascist army."
It was only after the collapse of the Soviet Union in 1991 that Silvesterova learned of her father's fate:
"My mother never told me anything about it. She always told me just that Papa went missing, and I lived with that until [President Boris] Yeltsin came and opened the archives," she said.
"I didn't even know the exact year my father was born, because we weren't allowed to talk about him in the family."
A Surprise Presidential Admission
Commemorations of the annual event are often a quiet affair, left to activists and relatives. But this year, in a surprise video blog posted on the Kremlin website, Russian President Dmitry Medvedev spoke of the horrors of Soviet repression, and condemned those who continue to defend the Stalinist regime.
"Millions of people died as a result of the terror and false accusations. They had their rights stripped away, even the right to a decent burial. And for many years, they were simply written out of history," Medvedev said.
"Still we hear claims that those millions of victims were justified by some higher state goals. I am convinced that no development, no successes or ambitions of the country can be achieved at the expense of human grief and losses."
The Russian leader also noted with worry that a survey two years ago found that 90 percent of young people could not name anyone who was a victim of Stalinist repressions.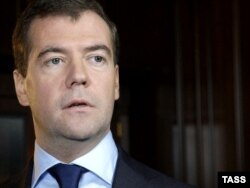 Medvedev's video: "The memory of national tragedies is just as sacred as the memory of victories" (Gorky).
Medvedev's recognition of the day is unusual, according to Alyona Kozlova of Memorial, a human rights group that documents Soviet repression.
Vladimir Putin, when president, never gave the day so much attention, she says -- adding that Medvedev's statements run counter to a general rising appreciation for Stalin in Russian society:
"It goes in the opposite direction from the mood in archives, state institutions, and public opinion, which is being brought up on the authority of Stalin. In general, the mood is going back, but the president is saying very progressive things," Kozlova says.
Kremlin officials have increasingly blocked research into Stalinist crimes in recent years, and Stalin has been positively reassessed on television and in school history books.
He is regularly ranked as one of Russia's most popular leaders, and his name -- erased from facades and street signs throughout the country -- recently reappeared in the restored Kurskaya metro station in central Moscow:
The state has also failed to work on compiling an accurate count of the people who were repressed in Soviet times.
"Today there are a little bit fewer than 3 million names published," Kozlova says. "It's one-10th of what needs to be done. Imagine, 20 years have passed since the time of perestroika. Count how many hundreds of years, at that rate, we would need to do even half of it."
On his blog, Medvedev said that Russia needed a large-scale museum devoted to the repressed. For now, there is only a small gulag museum in Moscow, hidden behind a Marc Jacobs designer boutique, that is visited more by foreign tourists than Russians.
A Modern Repression
Despite Medvedev's words, Russian activists says the government is increasingly repressing information and human rights in favor of state goals.
The country 's human rights community has been hit by a number of shocking murders in the last year, none of which have been solved. Maksharip Aushev, an activist in Ingushetia, was shot dead on October 25 and Natalya Estimirova, who worked for Memorial in the Chechen capital, Grozny, was kidnapped and murdered in July.
Oleg Orlov, the chairman of Memorial, was sued by Chechen President Ramzan Kadyrov after he accused Kadyrov of being responsible for Estemirova's murder. He lost and was fined 20,000 rubles ($671).
Journalists who have written articles that go against the Kremlin line have also been attacked, most notably "Novaya gazeta" correspondent Anna Politkovskaya, who was murdered in 2006.
In recent weeks, Nashi, the Kremlin-backed youth group, has harassed former dissident Aleksandr Podrabinek after he wrote an article attacking the official condemnation of a restaurant that called itself "Anti-Soviet."
City officials forced the restaurant to change its name, saying it insulted Soviet veterans. Nashi is currently suing four international newspapers for alternately comparing it to the Hitler youth, bandits, and nationalists.
A meeting to protest against repressions in the new Russia is scheduled for this evening in central Moscow. One of the organizers, Anna Karetnikova, says that while Russia's current crackdowns are not on a scale with Stalin's Great Terror, the current atmosphere has frightened and worried many.
"Political prisoners appeared almost at the same time as the arrival of Putin. Muslims, National Bolsheviks, the Yukos case, which is now being tried again. It is civil rights activists, journalists," she says.
"It's a wide range of people who are only united by the fact that they have been convicted for their political activity, or that a political government motive figures into the repressive measures taken against them."
RFE/RL's Russian Service contributed to this report