Russian Prime Minister Vladimir Putin raised more than a few eyebrows with his speech at the World Economic Forum last week.
Addressing members of the financial, business, and political elite at the Swiss ski resort of Davos on January 28, the Russian leader issued a stern warning against a "blind belief in the omnipotence of the state" as governments scrambled to address the mushrooming economic crisis.
"Instead of improving market mechanisms, there is now a temptation to expand the state's direct involvement in the economy as much as possible," Putin said. "The reverse side of anticrisis measures almost in every country is the concentration of excessive assets in the hands of the state."
To many in the audience, it was an odd remark, coming as it did from a famously statist former KGB officer who has systematically brought much of Russia's own economy under Kremlin control -- both before and since the crisis began.
(The speech prompted former U.S. President Bill Clinton to joke it was the first time he had heard Putin express support for the principles of free enterprise, adding, "I hope it works for him.")
In fact, even as Putin was preaching against the evils of nationalization in Davos, his government was carrying out a massive $200 billion-plus bailout of Russia's troubled banks -- and, even more critically, key strategic sectors like the metals industry.
As the global financial crisis threatens to bury banks and other business in a sea of debt and clogged credit, Western government have reluctantly turned to nationalization -- the act of turning privately owned assets and industries over to state control.
They are very concerned that in this upheaval, foreigners are going to gain control over some of these properties. If that is the option, then they want to do everything they can to make sure it doesn't happen...
Russia, no stranger to the practice, is seeking greater state intervention as well.
But while the West's foray into nationalization is likely to be brief, Putin may be seeking to put key sectors of the Russian economy, from banking to natural resources, back under state control on a permanent basis.
The state will do this, analysts say, either through outright nationalizations, or by redistributing property into the hands of Kremlin-friendly tycoons -- a kind of "crony nationalization," as it were.
"The experience of Putin's rule shows that the state does not necessarily need to nationalize a company in order to control it and make it behave as the state wants it to," says Yevgeny Yasin, a former economy minister under President Boris Yeltsin, and the current academic supervisor of the Moscow-based Higher School of Economics. "For enterprises that the state covets, this can be seen as a form of nationalization."
Nationalization Or Nationalism?
Bloomberg News reports that Russia has already distributed more than $11 billion out of a $50 billion fund earmarked to help troubled companies -- many of them from the metals sector -- refinance their foreign debts.
Analysts say that given the large debts these companies have accrued, the Kremlin feared that key enterprises could be taken over by foreign creditors.
"Whether you call it nationalization or not, what I see is nationalism," says Marshall Goldman, professor emeritus in Russian economics at Wellesley College in Massachusetts, and author of the book "Petrostate: Putin, Power, and the New Russia."
"They are very concerned that in this upheaval, foreigners are going to gain control over some of these properties. If that is the option, then they want to do everything they can to make sure it doesn't happen, even if it means the state taking over," Goldman says.
And Vneshekonombank's stringent conditions make such state takeovers a real possibility. The bank has the right to demand any collateral it desires. Borrowers cannot take out any additional loans, issue any shares, or sell any assets without VEB's permission.
Moreover, Vneshekonombank representatives can be installed within the management of debtor companies, and the bank is accountable to nobody except its own oversight board -- which is chaired by Putin himself.
Yevgeny Gavrilenkov, chief economist at the Moscow-based Troika Dialog investment bank, says that if the Kremlin so desires, the scheme could easily be utilized to take direct control of key industries or shift them into the hands of obedient politically connected oligarchs.
"I can't say for certain that there was a plan. But if companies cannot settle their debts with VEB due to the falling ruble, this can become a mechanism to redistribute property," Gavrilenkov says.
Heavy Metals
According to analysts and media reports, the Kremlin is seeking specifically to gain greater control over the metals industry, which the government considers a key strategic sector.
I am certain that in the United States and in Great Britain, everything that is nationalized will be re-sold back step by step. Of course, I am not so certain that this will be the case in Russia.
VEB's largest loan thus far, $4.5 billion, has gone to the aluminum giant RusAl, which is controlled by the Kremlin-connected oligarch Oleg Deripaska. RusAl, the world's largest aluminum company, was forced to seek state assistance when it could not repay a foreign loan it had taken to purchase a 25 percent stake in Norilsk Nickel.
RusAl put up the Norilsk Nickel stake as collateral for the loan from VEB.
In January, Russian President Dmitry Medvedev met with Deripaska and other metals tycoons -- including Vladimir Potanin, a key shareholder in Norilsk Nickel, and Alisher Usmanov, co-owner of the iron-ore producer Metalloinvest -- to discuss a plan to merge Russia's large metals companies into one entity.
According to press reports, the plan would unite those three companies, which have billions of dollars in debt to state-controlled Russian banks, with the state-owned titanium maker VSMPO-Avisma, the potash miner Uralkali, and steelmakers Evraz and Mechel.
Putin has spoken positively about the potential merger, which, while not a formal nationalization, would give the Kremlin enormous control over the metals industry.
Analysts like Yasin suspect the state will be loathe to reverse the process once it is under way. "I am certain that in the United States and in Great Britain, everything that is nationalized will be resold back step by step," Yasin says. "Of course, I am not so certain that this will be the case in Russia."
Bank Bailout
The Kremlin has signaled a desire for greater control in the country's banking sector.
Banks have been hit hard by the freeze in credit markets and by the government's devaluation of the ruble, which put pressure on banks with debt in foreign currency.
The government has already pledged $28.8 billion in loans, and according to press reports is considering injecting an additional $33 billion. This could leave the state with stakes in as many as 30 percent of the country's banks.
So far, four small private banks -- Globex Bank, Sobinbank, Bank Soyuz, and Svyazbank -- have been bought out by larger state-run banks.
State-owned banks have also been hit hard. VTB, Russia's second-largest bank, says it may issue preference shares this year as part of a $200 billion recapitalization.
Roland Nash, head of research at Renaissance Capital, defends some of Putin's moves. He says Moscow -- just like Western governments -- is looking for a way to survive the crisis with its economy intact.
"It is far more complicated than some set of people sitting in the Kremlin deciding that they are going to share out all the resources of Russia. There's far more to it than that," Nash says. "There's trying to keep these companies going. There's the fact that they can't borrow any longer. There are social issues associated with this."
At the same time, however, Nash echoes the concerns of other analysts in saying the economic crisis provides "a perfect opportunity" for the Kremlin to bring banks and other strategic companies "back under the control of the state."
Yukos Redux?
To some observers, recent moves to consolidate control over the private sector are a continuation of the Kremlin's seizure earlier in the decade of most of the country's energy companies, which had been privatized under Yeltsin in the 1990s.
The process to restore state control began in earnest with the October 2003 arrest of Yukos Oil's CEO Mikhail Khodorkovsky and the subsequent breakup of his company.
Most Yukos assets were eventually taken over by the state-run oil giant Rosneft.
Attorney Robert Amsterdam is a former member of Khodorkovsky's international defense team and the author of a popular blog on Russian affairs. He says the Kremlin's current focus on the metals sector repeats earlier moves to restore its control over the energy industries -- albeit by different means.
"They are taking advantage of the economic crisis to bring to heel some vast business empires that to some extent have gotten out of their control," Amsterdam says. "What the whole economic debacle has done is accelerated the velocity of the transition of the Russian economy. Remember Mao's Great Leap Forward? Well, this is Putin's great leap backward."
World Economic Crisis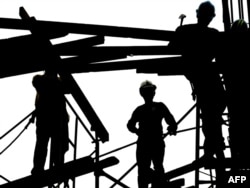 Multimedia coverage on the impact of the global financial crisis on markets and individuals across RFE/RL's broadcast region. More