In Moscow, Russian President Dmitry Medvedev hosted the de facto leaders of the breakaway Georgian regions of Abkhazia and South Ossetia and signed agreements on cooperation in protecting the two regions' border with Georgia.
At a joint press conference following a ceremony to mark intensified cooperation between Moscow and the two regions, Medvedev, Abkhazia's Sergei Bagapsh, and South Ossetia's Eduard Kokoity made it clear the move was aimed against Georgia.
"Any action in Tbilisi that can be considered or interpreted as an expansion of a course of remilitarization of the country, a course of strengthening -- senseless strengthening -- of its military component, will be taken by us as measures that are in conflict with the six principles on regulating the conflicts that were agreed upon last August," Medvedev said.
On April 29, officials in Moscow accused Georgia of concentrating military and police forces along the borders of the two regions, including heavy military equipment.
Medvedev also lashed out against planned NATO military exercises in Georgia, calling them a "blatant provocation." He added that "Military exercises should not be held in places where there was recently a war. Everyone knows that."
Improving Security
Under the agreements signed in Moscow, Russia will provide both republics with assistance in securing and patrolling their borders with Georgia.
The deal has raised fears that additional Russian troops could be deployed to monitor the borders -- a loathsome prospect for Tbilisi.
But Abkhaz leader Bagapsh told RFE/RL's North Caucasus Service that the agreements will not add to the approximately 10,000 Russian troops currently based in the two regions, which he described as "perfectly sufficient for us."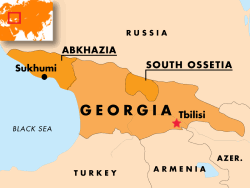 At the Moscow press conference, South Ossetian leader Kokoity also emphasized the purported threat from Georgia and said the agreements will strengthen regional security.
"The security of the borders, for our people, is vitally important," Kokoity said. "And although the security of our country since the recognition of our independence by the Russian Federation and the deployment of Russian troops in South Ossetia has been ensured at a qualitatively new level -- incomparably better than it was before August 2008 -- nevertheless, threats and attempts at armed provocations along the border on the part of Georgia remain a daily reality for South Ossetia."
Moscow and the two regions also signed an agreement on cooperation and interaction between Russia's Federal Security Service (FSB), Abkhazia's State Security Service, and South Ossetia's State Security Committee.
The deals are part of Moscow's broad financial support for Abkhazia and South Ossetia. A Kremlin spokesman was quoted by Russian state television as saying Moscow plans to devote more than $250 million to assistance to the two regions in 2009. He added that another $90 million will be contributed by "nonstate sources."
Close Cooperation Or Short Leash?
Moscow's moves are ostensibly meant to help Abkhazia and South Ossetia get their bearings as newly established independent countries. But Moscow political analyst Dmitry Shusharin says that, ironically, the two regions have seen their autonomy reduced since Russia recognized their independence.
"Russia has formed along its borders something like the sort of entities that exist today in Somalia and in some other failed African or Latin American states -- sort of 'islands' that are ruled not even by local princes or tribal leaders, but by Russian military and security people posing as such," Shusharin says.
Mikheil Machavariani, the deputy speaker of the Georgian parliament, says the latest move is a natural progression in the standoff between Moscow and Tbilisi, and that Russia's presence in the region is likely to be a long one.
"This is yet another stage of the war of nerves. It is no news to anyone that the Russian Army has already fulfilled the function of an occupying force," Machavariani says.
"I do not want to start an in-depth analysis now -- whether Russia trusts those formations. Whether, despite the millions and billions that it has spent on preparing the separatist regimes' armed and police forces, it trusts the Abkhazians and Ossetians," he adds. "Of course it does not -- so the simplest solution is for it to assume responsibility itself."
Kakha Gogolashvili, a Georgian political analyst, echoes that sentiment, saying Russia's patronage can be seen as an attempt to solidify its role in the region before Sukhumi or Tskhinvali can attempt to shake off Russian influence in favor of true independence.
" Russia wants to safeguard itself, so that in the future these governments do not ask for some other status, or other possibilities. Russia is not interested in their true independence," Gogolashvili says. "Russia does not want them to be controlling their own borders, thus having more room for political maneuvers. Russia needs to repress them even further, containing them within the sphere of its control."
Russia and Nicaragua are the only countries that have recognized the two regions as independent countries. Georgia considers them occupied territory.
RFE/RL's Georgian, North Caucasus, and Russian services contributed to this report