Russia and Western powers have traded bitter accusations over the recent conflict in Georgia in a showdown at the UN Security Council that comes amid mounting acrimony over Moscow's actions in that neighboring state.
Three of the council's five permanent members -- France, Britain, and the United States -- appear to be stepping up pressure on fellow permanent member Russia, which has occupied wide swaths of Georgia and recognized claims of independence by separatists in Abkhazia and South Ossetia.
It was the council's sixth emergency session on the crisis in Georgia, where Russian troops mounted an overwhelming counterattack to prevent Tbilisi from restoring control of South Ossetia.
The meeting was marked by sharp exchanges between the U.S. and Russian ambassadors, reflecting rising tensions as concerns grow at the prospect of a new Cold War.
U.S. Deputy Ambassador Alejandro Wolff accused Russia of shirking its commitments and obligations by recognizing the South Ossetian and Abkhaz leadership's assertion of independence.
"Russia's decision to recognize Abkhazia and South Ossetia in contravention of its own commitments and obligations could portend further disregard of this institution [the Security Council] and its undertakings by one of its permanent members," Wolff said. "This should be a source of concern and reprobation not only for the members of the council but for every member of the United Nations whose charter requires that all member states should refrain in their international relations from the threat or use of force against the territorial integrity or political independence of any state."
Since the UN debate, Deputy Foreign Minister Grigol Vashadze has announced that
Georgia will cut diplomatic ties with Russia
over the Kremlin's recognition of South Ossetia and Abkhazia.
'Irresponsible' Behavior
Russian officials have repeatedly invoked Western recognition of Kosovo's independence from Serbia since major hostilities began in Georgia early this month.
But Russia's ambassador to the UN, Vitaly Churkin, on this occasion pointed to the U.S.-led invasion of Iraq in 2003, belittling Washington's response to the Georgia conflict as evidence of hypocrisy.
"I would like to say that I really liked the statement of the U.S. permanent representative, who was reminding to the members of the Security Council that states must refrain from the use of force or from the threat of use of force," Churkin said. "I would like to ask the honorable representative of the United States: Have you found weapons of mass destruction in Iraq, or are you still looking for them?"
President George W. Bush's administration had argued that the invasion of Iraq was necessary to thwart Saddam Hussein's efforts to gird his brutal regime with nuclear and other weapons.
Jean-Pierre Lacroix, France's deputy representative to the UN, condemned Russia's "irresponsible" decision to recognize the two Georgian enclaves as independent states.
"The resolutions of the Security Council cannot be challenged or indeed written off by military action in defiance of the UN Charter," Lacroix said. "In particular, the territorial integrity of a [UN] member state reaffirmed repeatedly by an unanimous council cannot be undermined by a sudden armed intervention by a neighboring state."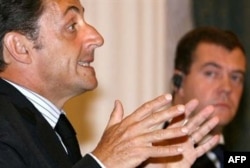 French President Sarkozy (left, with President Medvedev on August 12) finds himself in an awkward position.
Privately, diplomats at the UN say that France has found itself in a particularly difficult position. On August 12, French President Nicolas Sarcozy and his Russian counterpart, Dmitry Medvedev, signed a "six-principles" cease-fire agreement that was initially viewed as a face-saving path to resolving the military standoff. Two weeks later, with troops still occupying a unilaterally defined buffer zone around Georgia's breakaway republics and dug in around a major Georgian port, Moscow disregarded the agreement and recognized South Ossetian and Abkhaz independence.
France is the current holder of the rotating EU Presidency and has cautioned Russia that the bloc might introduce economic sanctions against Moscow at an emergency session on September 1.
It appears that frustration within the council is deepening, with little prospect of an early, mutually acceptable solution.
"By its actions, Moscow has effectively ruled out agreements on a comprehensive council response to the situation in Georgia," Britain's UN Ambassador John Sawers said. "Russia's military action and its recognition of Abkhazia and South Ossetia [represent] a unilateral attempt to redraw the borders of a neighboring country through the use of force. It is our view that it is entirely unacceptable and unjustified."
Russia, whose veto power allows it to block any resolution, has repeatedly said it can wait as long as necessary.
Before the latest UN session on Georgia, the current Security Council president, Belgian Ambassador Jan Grauls, announced there would be no participation by Abkhaz and South Ossetian representatives, as was reportedly expected. He expressed hope that the issue would be resolved at a "more opportune moment and under a formula to be decided."
Critics of Abkhaz and South Ossetian participation in the council's sessions -- including from France, Britain, and the United States -- say such a move would grant their breakaway leaders a degree of legitimacy. Russia, on the other hand, has long complained that Washington is exploiting a technical loophole by not issuing visas to those representatives so they cannot attend meetings at the UN headquarters in New York.
Back In Georgia
For years, Russia has granted residents of Abkhazia and South Ossetia Russian citizenship and considerable support in the form of pensions and other financial incentives.
From the outset, President President Dmitry Medvedev and Prime Minister Vladimir Putin have described Russia's military intervention as an attempt to "protect the lives and dignity of Russian citizens" and prevent "a genocide against the Ossetian people," "enforce peace in accordance with the UN Charter."
Russian Federal Security Service (FSB) Director Aleksandr Bortnikov on August 11 added the allegation that "Georgian security services had been actively carrying out intelligence activities...on the territory of the Russian Federation...and were preparing terrorist acts on Russian territory."
The Kremlin has also drawn a distinction between Georgian sovereignty and its "territorial integrity," which Medvedev said "as a rule, represents the real state of affairs."
Medvedev also suggested the results of the conflict, and indeed of the cease-fire deal brokered by French President Nicolas Sarkozy, should include a referendum or another determination on the question of independence for South Ossetia and Abkhazia.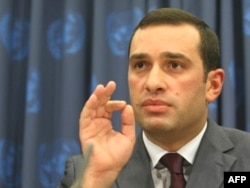 Ambassador Alasania calls Russian claims questioning the breakaway republics' legal status "absolutely groundless"
Tbilisi's UN envoy, Irakli Alasania, sought at the UN meeting on August 28 to ward off any perception that the legal status of Georgia's breakaway republics was unclear under international law.
"All claims of the Russian Federation that Georgia's international legal status was defined in disregard of the will of the Abkhaz and Ossetian people are absolutely groundless," Alasania said. "The 1991 referendum was held throughout the entire territory of Georgia including Abkhazia and South Ossetia."
Russian forces remain deployed in Georgia outside those breakaway republics in a unilaterally defined buffer zone as well as outside the port of Poti.
Poti's deputy mayor, Gela Lagvilava,
has told RFE/RL Georgian Service correspondent Tea Absaridze
that local officials expect those Russian forces to withdraw by the end of the day, although there are no signs at Russian checkpoints of preparations for a pullout.