Russian troops were advancing on Tbilisi and Georgians were preparing for the worst. And then, in an announcement that appeared to come out of the blue, Russian President Dmitry Medvedev announced that the five-day military campaign was over.
Medvedev spoke from the Kremlin, where he was meeting Defense Minister Anatoly Serdyukov. The president said the "operation to force the Georgian authorities to peace" was over and
its goals "achieved."
Medvedev's August 12 order raised questions as to what prompted the apparent halt by the Russian Army, which many observers less than one day before were expecting to proceed to Tbilisi.
"I think that under terrible Western pressure -- especially American [pressure] and I think [French] President [Nicolas] Sarkozy has to also take credit -- the Russians understood that they went too far," Alexander Rondeli, president of the Tbilisi-based Georgian Foundation for Strategic and International Studies, tells RFE/RL. "This outcry from the international community stopped them."
Rondeli says he believed Moscow's "maximum program was to overthrow [Georgian President Mikheil] Saakashvili and surround Tbilisi." But, he added, their "minimum program is to save face, so they are saving face now by saying that all goals of the operation have been achieved."
Russian Foreign Minister Sergei Lavrov insisted on August 12 that regime change in Tbilisi was not Moscow's goal. But at a joint press conference in Moscow with Finnish Foreign Minister Alexander Stubb, the chairman in-office of the OSCE, Lavrov admitted that Russia would like to see the Georgian leader removed.
"We are not making it a condition for ceasing the current stage of military operations," Lavrov said, "but for the personal information of U.S. leaders, our position is that Mr. Saakashvili can no longer be our partner and it would be best for him to go."
Other observers, however, argued that Moscow's goals were more limited and that never had any intention to try to take Tbilisi.
Speaking to RFE/RL, Sergei Markedonov of the Institute of Political and Military Analysis in Moscow said he believed that "there was no alternative to using force in Georgia" to protect Russian interests, but that taking the capital and trying to overthrow the government "would have meant an open conflict with the West and Russia doesn't need this."
Markedonov said that from the Kremlin's perspective, the costs of entering Tbilisi far outweighed the benefits.
"There is no rational reason [for Russian forces] to go to Tbilisi," Markedonov said. "For what purpose would the Russian Army go to Tbilisi? To conquer Georgia? It is completely obvious that this would be stupid because the Georgians are in an anti-Russian mood."
He said that "such a conquest" would lead to "big problems" in the longer term. "Why does Russia need this?" Markedonov asked.
In Moscow to broker a cease-fire, President Sarkozy welcomed Medvedev's announcement ending hostilities at a joint press conference with the Russian leader. He called it "the news that we have been waiting for."
"Now it is necessary to implement the cease-fire and to draw a quick timetable so that everyone goes back to the positions they held before the conflict," Sarkozy added.
Georgian officials remained wary, claiming that Russian forces bombed the eastern towns of Kareli and Ruisi even after Medvedev's announcement. The government's claim was confirmed by an RFE/RL correspondent in the area. And just hours before the Russian president spoke, Tbilisi said Russia carried out an aerial bombardment of the government offices and an outdoor market in the city of Gori, killing six people including a child and a Dutch journalist.
According to media reports, Gori's post office and university were on fire and the town was all but deserted on August 12. Russian officials denied that Russian forces bombed Gori.
Media reports also suggested Russia launched an offensive in Kodori Gorge, the only part of the pro-Moscow breakaway region of Abkhazia that had been under Georgian control. Abkhaz officials, however, claimed it was their forces, and not the Russians, who were carrying out the attack.
The Georgian Interior Ministry told news agencies AFP and Reuters that the country had evacuated police and civilians from Kodori, with no casualties reported.
While welcoming the Russian president's announcement of an end to military operations, some Western officials suggested Moscow must do more.
Speaking to reporters in Brussels on August 12, NATO Secretary-General Jaap de Hoop Scheffer called Russia's announcement that it was halting military action "an important first step," but still insufficient. The NATO leader said Russian and Georgian forces need to go back to positions they held August 6, the day before hostilities broke out.
He called Georgia "a friend...and a highly respected partner of NATO" that remains a candidate for NATO membership.
Following a late-night visit to Tbilisi by President Sarkozy, Georgian President Saakashvili announced on live television that his government was accepting the EU-backed peace plan.
He had told a crowd of anti-Russian demonstrators on August 12 that Tbilisi regarded Russian peacekeepers in South Ossetia and Abkhazia as "occupiers" and those breakaway regions as occupied territories.
Clashes In Georgia: Chronology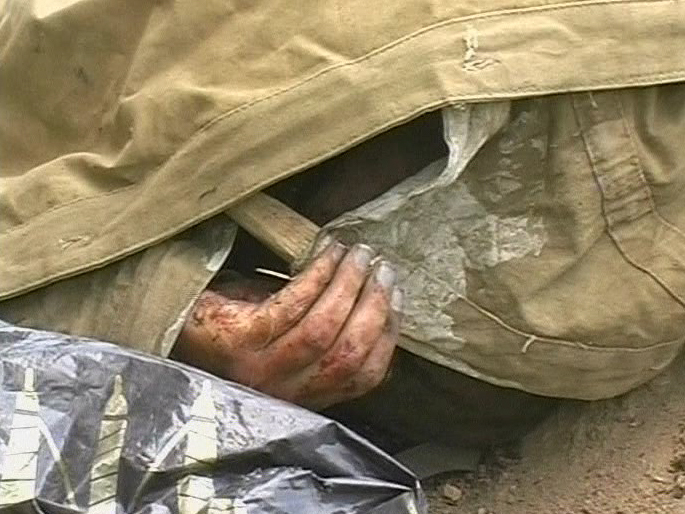 Clashes In Georgia: Chronology
Video of the fighting in Georgia's breakaway regions, and the latest efforts to end the conflict (Reuters video). Play


For full coverage of the clashes in South Ossetia, Abkhazia, and Georgia proper,
click here
.