When Temir Sariev returned from a trip to Moscow on April 6, the opposition leader carried a surprise message. He told supporters he'd just met with Russian Prime Minister Vladimir Putin, who pledged support for Kyrgyzstan's opposition.
It was a day before the bloody street uprising in Bishkek that left more than 70 dead and forced President Kurmanbek Bakiev to flee the capital. Sariev was soon arrested along with most of the country's other opposition leaders in a move that helped prompt the protest. Now they've taken power.

Moscow has previously treated popular uprisings in former Soviet republics as a threat. But this time the first -- and so far only -- country to recognize the new leadership was Russia.
The Kremlin's support has helped fuel speculation about its possible role in this week's events and raised questions about the future of Washington's main interest in Kyrgyzstan -- a U.S. air base that's crucial for the military effort in Afghanistan.
Implicit Kremlin Support
For his part, Putin denied any involvement in Kyrgyzstan's unrest when asked about it on April 7. "The only thing I can say is that neither Russia, nor your humble servant, nor Russian officials have anything to do with these events," he said. "As for me personally, the events have taken me by surprise."
But Putin gave his implicit support, criticizing the ousted leader who came to power in 2005 following street protests that forced his predecessor Askar Akaev into exile.
"I can remember that when President Bakiev came to power, he harshly criticized toppled President Akaev for nepotism and giving his relatives or friends top economic and political posts at every corner," Putin said. "I have the impression that Bakiev has fallen into the same trap."
It was a starkly different message from five years ago, when Putin called Akaev's ouster in the so-called Tulip Revolution "illegitimate."
The uprising followed "colored" revolutions in Ukraine and Georgia that toppled corrupt old administrations and installed pro-Western leaders the Kremlin saw as a threat to its power.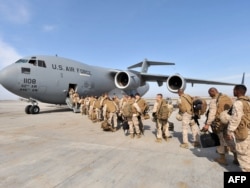 The Manas air base outside Bishkek is key to U.S. supply of troops in Afghanistan.
But following the defeat of Ukraine's Orange Revolution leaders in a presidential election won by the pro-Moscow candidate earlier this year, the Kremlin is seeing regime change in its former Soviet subject states in a new light.
Air-Base Geopolitics
That's not entirely surprising. Last year, Bakiev pleased Moscow by saying he would force Washington to close an air base crucial for supplying U.S. forces in Afghanistan, and key to President Barack Obama's plan to send 30,000 more U.S. troops there.
The same day, Bakiev accepted $150 million of aid on top of a $2 billion loan in what was seen as quid pro quo from a Kremlin unhappy over U.S. military bases in its backyard.
But the Kyrgyz president infuriated Moscow months later by reversing his decision over the Manas air base after Washington agreed to pay triple the rent and give $150 million in other concessions.
Less than a year later, the base's future is again in doubt, after interim government member Omurbek Tekebaev on April 8 told the Reuters news agency there was a "high probability" the U.S. lease on the Manas air base would be cut short.
Partly by way of explanation, Tekebaev said Russia had "played its role in ousting Bakiev."
Moscow Alignment
It was another sign Kyrgyzstan's new leadership -- which says it's already sent a delegation to Moscow headed by No. 2 Almaz Atambaev -- was appearing to align itself with Russia, in a move that could affect U.S. interests in the region.
Interim government leader Roza Otunbaeva reinforced the message when she addressed crowds for the first time outside the government building on April 8.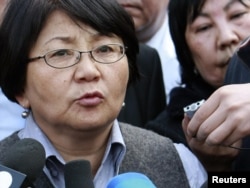 Roza Otunbaeva has said there are no plans to change the base agreement.
The 59-year-old moderate, a former key Bakiev ally who's served as foreign minister and ambassador to the United States, announced she'd just spoken to Putin, the first head of state to call her. Her words were met with cries of "We're with Russia!" from the mostly poor, provincial crowds.
During a news conference later, Otunbaeva said the interim government had "some questions" about the base, but in an interview with RFE/RL today she suggested there were no plans to close the base, saying, "we will honor the agreements and commitments we have signed."

Washington Wary
The developments are being eyed warily in Washington. State Department spokesman Philip Crowley told reporters on April 8 it was unclear who would end up on top.
"It's not for us to take sides one way or the other," Crowley said. "Our interest here is with the people of Kyrgyzstan and a peaceful resolution of the situation."
Crowley played down the threat to the Manas base. "We have an existing agreement with the government of Kyrgyzstan," he said.
The events in Kyrgyzstan overshadowed a historic nuclear-arms-reduction deal signed in Prague on April 8 by U.S. President Obama and his Russian counterpart Dmitry Medvedev.
Speaking to reporters after the signing, Obama's top Russia adviser, Michael McFaul, played down suggestions Kyrgyzstan's new leaders would cut ties to the United States, saying Washington has maintained contact with them for years.
"This is not some anti-American coup," he said. "That we know for sure. And this is not a sponsored-by-the-Russians coup."
McFaul said talks with Russian officials on the sidelines of the treaty signing showed Moscow has softened its opposition to the U.S. presence in Kyrgyzstan.
"At the beginning of the administration, when we first got here, there was a sense of 'it's us against them' -- the Manas air base, who's going to put more money on the table to win that piece of territory," McFaul said. "What was striking today, as we talked about our mutual interests and security in Kyrgyzstan, was we were not talking in zero-sum terms. We were talking about our mutual interests there."

'Multivectorism'
Central Asia observers aren't surprised by the new Kyrgyz leadership's courting of Russia. Columbia University professor Alexander Cooley, who wrote a book about the Manas air-base dispute, says relations between Bakiev and the Kremlin had deteriorated so much, Otunbaeva's first order of business was "to make nice" with Moscow.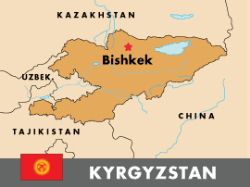 "It's not surprising that the first public phone call she makes is with Putin," Cooley says. "She doesn't do a CNN appearance, she doesn't call Obama."
Cooley says it's equally unsurprising Kyrgyzstan's new leaders have focused attention on the Manas base, which he says came to symbolize Washington's support for Bakiev and "abandonment and neglect" of support for rights abuses and democracy.
Bakiev was widely believed to have funneled U.S. money for the base to his relatives, and Cooley says Otunbaeva must show she's not conducting "business as usual."
"Essentially she said the base will be okay," he says, "but we want to reexamine some of the legal arrangements, and I think the U.S. should be able to live with that."
While Kyrgyzstan's new leaders currently appear to be siding with Moscow over Washington for now, analysts say in the long term, they'll maintain the old foreign policy of playing Russian interests against the West's. "Multivectorism is the only way forward," Cooley says, "especially for a small country like Kyrgyzstan."