Russian Officer Sentenced For Bullying In Novosibirsk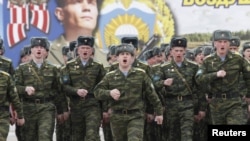 The Novosibirsk garrison court in western Siberia today sentenced an officer to four and 1/2 years in jail for bullying that led to a soldier's suicide, RFE/RL's Russian Service reports.

Officer Vitaly Rasulov was found guilty of beating and intimidating three enlisted servicemen, one of whom committed suicide last year.

Private Pavel Padcha-Kuli hanged himself in September after Rasulov had severely beaten and humiliated him.
About This Blog
"Watchdog" is a blog with a singular mission -- to monitor the latest developments concerning human rights, civil society, and press freedom. We'll pay particular attention to reports concerning countries in RFE/RL's broadcast region.
Journalists In Trouble
RFE/RL journalists take risks, face threats, and make sacrifices every day in an effort to gather the news. Our "Journalists In Trouble" page recognizes their courage and conviction, and documents the high price that many have paid simply for doing their jobs. More