Some see him as their spiritual father. Others say he is merely doing the bidding of his Kremlin masters.
Patriarch Kirill, the head of the powerful Russian Orthodox Church, is in Ukraine on a ten-day visit that has once again underscored the country's deeply ambivalent feelings toward Russia's main religious authority.
The Russian Orthodox Church retains formal authority over Ukraine's Orthodox Christians, but is losing growing numbers of faithful to Ukrainian splinter churches.
Kirill's arrival in Kyiv on July 27 unleashed passionate reactions.
Scuffles and heated arguments erupted as the patriarch prepared to hold a liturgy at one of Kyiv's churches on July 28.
One demonstrator condemned what he said was "the ongoing expansion of the Moscow Patriarchate of the Russian Orthodox Church on Ukraine's Orthodox territory."
Nearby, a worshipper voiced her anger at the protesters' attempt to disrupt the prayers.
"I came here to pray, but these bastards are preventing me from doing so with their screams," she complained. "They are trying to discredit the Orthodox people, and this disgraceful behavior will be punished at the first occasion."
Disputed Motives
Kirill is on his first visit to Ukraine since being enthroned as patriarch in February following the death of his predecessor, Aleksy II.
The patriarch, aware of the deepening political tensions between the two ex-Soviet nations, has insisted that his 10-day tour of Ukraine is spiritual, not political.
But protester Oles Shevchenko, for one, is not convinced. Shevchenko, one of 5,000 demonstrators who marched against Kirill's visit in Kyiv, believes the patriarch is in Ukraine to promote the Kremlin's agenda.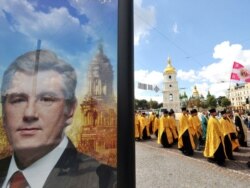 Ukrainian priests file past a picture of President Yushchenko as they protest Kirill's visit.
"This visit has nothing to do with religion. It is fully in line with the imperial policy of Kremlin," he said. "He has a KGB attitude. When he arrived, he said that 'everything here is ours, that for us there are no political borders.'"
Despite Kirill's assurances that his sole aim is to unite fractious Orthodox Christians, his latest statements have added fuel to the political, religious, and economic disputes pitting Ukraine against Russia.
Speaking on Ukrainian television on July 28, Kirill said Russians and Ukrainians were one and the same people and called on them not to sacrifice their values in the pursuit of closer ties with Europe -- a veiled jab at Ukrainian efforts to move away from Russia's orbit and join NATO.
Such comments are likely to anger many in Ukraine, who claim the Moscow Patriarchate is bent on undermining Ukraine's independence from its former imperial master.
"The Moscow patriarchate is a church of Russian people, and we have a different state. Ukrainians are not Russians, and Ukraine is not Russia," Bishop Yevstrat Zorya, a spokesman for the Kyiv Patriarchate, told RFE/RL's Ukrainian Service.
During his three-day visit in Kyiv, Kirill also condemned attempts to "falsify" history, echoing earlier Kremlin criticism of Ukraine's campaign to have the Holodomor, a Stalin-era famine that killed millions of Ukrainians, recognized internationally as genocide.
The patriarch's itinerary, too, is raising eyebrows. He is currently visiting the Russian-speaking regions of eastern Ukraine before heading to the Crimean Peninsula, home to a majority Russian-speaking population and a mounting separatist movement.
Competing Churches
But what makes Kirill's visit most controversial is his claim to spiritual authority on Ukrainian territory -- an issue that has strong political overtones due to the Moscow Patriarchate's coziness with the Kremlin.
Orthodox Christianity, born from the 1054 Great Schism with Rome, is the dominant faith in Ukraine.
But the country's Orthodox Christians are split between parishes loyal to the powerful Moscow Patriarchate and an autonomous Ukrainian Orthodox Church that broke off from Moscow in the 1990s after the collapse of the Soviet Union.
Moscow continues to consider the Kyiv Patriarchate schismatic.
Advocates of an independent Ukrainian church contend that while the Russian-backed church controls the majority of parishes in Ukraine, the country has more Orthodox faithful than Russia and deserves its own, separate church.
Ukraine's Western-leaning president, Viktor Yushchenko, has long urged Russia to formally grant independence to the Ukrainian Orthodox Church of the Kyiv Patriarchate, which many Ukrainians regard as a key element of their nation's post-Soviet national identity.
He has sought the support of Ecumenical Patriarch Bartholomew I of Constantinople, the spiritual leader of the word's 250 million Orthodox believers, but has not received a clear response.
Yushchenko's renewed call for an independent Church during talks with Kirill Monday met with an icy rebuff.
"This Church already exists, Mr. President. It is the local Church of Ukraine, and if it did not exist, Ukraine would not exist today," Kirill hit back. "There is no imperialism here, no domination over others. There is only a clear Orthodox doctrine: the patriarch is everyone's father, regardless of the color of passports in people's pockets or the state in which they live."
The patriarch went on to describe Kyiv as the "southern capital of Russian Orthodoxy," and dismissed Ukraine's breakaway churches as "wounds" on the body of the Russian Orthodox Church.
Some Ukrainians, weary of the ongoing feuding between Russian and Ukrainian Orthodox Christians, have welcomed Kirill's message of unity.
Former deputy Inna Bohoslovska, now a candidate in the 2010 presidential election, said she was inspired by the religious service held by Kirill in Kyiv on July 27.
"If at least a few thousand people felt the way I did during the service, I'm sure this will be the biggest positive effect of this visit," she said. "The speculations and fights that surround Orthodoxy in Ukraine are a disgrace for our country."
Despite his strong following in Ukraine, Kirill will have trouble dispelling doubts about the motives behind his Ukrainian pilgrimage.
His visit comes as a resurgent Russia seeks to boost its influence on the international scene, including in the religious sphere. Russian political leaders have staunchly backed the Moscow Patriarchate's campaign to bring its foreign offshoots into the fold.
These efforts saw the formal reunification in 2007 of the Moscow church with its main dissident branch, the U.S.-based Russian Orthodox Church Abroad, whose founders fled Bolshevik rule almost a century ago.
RFE/RL's Ukrainian and Russian Services contributed to this report.