MOSCOW -- A flat in a 12-story building in Tekstilschiki, an industrial Moscow suburb, is an unlikely place for an election headquarters -- and an even unlikelier one for the hub of a shaman election.
But this is where Shonchalai Khovenmei, whose grandmother was a shaman in Khakasia, a region in eastern Siberia, has joined forces with Moscow shaman Olard Dikson to organize the election for the post of Russia's chief shaman.
Dikson, who became a shaman when he was 21 and has written 25 books on shamanism, compiled the list of some 200 candidates – himself included – which can be seen on their website, shamanstvo.ru.
Shamans are regarded as spiritual healers in many regions of Russia, such as Khakasia, Buryatia, and Tuva, and among native tribes such as the Evenk of northern Siberia. The word shaman is said to come from the Evenk verb "to know."
Russia's native tribes have practiced various forms of shamanism for thousands of years, but the spread of the Russian empire in the 19th century and the official atheism of the Soviet Union meant shamanism was discouraged and often repressed. Policies preventing shamanistic practice meant the tradition was interrupted; Khovenmei says her grandmother did not pass on her gift because of Soviet repression.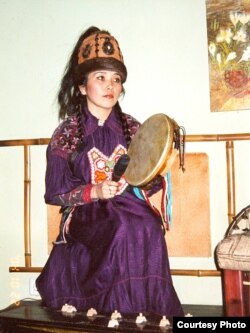 Shonchalai Khovenmei is one of the organizers of the shaman election.
But today, shamanism is experiencing a revival in some communities, where shamans retain a privileged position as people who can speak with the spiritual world, heal others, and perform rites and rituals.
No one knows exactly how many shamans there are, says Olard Dikson, who compiled the candidate list for chief shaman, but he estimates that there are at least 1,000.
Fight For Legitimacy
Khovenmei and Dikson want a leader elected to help the shamans and their followers fight against stereotypes and repression outside their own communities.
"It has become a necessity as questions come up that need to be decided together, because one shaman or organization in a place can do little," Dikson said. "There is still harassment even now in some regions, for example in the republic of Khakasia."
He added that if shamanism is discussed at all in the mainstream, then it seen as "something not good, something charlatan, con artists, witches, without understanding the meaning of shamanism."
Dikson says that one of the biggest problems shamans face in modern Russia is the demolition or desecration of holy sites.
If the community were to choose a leader, it would be a step toward having shamanism accepted as a major confession in Russia and be dealt with on the same level as Russian Orthodox Christianity or Islam.
The candidates for the post of chief shaman come from all over Russia and have colorful backgrounds.
One candidate, Arsiya, also known as Norzhidma, became a shaman after she suffered a skull injury in a car crash, which she says gave her the power of healing.
The biography of Oyob Bator, a hereditary Tuvan shaman, reads: "I have several thousand cattle, five wives, and three sons. I do not touch hard spirits and smoke dried medical herbs instead of tobacco."
Opposition From Within
The election has not been welcomed by all practitioners. The republic of Tuva, where shamanism has an official status along with the main religion, Buddhism, is home to more than a quarter of the candidates, but shaman leaders there have come out in opposition.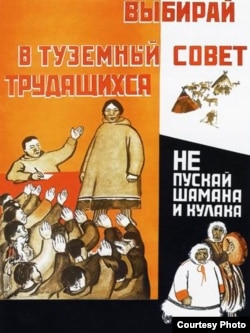 A Soviet-era poster reads: 'Elect laborers to the native council -- not shamans and kulaks.'
Niyulya Tyulyush, a shaman in Tuva with the Dungur community, told RFE/RL's Russian Service that the election is a matter of politics, and "we do no deal with politics."
Shamans are closely connected with their places of origin, and there are many differences in the traditions of those from Russia's Far East or Siberia and those like Dikson who work in the cities.
"If they choose a shaman from Yakutia or Buryatia, then I will have to go there every year and perform all the ceremonies," Ai-Churek Oyun, one of the most popular shamans in Tuva, told RFE/RL's Russian Service. "I'm against it. I always perform ceremonies and rituals connected with the spirits closer to my land."
Annette Hmst, a scholar at the Scandinavian Center for Shamanism and a shaman herself, says that the tradition varies greatly across Russia's regions, and that the election does not take those variations into account.
"You will never get a true picture" of the shamanistic tradition from such an election, Hmst said. "But there will be an outspoken so-called winner, and that can only create an atmosphere of competition, and you will never have the modest serious traditional shamans signing up for this."
The election's first round began on May 8. By July 23, 12 top candidates will be selected, and a winner will be chosen in a second round of voting between July 25 and October 31.
Anyone can vote in the election whether or not they believe in shamanic practices. As of this week, more than 200 people had voted. One shaman has already taken the lead: Labtymyaku, from the Nenets region in the north of Russia.
RFE/RL's Russian Service contributed to this report