MOSCOW -- The Cold War may be over, but for the past several decades Russians have taken an extremely dim view of their former superpower rival, the United States.
Much of that appeared to mirror relations between then-presidents Vladimir Putin and George W. Bush, which were frosty at best.
But the election of U.S. President Barack Obama, who early on pledged to "reset" relations with Moscow, appears to have lightened the mood.
In a poll conducted by Russia's Levada Center, 54 percent of Russians say they like the United States, a marked improvement over the 34 percent registered in November 2008, the month Obama was elected. Meanwhile, the number who dislike the United States fell from 54 percent to 31 percent.
On the streets of Moscow, many Russians appear to reflect the Levada poll.
Mikhail Leonov
Mikhail Leonov, a 37-year-old engineer, sees Russia as getting closer to the United States right from the start of Obama's term. Leonov isn't sure, however, whether the swings in U.S.-Russian relations are as interesting for Americans as they seem to be for Russians.
"Relations with the U.S. improved from the moment of the election of President Obama. There was a lot of hope. There were a lot of differences," Leonov says. "Even though Putin kept himself in hand in relations with Bush, Obama's policies have brought more optimism. It is something in our mentality to constantly look for something, to make comparisons, to have expectations. Americans pay less attention to relations with Russia."

'Optimism, Belief, Hope'

Obama's move to abandon a Bush-era missile defense system in the Czech Republic and Poland is welcomed by many Russians. Others were impressed by Obama's electoral campaign and the fact that he was awarded the Nobel Peace Prize after less than a year in office.
He's a vivid character -- he's useless, its true -- but nevertheless, good in spirit.
Leonid Vasiliev, 79, a former professor of business management, sounds more like an American than a Russian in his unabashed admiration for the new U.S. leader.
"He got the Nobel Prize maybe for what he will do in the future -- in advance -- but he still deserved it," Vasiliev says. "It's one of his programs is to spread optimism, belief, and hope."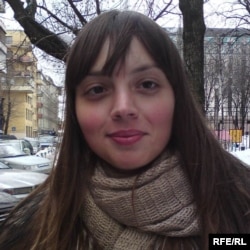 Natalia Loginova
Twenty-seven-year-old Natalia Loginova, a deputy editor at a financial website, says that she had no bad feelings toward the United States before Obama was elected, but that his history-making victory to become the United States' first black president impressed her. Still, she says his economic performance to date leaves something to be desired.
"To be honest, he changed my mind. I never thought a black president would be elected. It improved my opinion about the American political system and about Americans," Loginova says. "He's a vivid character -- he's useless, its true -- but nevertheless, good in spirit."
Nonna Aksyonova, a 50-year-old chef, is also skeptical, but optimistically so.
"I don't think Obama has done anything to deserve getting the [Nobel] Prize or done anything to deserve an especially respectful attitude toward him," Aksyonova says. "But there is possibility in the future. I hope."
Russia's Favorite Hobby
Irina Neman, a 73-year-old former engineer, sees the relationship between the two countries as too complicated.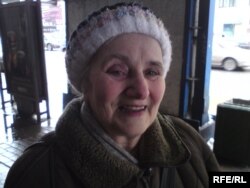 Irina Neman
"Russia has never loved the U.S. and never will love it. Because of envy. It's Russia's favorite hobby, envy," Neman says. "Russia knows that it lags behind, and it doesn't want to. On a personal level, everything is fine, individual people are good, and there are no bad people if you can deal with them. But overall, that won't change anything. The two great powers can't get over their differences."
The younger generation is more divided. Eleven-year-old Tikhon Gadzhikasimov and 12-year-old Dmitry Malenko have different opinions about the United States -- although both are angry about what they perceive as intervention by the United States in the August 2008 war between Russia and Georgia.
"I simply like them. They're a good nation, even though they betrayed us, attacked us," Gadzhikasimov says. "Dima, what do you think?"
"I think I don't like Americans that much because they betrayed us when there was the war with Georgia -- well, you can't call it a war -- but Americans did everything to make it look as though Georgia was totally defenseless and that we were really cruel and attacked them," Malenko replies.
"Although we didn't attack them. They attacked us, dropped bombs on us," Gadzhikasimov says.
"Actually, it wasn't us that [Georgia] attacked. They attacked South Ossetia," Malenko concludes.