Russia's Chief Auditor Implicitly Rejects Chechen Leader's Property Declaration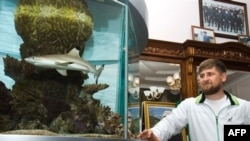 During a May 27 interview with REN-TV pegged to Russian Justice Minister Aleksandr Konovalov's report to the Federation Council on official corruption, Audit Chamber Chairman Sergei Stepashin was asked to comment on the income and property declaration recently made public by Chechen Republic head Ramzan Kadyrov.
Kadyrov gave his income for 2008 in that capacity as 3,442,000 rubles ($108,573); he did not admit to any other sources of income.
The only property Kadyrov
admitted
to owning was an apartment in Grozny of 36 square meters and a small Russian-manufactured sedan. REN-TV pointed out that Kadyrov is known to own several expensive sports cars, including a Lamborghini, a Ferrari F430, and numerous Porsche SUVs; he also has a string of thoroughbred racehorses.
In the most concrete indication to date that some circles in Moscow consider Kadyrov's off-the-wall statements an embarrassment, Stepashin
replied
that "the entire republic is Kadyrov's property. There is no need to feel sorry for him."
About This Blog
This blog presents analyst Liz Fuller's personal take on events in the region, following on from her work in the "RFE/RL Caucasus Report." It also aims, to borrow a metaphor from Tom de Waal, to act as a smoke detector, focusing attention on potential conflict situations and crises throughout the region. The views are the author's own and do not represent those of RFE/RL.