*Correction appended
MOSCOW -- Investigators are set to release a report on what caused an accident at the Sayano-Shushenskaya hydroelectric power station last month that killed 75 people and stopped power production indefinitely.
The accident has highlighted Russia's faltering infrastructure and the government's faltering attempts to deal with it.
In comments ahead of the report's release, Nikolai Kutyin, the head of the Russian state technical standards oversight body, told reporters that the main reason for the accident was operational shortcomings and the failure of safety mechanisms to work.
Many are pointing to RusHydro, the plant's operator, for failing to invest in much-needed renovations despite a profitable year that saw the company's already healthy revenues grow by 34 percent.
Russian President Dmitry Medvedev, speaking a week after the accident, said the disaster should serve as a warning.
"Safety-control systems, and the infrastructure of Russian enterprises in general, require utmost attention now," Medvedev said. "In some cases, infrastructure is inefficient and needs immediate modernization or we will pay a very heavy price."
A Familiar Problem
The infrastructure issue is not new in Russia. The "Kommersant" financial newspaper quoted the Emergency Situations Ministry as saying the Sayano-Shushenskaya dam already posed a serious risk as far back as 1998.
Russia's Audit Chamber this week noted that in a report two years ago, it cautioned that as much of 85 percent of the Sayano-Shushenskaya plant was in need of urgent repairs. The report, however, was not widely publicized when first issued, underscoring an aversion to transparency that remains widespread within Russian officialdom.
The Soviet collapse and, more recently, the economic crisis have eroded funding and state supervision of everything from roads and public transportation to gas lines and waterworks.
The Sayano-Shushenskaya catastrophe may have driven the issue into the headlines, but for most Russians, life has long been a steady stream of lesser perils: potholes, rusty pipes, fire hazards, and shoddy construction.
The problem remained acute even in Russia's economic heyday, when the country's stabilization fund -- created, in part, with infrastructure funding in mind -- swelled to more than $150 billion.
But the Kremlin's economic advisers, many of them free-market liberals, argued that domestic investment would fuel inflation and that surpluses should only be used to pay down foreign debt.
Now the stabilization fund has been earmarked as an economic buffer for times of crisis. Roland Nash, chief strategist for the Moscow-based Renaissance Capital investment bank, says Russia failed to make much-needed improvements when it had the chance.
"Russia has effectively underinvested in infrastructure for the last 20 years, and so there is a huge need for Russian-size investments to take place," Nash says. "So far we have not seen much investment. That is partly due to the crisis."
Road To Nowhere
But a lack of money is not the only culprit, experts say. They stress the importance of how funds are spent.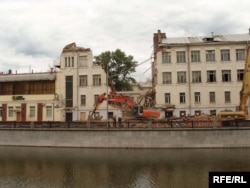 The collapse of a Moscow building killed three people in June 2009.
There are few places that illustrate that point more than the capital, Moscow, a city with a penchant for relentless self-improvement. Although building construction has slowed in the past year, work continues on a number of grandiose projects -- including a massive highway project that is meant to alleviate the city's notorious traffic problems.
The road, punctuated by frequent tunnels, is designed to run straight from Sheremetyevo airport in the city's north to Pushkin Square and the Kremlin in central Moscow. Devised by city authorities before the crisis, the project has been dogged by problems that critics say are typical of other large infrastructure plans -- sloppy planning, lack of public support, and the whiff of corruption.
"The road is being turned into a highway," says Aleksei Klimenko, an adviser on Moscow's architectural council who opposes the project, saying it will only cause more traffic jams and ruin the lives of nearby residents "Without traffic lights, straight to the Kremlin. Throughout the world, highways are not built in areas where there are residential houses; it's banned."
Mikhail Blinkin, a transport consultant who has advised the city and federal government, agrees that the highway makes little sense and will exacerbate traffic woes.
It is one of the many monumental projects that the city and federal governments love but that does little to alleviate real road problems, he says.
"When Russia had a generous budget, good budget possibilities, say in the last seven or eight years, you didn't see any boom in road construction in Russia unlike in China or India. Not a sign of it," Blinkin says. "We built just a little; and not only did we build just a little, but we built roads that were just for show."
More than 15 million Russians have no access to the federal highway system and less than half of federal roads meet federal quality standards. The Economic Development Ministry says the country loses close to 3 percent of its annual GDP because of poor roads alone.
Style Of Management
Roads fare better in Moscow, where the city's longtime mayor, Yury Luzhkov, has reigned as both a master and a resident.
Klimenko shares an oft-repeated anecdote about Luzhkov that he says speaks volumes about the mayor's managerial style -- as well as the current highway project. In it, Luzhkov got stuck in a traffic jam on Pushkin Square in central Moscow and, Klimenko says, "he called everyone he knew to chew them out -- shouting, demanding that there be no more traffic jams at Pushkin Square."
That was when the city's chief architect came up with the idea of building a tunnel under the square, Klimenko says.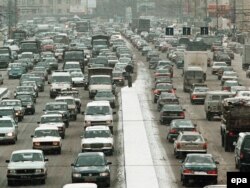 Critics say too little has changed in the decade since traffic jams like this one graced the Russian capital.
The Moscow mayor's office declined to comment on the highway project.
Opposition politician Vladimir Milov, a former deputy energy minister, tells RFE/RL's Russian Service that there is only one way to ensure safety in projects ranging from road building to dam construction, and that is to have all decisions and funding monitored by nongovernmental bodies.
"Independent structures are needed," Milov says. "I think it's preferable for those structures that represent nongovernmental organizations, civil society, to have access to analytical information about what happens on these structures, how safety rules are followed, and to tell society about it. We need to know."
* An earlier version of this article incorrectly stated that the Sayano-Shushenskaya hydroelectric power station is featured on Russia's 10-ruble note. It is in fact the Krasnoyarsk hydroelectric power station.