Workers at Russia's Molot arms plant haven't seen their salaries in nearly six months. Unable to meet payroll, management has resorted to passing out food parcels to its increasingly angry and desperate employees.
At a recent demonstration, some Molot employees suggested that instead of giving them flour, sugar, pasta, and canned meat, management should instead start passing out the factory's signature product -- Kalashnikov assault rifles.
Prosecutors in the Kirov region where the Molot plant is located have opened a criminal investigation into the plant's director, Sergei Bakhmurov, for failing to pay salaries. But such steps are cold comfort for employees like Valentina Danilchenko, who has worked at the factory for more than three decades as a machine operator.
She says she makes ends meet by growing food in a small garden plot and calls it "humiliating" and "insulting" to be denied her wages while, she says, the plant's bosses live in relative opulence
"During the war, people understood what was happening. They knew what they were working for. They knew life was hard and people were living on bread crust," Danilchenko tells RFE/RL's Russian Service.
"And what is happening now? They are building cottages all over the place that cost millions. It is offensive that some live like sheiks while we live like this."
As Russia prepares to join other nations in marking International Labor Day on May 1, the official parades and festivities celebrating the working class will have an ominous subtext as the country reels from the burgeoning economic crisis.
Facing layoffs and wage arrears, Russia's industrial proletariat is getting restless and surly. And the political elite, sensing that it could soon be facing the first real prospect of social unrest in nearly a decade, is getting nervous.
The Federation of Independent Trade Unions, which is loyal to the government and affiliated with the ruling United Russia party, says it expects 2.5 million people to participate in its demonstrations.
Opposition groups including Solidarity and Yabloko are also planning demonstrations in Moscow, St. Petersburg, and other cities, as is the Communist Party and various independent labor unions.
Speaking to RFE/RL's Russian Service, Andrei Isayev, chairman of the Labor Committee in the State Duma and a leading member of the ruling United Russia party, tried to put a brave face on what is a tense time for the authorities
"Nothing extraordinary or unexpected is happening here," Isayev said.
"We are not frightened by the fact that people at demonstrations are going to shout criticism at us. This is a normal democratic process. The authorities are often slow to adapt to many things."
Layoffs, Arrears, And Strikes
But by all accounts, the situation is getting increasingly dire.
Wage arrears nationwide have reached 8.755 billion rubles ($262 million), affecting half a million people. The Economic Development Ministry announced April 27 that 7.5 million Russians, comprising 10 percent of the workforce, are now jobless.
Workers' interests in Russia are either weakly represented or not represented at all
The ministry also said one-third of all Russian companies plan further layoffs, with the auto and metallurgy industries making the most drastic cuts.
State-owned Russian Railways recently announced that it plans to slash 54,000 jobs and the steel giant Severstal says it plans to lay off 9,500 people. The automaker GAZ has already slashed 7,500 jobs in the first quarter of 2009.
Union leaders say the unemployment statistics don't take into account factors like underemployment, shortened work weeks, mandatory unpaid vacations, and other economic hardships plaguing Russia's working class.
"The situation is becoming worse and worse," says Boris Kravchenko, head of the All-Russia Confederation of Labor.
"This is partially related to the devaluation of the ruble and the accompanying rise in inflation. The buying power of workers has fallen approximately 40 percent. We don't see this situation improving."
Not surprisingly, labor unrest is on the rise throughout the country. Most recently, approximately 70 workers at the TagAZ machine-building plant in Rostov-na-Donu, which makes vehicles for the South Korean automaker Daewoo, went on strike on April 21 due to wage arrears.
Three workers at the Zlatoust Metallurgical Works in the Chelyabinsk region, where salaries have not been paid for several months, recently launched a hunger strike to protest its decision to suspend operations until June.
Analysts say the strikes, while numerous, have thus far been poorly organized and largely ineffective.
"There are plenty of strikes and layoffs. But at the same time the level of resistance is very weakly coordinated. We are speaking about three or four strikes a day. But these are wildcat strikes. Quite a few of them end up in failure," says Boris Kagarlitsky, director of the Moscow-based Institute of Globalization and Social Movements, which is sympathetic to organized labor.
A Matter Of Survival
Labor leaders, however, are hoping that will soon change. Russia's two largest independent unions -- Kravchenko's All-Russian Confederation of Labor (VTK) and the Confederation of Labor of Russia (KTR) -- have announced plans to merge.
Union officials say the move will create a 2-million-strong union: "For us this isn't a political or technical issue. This is a question of survival," Kravchenko says.
"We will be able to continue our work defending workers' rights. We are consolidating our financial resources, our personnel, our protest potential, and our analytical capabilities so we won't be crushed and so we can continue defending the rights of labor."
Prior to the crisis, Russia had enjoyed nearly a decade of healthy economic growth, averaging 7 percent a year. But analysts point out that the good times largely benefited white-collar workers and professionals as the Kremlin consciously sought to establish a middle class.
Russia's government says it now expects GDP to contract 2.2 percent in 2009, the first drop since the country's 1998 default.
Labor leaders say with scant political representation, industrial workers are bearing the brunt of the crisis.
"Workers' interests in Russia are either weakly represented or not represented at all. Above all, we are working to unite workers into a political force that can lobby their interests through what we call street parliamentarism," says Aleksei Etmanov, leader of the Inter-regional Trade Union of Automobile Industry Workers.
One-Factory Towns
Given the economic upheaval, the Russian elite is specifically concerned about possible unrest in so-called "mono-cities," one-factory towns where layoffs are likely to have a particularly harsh -- and potentially destabilizing -- effect.
Late last year, economist Yevgeny Gontmakher wrote an article in the newspaper "Vedomosti" speculating about layoffs in a hypothetical provincial industrial town leading to violent unrest that spreads and ultimately reaches Moscow.
The article was titled "Novocherkassk-2009," a reference to a southern city where Soviet police brutally quashed rioting workers in 1962. The government's media watchdog issued a warning to "Vedomosti" over the article, arguing that it was inciting extremism.
President Dmitry Medvedev also ordered law-enforcement agencies to stamp out any social unrest linked to the crisis.
Nevertheless, analysts say the threat of unrest in such cities, with their undifferentiated economic bases, is very real.
Approximately 12 percent of Russia's population lives in monocities -- places like Zlatoust in the Ural Mountains, where 25 percent of the population is dependent on the local metallurgical works.
"The crisis is growing and spreading faster in these cities than in places where people can find other jobs. This problem has been with us for some time, and it remains," Etmanov says.
As the economy reels, the authorities are deeply divided on how to address the problem. Two deputy prime ministers, Igor Shuvalov and Igor Sechin, are sparring -- sometimes publicly -- over how the government should respond to the crisis.
With the support of Finance Minister Aleksei Kudrin and Economy Minister Elvira Nabiullina, Shuvalov is arguing that the economic crisis makes it necessary to diversify Russia's economy and make it less dependent on energy exports.
Sechin and the "siloviki" clan of security-service veterans -- who are heavily tied to the energy sector -- are fighting to maintain Russia's traditional role as a commodities exporter.
Back at the Molot factory in the Kirov region, people just want to get paid. Lyudmila Zaitsova has retired from the plant, but her son and husband are still employed there. She says her family's well-being is dependent on the plant, and the state, doing right by its workers.
"The children need to be fed and clothed. And when I die, how will they be able to bury me? I am ashamed for our country and for our factory. How can the state abandon us like this?" Zaitsova says.
RFE/RL's Russian Service contributed to this report
World Economic Crisis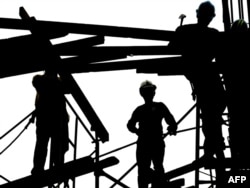 Multimedia coverage on the impact of the global financial crisis on markets and individuals across RFE/RL's broadcast region. More