Same Procedure As Every Five Years: Azerbaijan Elects A New Parliament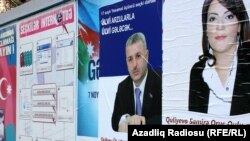 On November 7, Azerbaijan's 4.8 million registered voters will elect a new parliament for the fourth time since the country became independent in 1991. As most longtime observers anticipated, this year's election campaign has replicated many of the shortcomings of earlier ballots, including the authorities' disinclination to act on recommendations from international organizations intended to render the election process more democratic; disqualification of many opposition candidates; restrictions on campaigning by opposition parties and harassment of their candidates; and intimidation of voters.
Ten years ago, such violations led Gerard Stoudmann, then-head of the Organization for Security and Cooperation in Europe's (OSCE) Office for Democratic Institutions and Human Rights (ODIHR), to
brand the 2000 Azerbaijani parliamentary ballot
"a crash course in various types of manipulation."
This time around, unlike 2000, no media outlet has printed in advance what it claimed was a list of the candidates the Central Election Commission had decided should be elected. (That list subsequently proved largely accurate.)
But no one doubts that the ruling Yeni Azerbaycan Party (YAP) established in the mid-1990s by Heydar Aliyev, the father and predecessor of incumbent President Ilham Aliyev, will retain, or even increase, its current majority. YAP currently has just 64 seats in the 125-member legislature, but many nominally independent or nonaligned deputies are either YAP members or closely aligned with that party. Opposition parties currently hold just 12 mandates.
Registering Difficulties
Less easy to predict is which of the new opposition and quasi-opposition blocs that have coalesced in recent months will win parliamentary representation, and whether the country's ethnic minorities, which
account for an estimated 10 percent
of Azerbaijan's total population of 9 million, will continue to be underrepresented.
Following constitutional changes introduced in 2002, all 125 parliament members are elected in single-mandate districts. Of a total of 1,407 would-be candidates, the Central Election Commission has registered just 719 (compared with 2,062 in 2005), of whom 27 subsequently withdrew. Approximately half the registered candidates (370) represent 33 political parties/blocs; 320 are independent, and the remainder did not disclose their affiliation.
The ratio of would-be candidates to candidates actually registered varies hugely. Every single one of YAP's 114 would-be candidates was registered, although three subsequently withdrew. At the other end of the scale was the Democracy bloc comprising the Civic Solidarity and Democratic Reforms parties; just 17 of its 120 would-be candidates were registered. The average for the remaining four opposition blocs was approximately one in three.
The OSCE/ODIHR Election Monitoring Mission noted in its
most recent assessment
of the election campaign that "the refusals to register some candidates appeared, in most instances, due to an overly restrictive interpretation of provisions of the Election Code, especially with regard to the collection and verification of supporting signatures that prospective candidates are required to submit."
The Azerbaijan Popular Front Party-Musavat bloc uniting the country's two oldest and most influential opposition parties managed to register 35 candidates of 92 hopefuls.
The Karabakh bloc comprising the Umid (Hope) party, Aydynlar, and the Democratic Party of Azerbaijan registered 32 of 99 hopefuls.
The Reform bloc that brings together the Popular Front of United Azerbaijan, the Adalet (Justice) party, Great Creation, and Tekamul, registered 31 of a total of 106 would-be candidates.
The bloc For Human comprising the Liberal Party and Citizen and Development registered 19 of its 60 candidates who formally applied.
Among the other parties participating singly, the Azerbaijan National Independence Party (AMIP) registered 21 candidates, and the marginalized Communist Party of Azerbaijan registered six candidates.
Sidelined, Minimized
Not only is the number of candidates participating far smaller than in 2005: amendments to the election law passed in June curtailed of the length of the election campaign from 75 to 60 days, and the period for canvassing from 28 to 23 days, and
abolishing the subsidies
previously made available to candidates from the budget.
True, candidates are still entitled to free airtime on national TV and radio -- but as campaign-related programming is restricted to two hours each evening for 23 days, each candidate
receives only four minutes
. There have been
no televised debates
between representatives of the various political parties.
The possibilities for opposition candidates to compensate for that lack of media access by organizing campaign meetings are similarly limited. The authorities published a list of venues where such meetings are permitted (one outdoor and one indoor in each constituency, according to the OSCE mission), but the locations in the Baku area are either far from the city center or of
only limited capacity
.
The interim OSCE/ODIHR mission's assessment noted that the Popular Front-Musavat bloc canceled a demonstration in Baku planned for October 17 after the municipal authorities refused permission for it.
The relentless "narrowing of the goal posts" by the Azerbaijani authorities has taken its toll. Several of the older generation of opposition politicians have apparently concluded that there is simply no point in running as candidates. They include AMIP Chairman Etibar Mamedov, who finished second after Heydar Aliyev in the 1998 presidential ballot and fourth in 2003; and such intellectual heavyweights as Eldar Namazov, a former adviser to Heydar Aliyev, whose Yeni Siyasat bloc did not survive its failure to garner a single parliament mandate in 2005, and Liberal Party of Azerbaijan leader Lala-Shovket Gadjiyeva.
In such conditions, with the odds stacked against the opposition, the most that can be hoped for is that falsification is not so blatant as to precipitate a repeat of the protests in the wake of the 2003 presidential ballot, in which
two people were killed
.
About This Blog
This blog presents analyst Liz Fuller's personal take on events in the region, following on from her work in the "RFE/RL Caucasus Report." It also aims, to borrow a metaphor from Tom de Waal, to act as a smoke detector, focusing attention on potential conflict situations and crises throughout the region. The views are the author's own and do not represent those of RFE/RL.