WATCH: Russian rapper Noize MC made this video to protest the actions of LUKoil executive Anatoly Barkov and LUKoil itself. Warning: It contains graphic images from the site of the fatal car crash.
(Reported by Mariana Torocheshnikova and Valeria Khamrayeva in Moscow and written by Brian Whitmore in Prague
)


MOSCOW -- The driving habits of Russia's rich and powerful are again being placed under a spotlight following an automobile accident involving a top oil executive in Moscow that left two women dead.
The accident took place on February 25, when a chauffeur-driven Mercedes carrying LUKoil Vice President
Anatoly Barkov
crashed head-on with a small Citroen carrying two female obstetricians. The two women -- 36-year-old Olga Aleksandrina, who was driving, and her passenger, 72-year-old Vera Sidelnikova -- both died. Barkov and his driver sustained only minor injuries.
Police quickly blamed Aleksandrina for the accident, claiming that she swerved into the oncoming lane and hit Barkov's car. But eyewitnesses have since come forward to contradict this account, saying it was Barkov's Mercedes that was driving in the wrong lane, apparently trying to avoid a traffic jam.
"I want to thank the witnesses who are coming forward. Thank you very much. Because we feel that the authorities do not want to put forward any evidence," Aleksandrina's father, Sergei, said at a press conference in Moscow.
Aleksandrina's sister Anastasia tells RFE/RL's Russian Service that the family and its attorneys are cooperating with the Federation of Russian Motorists, which says it has three witnesses who saw the accident and can confirm that Barkov's driver was at fault.
Meanwhile, Igor Trunov, an attorney representing the victims' families, said the police were refusing to turn over reports about the accident or any other evidence. He added that closed circuit video footage of the accident has gone missing.
"There are three video systems and from those three there is not any footage. And this means that it will be very difficult for us to get any justice," Trunov said.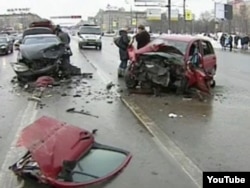 The accident scene
The incident has stoked public anger over how members of the Russian elite routinely violate traffic laws and disregard the safety of other motorists and pedestrians with impunity, usually with the tacit acquiescence -- or in some cases, active assistance -- of the police.
LUKoil declined to comment on the accident. According to press reports, the oil company is refusing to pay compensation to the women's families, despite the fact that Aleksandrina is survived by a baby daughter, who was not in the car at the time of the accident, and a disabled husband.
The victims' families have written an open letter challenging the official version of events and vowing to take their case to court. The letter calls the police account of the accident "false and unproven," adding that "the guilty must be punished regardless of their wealth or social status."
Protest Song
Meanwhile, angry motorists are threatening to boycott LUKoil gas stations. And prominent Russian rapper Noize MC, whose given name is Ivan Alekseyev, has posted a protest song and video on the Internet condemning Barkov -- who is in charge of corporate security at LUKoil.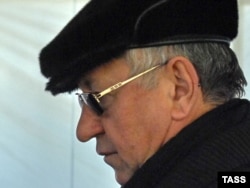 Anatoly Barkov
The rap video shows footage from the crash site, the small red Citroen crumpled, Aleksandrina's body visible in the driver's seat, and its passenger-side door ripped clean from the car from the force of the crash. In his lyrics, Noize -- a close friend of Aleksandrina's sister -- compares Barkov to Denis Yevsyukov, the former Moscow police officer who recently received a life sentence for killing two people in a supermarket shooting spree.
Speaking to RFE/RL's Russian Service, the rapper says he expects problems down the road due to the video, but adds that he has no regrets.
"In this situation, I am not blindly worshiping the principle of the presumption of innocence. If you don't attract attention to the situation dramatically then everything gets hushed up," Noize says.
"[The police] acted quickly and with one specific aim, saying the driver of the Citroen was the guilty party. If I hadn't drawn attention quickly then it would have been easier to cover this up. I understand that I will have a mess to clean up later, but I could not stand on the sidelines."
WATCH: This graphic video appears to have been instrumental in police launching a criminal investigation into the actions of driver Anna Shavenkova. Viewer discretion is advised.
Russians have long seethed about how the country's rich, powerful, and well-connected routinely break speed limits, drive in emergency lanes and on sidewalks, and bypass traffic jams with the help of sirens and special license plates.
In December, Anna Shavenkova, the daughter of the head of the Irkutsk election commission, drove her car onto a sidewalk at high speed, running over two women, sisters Yulia and Yelena Pyatkova, killing one and maiming the other.
Police initially did not charge Shavenkova with a crime. But a video later surfaced clearly showing Shavenkova running over the two women, and then getting out of her car, checking it for damage, and making a call on her mobile phone, disregarding the sisters who were sprawled on the sidewalk.
Following a public outcry, police announced on February 24 that Shavenkova was a suspect in an ongoing criminal investigation and that charges will be filed soon.
RFE/RL's Russian Service contributed to this report