Serbia has taken a small step forward in the lengthy process of gaining membership to the European Union.
Foreign ministers of the 27-state bloc agreed to ask the executive commission for an opinion on launching entry talks -- a procedural step in the accession process that has been withheld until now.
"I was very pleased that the general affairs council took the decision to send to the [European] Commission for their opinion on Serbia and the potential of the future for Serbia in the European Union," said EU foreign-policy chief Catherine Ashton after a meeting of foreign ministers in Luxembourg today. "I have already spoken to [Serbian] President [Boris] Tadic to say I'm very pleased that this has happened."
The move was also welcomed by Serbian Prime Minister Mirko Cvetkovic, who said it "shows that our efforts so far have been recognized by the European Union."
Earlier, the country's defense minister, Dragan Sutanovac, said, "Serbia's European journey is unstoppable."
The Hunt For Mladic
However, the Balkan state must still overcome substantial hurdles to become an EU member. Considered foremost among these is the arrest of Ratko Mladic.
Mladic, the commander of the Bosnian Serb forces during the Bosnian war, was indicted in 1995 on charges of genocide, war crimes and crimes against humanity by the UN's International Criminal Tribunal for the former Yugoslavia.
He is accused of masterminding the siege of Sarajevo, during which some 10,000 people died, and for orchestrating the massacre of some 8,000 Muslim men and boys in the town of Srebrenica.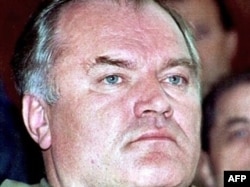 Wartime Bosnian Serb General Ratko Mladic in 1995
Mladic is widely believed to be in hiding in Serbia, where he is protected by sympathizers.
Today, the EU foreign ministers called on Belgrade to increase efforts to arrest Mladic and another suspect, Croatian Serb wartime political leader Goran Hadzic, if it hopes to further its EU bid.
To ease concern among some EU governments that progress towards accession would send the wrong message to Serbia, the bloc's foreign ministers agreed that any future steps would require the unanimous agreement that Belgrade is cooperating in the hunt for the wanted men.
In response, Serbian Deputy Prime Minister Bozidar Djelic said, "We will do everything, regardless of conditions imposed by the EU, to find Mladic and make him answer for everything he had been charged with."
Steven Vanackere, the foreign minister of Belgium, which currently holds the EU's rotating presidency, said, "A good balance has been found between ... recognizing Serbia's efforts in recent months...and a message that full cooperation with the tribunal is still a condition."
Kosovo Dialogue
Ashton also praised Serbia's willingness to engage in dialogue with Kosovo and said she was looking forward to the start of talks between Belgrade and its former province.
"We're a long, long way from the end of the process of EU accession [for Serbia]. I hope the dialogue [between Belgrade and Pristina] will begin very soon," she said. "We've had officials talking with Pristina, with Belgrade about the desire both have to get this dialogue moving, but I want the focus to be on very practical things that will make the lives of people easier, that will reflect on some of the issues that people are concerned about."
Serbia increased support for its EU candidacy in July when it agreed to negotiate with Kosovo, whose 2008 declaration of independence has been recognized by the United States and most EU nations.
But even as it opens a space for dialogue, Serbia maintains that it will never recognize Kosovo as a sovereign state.
At their meeting today, EU foreign ministers also took up the issue of visa restrictions for senior officials from Belarus.
The ministers agreed to extend a suspension of previously imposed visa restrictions for Belarusian President Alyaksandr Lukashenka and others, but did not lift the sanctions entirely because of concerns over human rights and democratic reforms.
written by Richard Solash, with agency material