WATCH: Tensions between separate Muslim communities in Novi Pazar could fuel further tensions between Muslims and ethnic Serbs in the region, where some Muslims insist that "Sandzak is not Serbia."
By Milos Teodorovic and Maria Arnautovic
NOVI PAZAR, Serbia -- Sports are everything in the former Yugoslavia. So it came as no surprise when residents in the main city of Serbia's Sandzak region streamed onto the streets earlier this month to noisily celebrate the outcome of the Serbia-Turkey semifinal match in the basketball world championships in Istanbul.
What was more surprising, perhaps, was that they were celebrating a victory for Turkey, not Serbia.
The Sandzak residents, mainly Muslims who call themselves Bosniaks, who crowded the streets that night were almost giddy in their joy over the defeat of their national team, waving Turkish flags and chanting slogans like "Sandzak is not Serbia" instead.
Even in a region accustomed to ethnic irritations and a complex mosaic of loyalties, Sandzak's outright rejection of national pride is seen as unusual -- and a worrying sign that the Western Balkans may be facing the rise of its latest ethnic hot spot.
Sead Biberovic, an activist with Urban IN, a Sandzak civil-society NGO, says he was distressed by the animus evident in the basketball protests. But, he says, Serbia is ultimately to blame.
"Bosniaks in Serbia want to see Serbia as their own country, and they want Serbia to be their country, their motherland," Biberovic says. "But while I can say that's what they want, I can't say it's always the case. First of all, Serbia is also to blame because, unfortunately, it still doesn't act like a mother to its loyal citizens -- Bosniak men and women in Serbia."
Ottoman To EU
Sandzak, a region of 420,000 in Serbia's south, is predominantly Muslim, with Bosniaks outnumbering Serbs by as much as four to one in the main city, Novi Pazar.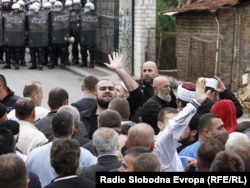 A September standoff with police in Novi Pazar
Although the region was spared the worst of the ethnic atrocities during the Balkan wars, a long-standing enmity continues to divides Sandzak's Serb and Muslim communities.
The area's origins as an Ottoman settlement have many of its Bosniak residents -- including Rizo Kucevic, an unemployed father of five -- thinking of Turkey, not Serbia, as their historic home.
"Like a majority of the population here in Novi Pazar, I have the feeling that Turkey is closer to us, for many reasons," Kucevic says. "One reason is the sense of almost paternal ties. Turkey is now a superpower in Europe as well as Asia. Therefore, it will resume playing a role that ended a hundred years ago. Turkey won't occupy the Balkans, but it will continue to have great influence. That's for certain."
In the meantime, it is discord with Belgrade that is dominating life in Sandzak. More than 1,000 angry Bosniaks faced off against police at the start of the month to protest a plan by Serbian officials to build a kindergarten facility on land that many believe is the rightful property of a local Islamic community. (Local Serbian officials in Novi Pazar say the plot is owned by the city.)
A number of protesters were arrested during the demonstrations, prompting protest leaders to say the behavior of the police was symptomatic of a deep culture of racism.
More specifically, some said the repressions were meant to punish Muslims for failing to support Belgrade's preferred candidates in recent elections for the National Bosniak Council, one of several new bodies meant to protect the rights of Serbia's minorities.
The national councils, created last year as part of Serbia's efforts to court EU membership, hand minorities some decision-making powers on issues related to media, education, and language. But an election that should have been cause for celebration among Serbia's Bosniaks has instead ground the initiative to a halt and exposed deep, possibly irreparable, fissures in the Muslim community.
The 'I' Of The Storm
Part of the problem is that the man who led the winning ticket in the June vote, Sandzak Mufti Muamer Zukorlic, is largely loyal to Muslim authorities in neighboring Bosnia, and has made public proposals -- including autonomy for Sandzak -- that have been deeply aggravating to Serbian authorities.
Sandzak Mufti Muamer Zukorlic, one of Serbia's most influential Islamic leaders
Zukorlic soundly beat his two closest rivals, both men with strong ties to Belgrade -- Rasim Ljajic, the Serbian labor minister, and Sulejman Ugljanin, the former mayor of Novi Pazar and currently a minister without portfolio in the Serbian government.
But as squabbles continue over the composition of the 35-seat council, questions have also arisen about the appropriateness of Zukorlic assuming a political post even as he maintains his spiritual one.
Many Bosniaks worry that having a mufti at the head of their minority council will brand Sandzak as a quasi-Islamic republic with no legitimate political goals. The outspoken Zukorlic, however, defends his right to serve in both capacities.
"Why is it that my Muslim robe causes embarrassment, but not the robe of the Dalai Lama?" Zukorlic asks. "If it's not allowed for me, then it shouldn't be allowed for anyone. That would mean writing off Dr. Martin Luther King, Gandhi. All of them were religious authorities."
Further complicating the issue is Zukorlic's rivalry with Grand Mufti Adem Zilkic, whose allegiances lie with Belgrade. The two men have formed groups with confusingly similar names -- Zukorlic leads the Islamic Community in Serbia, while Zilkic heads the Islamic Community of Serbia -- and have clashed on several occasions over Muslim property rights in Sandzak. Zilkic has also called on Zukorlic to abandon his political career, saying the Bosniak Council was "not a job for any religious practitioner."
Fears Of Violence
The spats have split Serbia's Bosniak society sharply down the middle, and prompted some in Sandzak to wonder whether the two men are putting personal ambitions before public good. Many see Zukorlic in particular using run-ins with the police and a recent controversy over a newspaper illustration showing him dressed as an Orthodox priest for his own personal publicity.
Zukorlic has also repeatedly warned that the simmering tensions in Sandzak could easily erupt into violence, a scenario that Serbia -- which has successfully stirred unrest in both Northern Kosovo and Bosnia's Serb Republic -- does not want to see on its own soil.
Analysts say Zukorlic's apparent attempts to turn Sandzak into the next great Balkan dilemma are dangerous and excessively dramatic.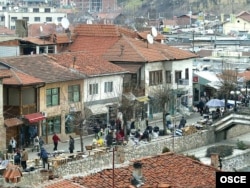 A view of the city of Novi Pazar (file photo)
But Aleksandar Popov, the director of the Center for Regionalism in Novi Sad, the capital of another complex Serbian province, Vojvodina, says Zukorlic's influence is also a result of the state's poorly conceived policy on Sandzak.
"We had a similar situation in 2005 in Vojvodina when there were frequent ethnic incidents where on the one hand the state was not promptly and adequately responsive, and on the other we had a Hungarian leader who dramatized the situation so much that we got two reprimands from Brussels," Popov says. "But when the state started doing its job, then the passions calmed down. So I think the same model should apply in Sandzak."
Ljudmila Cvetkovic and Branka Trivic of RFE/RL's Belgrade bureau contributed to this report