Sex scandals may not be the usual route to political modernization. But when Deniz Baykal, the long-standing leader of Turkey's main opposition Republican People's Party (CHP), was brought low by just such an event last week it raised hopes that a weak and moribund organization could at last be free to enter a brave new era of reform.
Baykal resigned the post of party president he had held intermittently for nearly two decades after a video apparently showing him cavorting in a hotel bedroom with his former secretary was posted on the Internet. At the age of 71, it seemed to herald an unlikely -- and unseemly -- end to a political career that had seen him gain an iron grip over Turkey's oldest political party.
It also appeared to remove a major stumbling block to aspirations to turn the CHP -- the party established by modern Turkey's founder, Mustafa Kemal Ataturk -- from an outdated voice in the wilderness into a 21st-century force fit to match the country's Islamic-based Justice and Development Party (AKP) government, led by Prime Minister Recep Tayyip Erdogan. Reformists hoped Baykal's departure could pave the way for a more open-minded leadership figure who would challenge the AKP's self-portrayal as Turkey's main force for democracy and European integration.
Now, however, would-be modernizers are finding their hopes stymied by a hitherto little-known force in Turkish politics -- "Baykalism."
The term has been coined by some reform-minded activists to describe the CHP's hard-line old guard, who are determined that the party will continue to be run, if not by Baykal himself, then at least in line with his strictures and guidelines. "It's more like a teamwork, the way to preserve the party," says Bedri Baykam, a pro-reform CHP activist and prominent artist. "It's not an ideology economically or politically. It's more like a way of holding the party in your grips."
Hunger Strike
So strong is the commitment to Baykal's principles that some of the party's leading office-holders have been exploring ways to allow him to be reinstalled as leader. Some members of the CHP's youth wing even staged a hunger strike outside his home demanding that he return.
Failing that outcome, Baykal is widely assumed to be plotting the election of a hand-picked successor at the party convention, being held on May 22-23. However, hopes for a business-as-usual scenario are in danger of being blown off course after a known reformer, Kemal Kilicdaroglu, announced he would run for the leadership. The move has angered CHP's Central Executive Board, which is clamoring for Baykal's return, and threatens to make this weekend's convention a stormy affair.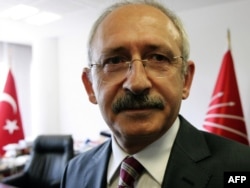 Kemal Kilicdaroglu
Kilicdaroglu's chances of success are unclear since it is accepted wisdom that any successful leadership candidate will need Baykal's support. What is clear, analysts agree, is that the chances of radical reform in the short term are dim because of the shadow the former leader continues to cast over the party.
"For the moment, it certainly doesn't like it's going to lead to a reformist party," says Soli Ozel, a political analyst at Istanbul Bilgi University. "It looks like he is going to try to control the convention process. There are really no notable figures who can replace him, which is, of course, his own doing.
"He turned the party into a private fief and almost everybody who is going to be voting in the convention was handpicked by him. There is no internal democracy."
'Twin Pillars'
Nominally identified as a European-type social-democratic party, the CHP has become increasingly identified with Turkey's secularist establishment, most potently represented by the traditional "twin pillars" of the armed forces and the judiciary. Critics charge it with projecting an image of nationalist intolerance and believe that -- despite its official policy -- it is hostile to institutions such as the European Union, with which Turkey is currently negotiating membership. It has also been criticized for a chauvinist attitude toward Turkey's Kurdish minority, a perception that has led to it being virtually wiped out in elections in the mainly Kurdish southeast.
Cengiz Aktar, professor of EU studies at Bahcesehir University in Istanbul, believes an internal "revolution" lasting several years is needed to transform the party. "It should first of all change its mentality," he says. "This party is much too close to nonelected officials in the country, namely the military. In that sense, they should really go through a mentality revolution. This is why their transformation will take long years."
Before that can happen, activists are demanding constitutional change that will see the party leadership become more responsive to its members. Baykam, who ran unsuccessfully for the leadership in 2003, recently tabled proposals calling for more decentralization and quotas for women and members under 35 years old aimed at promoting greater diversity.
"In our situation, the central grip of the CHP, the president, and a few of his close collaborators, they decide everything -- who is going to be a parliament member, who is going to be a municipal president, etc.," Baykam says. "We want the party to think and breathe with its voters, with its hinterland, and through its civilian associations."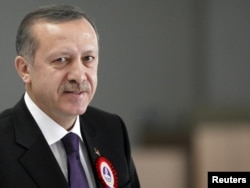 Prime Minister Recep Tayyip Erdogan
Polarized Politics
However, the short-term prospects for such a changing of the guard may be further complicated by the polarized state of contemporary Turkish domestic politics. The CHP is committed to opposing a radical constitutional-reform package introduced by the AKP government that would strengthen political control over the secularist judiciary and allow serving military officers to be tried in civilian courts, a prospect once considered unthinkable.
Having failed to get the two-thirds parliamentary majority to enact the package into law, Erdogan's government has called a referendum for September 12 -- a symbolic date that will mark the 30th anniversary of a 1980 coup that toppled an elected civilian government. It was the ensuing military government that introduced the constitution that the AKP's package, containing 28 amendments, is designed to change.
Ratcheting up the mood of confrontation, the CHP has filed a suit with the Constitutional Court, the country's highest court, calling for the package to be declared illegal on the grounds that it undermines the judiciary's independence and breaches the principle of separation of powers. A ruling in the CHP's favor is expected to prompt Erdogan to call early elections -- officially not due until next year.
This climate of uncertainty is likely to propel the CHP into rough seas, a prospect that Baykal's determination to keep control will exacerbate, Ozel believes. "Under those circumstances, given the fact that there is no significant personality in the CHP that can actually keep the party together and Mr. Baykal doesn't look -- so far anyway -- inclined to really let the party find its own bearings, first of all the CHP will have to go through some pretty turbulent times in my view," he says.
The party's old guard may be able to stay in command for now. But in embarking on a national power struggle with Erdogan's government, they might find themselves too distracted and ill-equipped to resist the calls for change within their own ranks.