When Mintimer Shaimiyev finally agreed to step down as Tatarstan's president, he did so on his own terms.
As Russian President Dmitry Medvedev launched an ongoing drive to replace regional leaders to bring fresh blood into the elite, the 73-year-old Shaimiyev, Russia's longest-serving provincial baron, was high on the list. Entrenched, powerful, and quite popular in Tatarstan, Shaimiyev knew he could put a high price on agreeing to step aside without a fight.
So the Tatar leader moved aside only after the Kremlin accepted a deal in which he was succeeded by Shaimiyev's handpicked candidate -- longtime ally and Prime Minister Rustam Minnikhanov. Shaimiyev also managed to secure an influential postretirement government job as "state adviser" in Tatarstan, a move that ensures the ex-president will maintain some degree of influence over the oil-rich republic.
Shaimiyev formally exits after serving for nearly two decades as Tatarstan's leader. Analysts say the fact that he was able to dictate such terms, especially at a time when the Kremlin has become accustomed to removing regional leaders at will, is testament to his enduring political clout on the national level.
"I cannot remember any other region where the leader managed to go out in such a way as Shaimiyev," says Nikolai Petrov, a specialist on Russia's regions at the Moscow Carnegie Center. "He put his candidate into office and did this in time without being pushed out by the federal center. He's a brilliant politician. He's a political animal."
Unmatched Autonomy
Shaimiyev has outlasted one Soviet leader, Mikhail Gorbachev, and two Russian presidents, Boris Yeltsin and Vladimir Putin. He has secured a degree of autonomy for Tatarstan that is unmatched by any other Russian region. And with the help of local oil revenues he fought hard to keep in Tatarstan, he has transformed his republic, once a Soviet backwater, into one of Russia's wealthiest and most vibrant areas.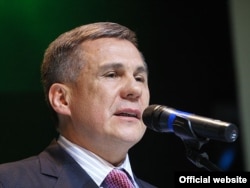 Rustam Minnikhanov, Shaimiyev's handpicked successor
He also ruled with an iron fist, building a highly effective political machine, maintaining a viselike grip over the republic's media, and ruthlessly suppressing political dissent.
Petrov calls Shaimiyev "one of the most influential politicians" of the post-Soviet period. "Tatarstan is not only a big region, it looks like a state within a state," he says. "Shaimiyev always played a very clever game, getting as much as possible from the federal center. But at the same time he kept relations between the center and the region in good shape."
Petrov adds that even at the height of his power as Russian president, Yeltsin was "afraid" of Shaimiyev. And even the hard-nosed KGB veteran Putin, who sought to bring Russia's regional elites more closely under Moscow's control, treated him with kid gloves.
Indeed, rumors of Shaimiyev's imminent removal became so frequent during Putin's presidency that they became fodder for jokes. Until Shaimiyev announced his retirement in January, they always proved false.
Trump Cards
Most recently, in early 2007, there was widespread speculation that Shaimiyev would be removed and replaced by Interior Minister Rashid Nurgaliyev, an ethnic Tatar and a favorite of the security-service veterans surrounding Putin. That rumor, like so many before it, proved to be unfounded.
According to Petrov, one of Shaimiyev's trump cards was that he was able to deftly play on Kremlin fears of Tatar nationalism and in the process make himself indispensable to Russia's rulers.
"He was always engaged in a very sophisticated game with the federal center, playing the nationalist card," says Petrov. "Whenever Yeltsin or later Putin tried to take a harsh position toward Tatarstan, all of a sudden a new wave of nationalism appeared [in the republic]. And there were clear signals that only Mintimer Shaimiyev could keep the situation under control."
Observers say Tatarstan is actually an unusual example of a Russian region where the majority of the population is Muslim but where interethnic and interfaith strife is rare. According to the latest census, 52.9 percent of Tatarstan's 3.8 million inhabitants are predominantly Muslim Tatars, while 39.5 percent are predominantly Orthodox Christian Russians.
Viktor Sazonov, speaker of the regional legislature in Samara, which borders Tatarstan, praises Shaimiyev for effectively keeping local tensions to a minimum. "Russia is a multinational country and much depends on us living in peace," he says. "I think Shaimiyev has had a lot of success in this regard."
Disappointed Expectations
But while stoking and dampening national aspirations proved useful for Shaimiyev in keeping the Kremlin at bay, they also served to raise -- and ultimately disappoint -- the expectations of Tatars, many of whom yearn for more autonomy than Moscow is willing to give.
"All Tatars and the people of Tatarstan wanted him to defend Tatarstan's sovereignty," says Khalil Ayupov, who heads the Tatar Center in Nizhnekamsk, the republic's third-largest city. "Unfortunately, he is leaving office not as a president of a sovereign republic but as the leader of a Russian region who was appointed by Moscow. He had a big role in [Tatarstan] losing its sovereignty."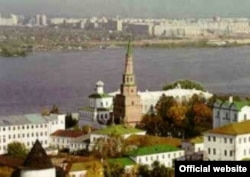 Kazan
Likewise, Mukhammad Minachev, head of the Peoples' Democratic Party, which has pressed for Tatar rights in the local legislature, says Shaimiyev was a bitter disappointment for Tatar nationalists. "His main achievement was organizing Kazan's 1,000th anniversary [in 2005], which was a big event," Minachev says. "His biggest failure was that he didn't support Tatar interests, even though he speaks Tatar and understands Tatar realities very well. We all grew up in the Soviet era, but he stayed devoted to Soviet values. Tatars could have made some brave steps in the '90s, but they didn't."
Shaimiyev's supporters in Tatarstan, however, point out that he has fought to keep the Tatar language alive and pushed back against attempts by Moscow to make courses on Orthodox Christian culture mandatory in the republic's schools.
Reelected Twice
Shaimiyev served as the Soviet-era leader of predominantly Muslim Tatarstan and was elected its president in June 1991 as the USSR was breaking up. He was reelected twice -- in 1996 and 2001.
In the early 1990s he sought -- and won -- broad independence from the central government under Yeltsin. The broad autonomy he enjoyed in the 1990s was curtailed to a degree under Putin and Medvedev, but Shaimiyev nevertheless managed to hold on to more independence than most regional leaders.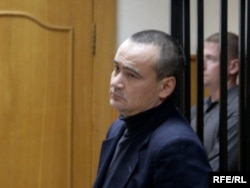 Irek Murtazin
Putin abolished the popular election of regional leaders in 2005, replacing them with a system in which the Kremlin nominates candidates who are then confirmed by regional legislatures. Shaimiyev indicated at the time that he wanted to step down, but Putin reportedly persuaded him to stay on. In March 2005, Putin nominated Shaimiyev for a new term, making him one of the first regional leaders named under the new system.
Under Shaimiyev, the Tatar capital, Kazan, has worked to raise its international profile. The city, which has shed its grim Soviet-era image in favor of a gleaming, renovated city center, is the annual host of Golden Minbar, an international Muslim film festival. Its 16th-century Kremlin was declared a UNESCO World Heritage Site in 2000.
Shaimiyev has also sought to forge his own relations with the broader Islamic world, as Turkey and Iran have opened consulates in Kazan.
At the same time, political opponents accuse Shaimiyev of stifling dissent and ruling with a heavy hand. Irek Murtazin, the president's former press secretary, was recently sentenced to 21 months in prison for "instigating hatred and hostility" with his critical tell-all book "Shaimiyev: The Last President Of Tatarstan." Midkhat Farukshin, a political analyst and fierce critic of Shaimiyev, claims he lost his job at Kazan State University due to his opposition to the Tatar president.
Petrov says with Shaimiyev's passing of the guard to Minnikhanov, relations between Kazan and Moscow, "which used to be unique, will become more standard." He says the former prime minster "represents a weakening of Tatarstan with regard to Moscow. It will be pretty complicated for Shaimiyev to play a certain role in Tatarstan, not to mention between Tatarstan and Moscow. I would think of Minnikhanov as someone who will not keep Shaimiyev's system, but as someone who will create a weaker kind of similar system."
RFE/RL's Tatar-Bashkir Service contributed to this report