As the
war of words
escalates between Georgia and breakaway Abkhazia, Tbilisi this week sent a strong warning to any sea captains tempted to deliver cargo to the secessionist region.
A Georgian court sentenced a Turkish captain convicted of taking fuel to Abkhazia to 24 years in jail. The charge: smuggling.
That is a charge that Abkhazia, which has declared independence from Georgia, would hotly dispute. Authorities in Sukhumi say that Tbilisi has no right to police the waters offshore of Abkhazia and this week they threatened to sink any Georgian ships trying to do so.
Meanwhile, Russian Foreign Ministry spokesman Andrei Nesterenko on September 3 claimed Tbilisi's blockade of Abkhazia was illegal under international conventions. He said it was fueling tensions that could end in new armed clashes.
"The numerous seizures by the Georgian Navy and the ensuing arrests by the Georgian authorities of third-country merchant ships off the Abkhaz coast are nothing but a blatant violation of the 1982 Convention on the Law of the Sea," he said.
Tough Questions
All this raises some tough questions for third parties tempted to engage in commercial trade with Abkhazia, which declared independence a year ago following the Russia-Georgia war.
Should ships from other nations respect Georgia's sea blockade? Or is Tbilisi acting out of bounds by treating any shipments to Sukhumi as smuggling?
Usually, such questions are resolved by turning to international laws and conventions.
But experts say that in this case -- despite some governments' claim to the contrary -- there is little such guidance available.
Marko Pavliha is head of the Maritime and Transport Law Department of the University of Ljubljana in Slovenia. He says international sea law only governs relations between recognized and sovereign states. But in this crisis there is only one sovereign state.
"The issue is really an internal matter or even similar to civil war," Pavliha says. "Now, we cannot apply the UN Convention on the Law of the Sea; we cannot apply, for example, the Paris Declaration Respecting Maritime Law of 1856, which inter alia governs also [the legality of sea] blockades; and we cannot apply the 1909 London Declaration on Naval War."
Case-By-Case Basis
Abkhazia is recognized as a sovereign state only by Russia and Nicaragua. And it is recognized by one other self-declared state, South Ossetia, which also declared independence from Georgia following the five-day Russia-Georgia war of August last year.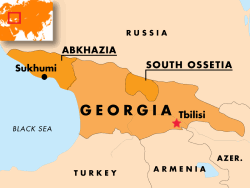 Pavliha says that because secessionist states are not covered by current international maritime conventions, each such crisis has to be worked out by the international community on a case-by-case basis.
The way it happens can vary.
As a Slovene, Pavliha cites the example of his own country, which declared independence from Yugoslavia in 1991 and fought a 10-day war with Belgrade. Seceding from Yugoslavia sent Slovenia into a legal limbo much like Abkhazia's today, with one crucial difference.
"The crucial difference was that Slovenia was recognized virtually immediately by many, many other countries, including the majority of the UN members, the Vatican, and the [European Union]," Pavliha says. "So the situation was different and Slovenia was immediately an independent country entitled to proclaim maritime territories, whereas in this case [Abkhazia] is officially and legally still part of one country."
That means that – unless Abkhazia can get a critical mass of international recognition – it has no legal basis in current maritime law for claiming "territorial waters" of its own.
Domestic Matter
Similarly, Tbilisi's blockade of its own coastline is something not covered by current maritime law. Instead, it is a domestic matter, much like any government's decision to launch a police operation to interdict, for example, drug-smuggling on its shore.
All this leaves third parties -- such as Ankara, in the case of convicted Turkish sea captain Mehmet Coskun Ozturk -- to work out their own responses without much help from international sea conventions.
And that is – again -- despite everybody's apparent desire to interpret events in terms of international maritime law.
Speaking about Tbilisi's imprisonment of Ozturk and the impounding of his ship, Turkish Foreign Ministry spokesman Burak Ozugergin said on September 3 that "we think the Georgians violated international maritime law regarding both the letter and the spirit of the law."
But, in fact, Ankara is taking steps to work things out with through diplomats, not lawyers.
Turkish media report that Foreign Minister Ahmet Davutoglu is expected to personally visit Tbilisi to ask Georgia to overturn Ozturk's conviction. No date for the visit has been set.

Law Still Catching Up
Pavliha says one reason international maritime law does not cover secessionist regions is that until fairly recently there were not enough such cases to warrant it.
The UN Convention on the Law of the Sea, for example, was adopted in 1982 and came into force in 1994.
But in the meantime, the world saw a whole series of secessionist crises explode in Yugoslavia and in the former Soviet Union.
Those cases have redefined international political relations. But the body of international law has yet to catch up.
"During the past 20 years, we have had a completely different situation as compared to half a century ago," Pavliha says. "Half a century ago, the trend was toward unified countries, the establishment of larger entities like federal states and so on, whereas, beginning probably with the fall of the Berlin Wall, [parts of] countries started seeking independence.
"And most, not all, but many, many international conventions, protocols and so on are somehow fitted to the previous international situation or climate which really doesn't exist anymore."