South Ossetian Journalist's Trial Adjourned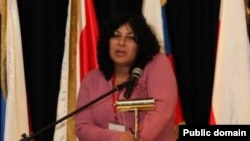 The trial of journalist Fatima Margiyeva, editor of the newspaper "Pozitsia," opened in Tskhinvali on March 4 and was immediately adjourned for one week after Margiyeva publicly
rejected
the defense counsel allocated her. Margiyeva claimed the lawyer is not legally qualified; the lawyer says she plans to bring a libel case against Margiyeva.
Human rights activist Vissarion Aseyev told RFE/RL's
Echo of the Caucasus
that Margiyeva has formally requested that she be represented by a lawyer from North Ossetia.
Margiyeva was arrested three weeks ago and charged with illegal weapons possession. Those weapons were found during a search in May 2009 of a house she owns in Tskhinvali. South Ossetian oppositionists and human rights activists are convinced Margiyeva was targeted solely for her "honest and frank" reporting on the
situation in South Ossetia
.
Margiyeva pled not guilty on March 4 and formally complained about the conditions in which she is being held in pretrial custody. She said one of her cellmates had murdered a child, and another is suffering from advanced tuberculosis and constantly coughs up blood. A prison official told the news agency Caucasus Knot that Margiyeva has been transferred to a separate cell.
Roland Kelekhsayev, who heads the banned People's Party of South Ossetia of which Margiyeva is a member, argues that the Russian authorities should intervene swiftly in Margiyeva's case as she holds Russian citizenship. He said he has the impression that "Russian citizens living in South Ossetia are regarded as third-class citizens."
Kelekhsayev added that two more People's Party activists have asked the party to help them gain political asylum abroad, as they are denied jobs in South Ossetia and subjected to constant
harassment
.
About This Blog
This blog presents analyst Liz Fuller's personal take on events in the region, following on from her work in the "RFE/RL Caucasus Report." It also aims, to borrow a metaphor from Tom de Waal, to act as a smoke detector, focusing attention on potential conflict situations and crises throughout the region. The views are the author's own and do not represent those of RFE/RL.