Opposition sources are reporting a general strike today in several cities in Iran's Kurdistan, including Sanandaj, Saghez, Mahabad, Bukan, and Baneh.
The actions are to protest the recent execution of five prisoners, four of whom were ethnic Kurds, on terrorism-related charges.
None of Iran's official news agencies or media has confirmed the existence of any strike.
But a journalist in Bukan, Massoud Kordpour,
told Radio Farda
that he has information that in some cities "90 percent" of shops were closed and schools were closed in some places.
Activists have posted pictures and videos that appear to show closed shops today -- like this one in Sanandaj -- in heavily Kurdish cities.
Here are
some pictures
of the reported strike posted on the opposition website "Rahe Sabz."
The May 9 execution of the five men has been condemned by human rights groups who insist they were denied a fair trial.
Malcolm Smart, Amnesty International's director for the Middle East and North Africa,
has said
the executions appear to be an attempt "to intimidate members of the Kurdish minority and other critics and opponents of the government in the run up to the first anniversary, on 12 June, of last year's disputed presidential election."
In recent days A number of protests have been held in front of Iranian embassies or interest sections in Paris, Berlin, London, and Washington to protest the executions.
Opposition leaders Mir Hossein Musavi and Mehdi Karrubi have both criticized the "sudden" executions, for which critics say officials provided no clear explanation.
-- Golnaz Esfandiari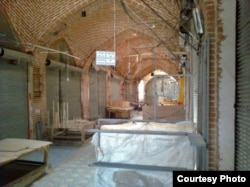 The markets were closed today in Sanandaj.