Student Activist Goes On Trial In Minsk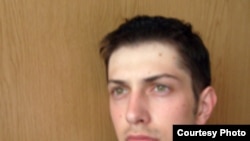 A student activist in Belarus faces trial in the capital, Minsk, today.
Alyaksandr Barazenka is charged with "active participation in group actions grossly disturbing the public peace" in connection with a demonstration held in downtown Minsk on January 10 against a government crackdown on small-business owners.
Thirteen youths were later charged under the Criminal Code in connection with that demonstration; nine of them were sentenced to two years of "restricted freedom" without being sent to jail.
RFE/RL's Belarus Service
reports that Barazenka has been detained since October 27.
On December 7, riot police broke up a demonstration by young opposition activists held in support of Barazenka.
About This Blog
"Watchdog" is a blog with a singular mission -- to monitor the latest developments concerning human rights, civil society, and press freedom. We'll pay particular attention to reports concerning countries in RFE/RL's broadcast region.
Journalists In Trouble
RFE/RL journalists take risks, face threats, and make sacrifices every day in an effort to gather the news. Our "Journalists In Trouble" page recognizes their courage and conviction, and documents the high price that many have paid simply for doing their jobs. More