As the swine-flu virus continues to spread through the Balkans and the former Soviet Union, the measures taken by some governments range from bizarre and befuddled to possibly political.
Moldova: Add Politics And Stir
In Moldova, which has 269 confirmed H1N1 cases and four reported swine-flu deaths, health officials on November 9 closed schools and universities for a week. The timing of the closure prompted speculation that the country's university students would capitalize on their sudden free time by turning out to protest the parliament's failure today to elect pro-Western candidate Marian Lupu as president.
Do flu and politics mix? Moldovan Health Minister Vladimir Hotineanu didn't exactly say no.
"Some politicians can make politics [out of the flu] -- the ones who aren't too honest," Hotineanu said. "But I want to stress that here in Moldova, we have to avoid letting the social situation from getting out of control. We don't want to spread panic, that's the most important thing."
Belarus: Swine Flu Skeptics
Despite his country's proximity to Ukraine, Belarusian President Alyaksandr Lukashenka is, for now, a swine-flu skeptic. Speaking in Kyiv during a November 5 news conference with Viktor Yushchenko, the Belarusian leader accused pharmaceutical companies of fanning the flames of flu hysteria in order to drive up profits.
"I know very well what is going on in this super-corrupt, gangster circle of medicine producers," Lukashenka said.
Sales of swine-flu vaccinations and treatments have been brisk, the president speculated, adding that pharmaceutical companies "today squeal like swine. Tomorrow, perhaps, they'll purr like cats or moo like cows."
There are currently 128 confirmed cases of swine flu in Belarus. A handful of deaths have been attributed to pneumonia.
Ukraine: Monkey Flu!
Ukrainian Prime Minister Yulia Tymoshenko says that country's swine flu epidemic is stabilizing and that registered flu cases have dropped sharply.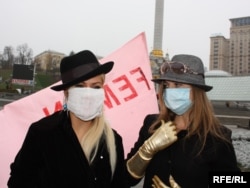 Femen members in Ukraine protest what they regard as flu panic in Kyiv on November 9.
Still, with 32,500 registered cases and 155 deaths from respiratory ailments including swine flu, Ukraine remains the site of the largest H1N1 outbreak in continental Europe.
And concerns are growing that the virus could affect more than just Ukraine's human population.
Monkeys at the Kharkiv Zoo are being isolated from human visitors out of fear they will contract the virus. The monkeys are also receiving a special vitamin-fortified diet designed to boost their immune systems. In addition to regular bananas, they are being treated to raspberry compote, tea with lemon, fish oil, and dried fruit.
Kharkiv zoo director Oleksiy Hryhoryev said the monkeys are all healthy but that they can suffer human-like symptoms when they contract a respiratory ailment.
"Just like people, a monkey can get watery eyes and suffer from joint pain," Hryhoryev said. "You can see this from its behavior -- it gets a fever and becomes thirsty, and has difficulty breathing. You can see all these symptoms without even taking its temperature."
Russia: Who Was That Un-Masked Man?
Authorities have imposed a "mask regime" in Russia's Far East region of Khabarovsk, where more than 318 cases of swine flu have been reported.
Transportation and food-service workers are now required to wear surgical masks at all times while on the job.
And since no regime is complete without the threat of punitive measures, a hefty fine has been imposed as well -- managers who fail to keep their staff masked must pay $17 per violation, their supervisors can pay up to $130, and the companies can be charged $640 overall.
The program appears to be generating revenue for someone: Out of 52 local companies, un-masked employees were nabbed at 25.
Chechnya: All Clear!
Health officials in Chechnya say there have been no registered cases of swine flu in the North Caucasus republic.
The clean bill of health comes as swine flu cases continue to grow in other Russian republics and regions.
As of November 3, there were three registered cases in North Ossetia, 12 in Daghestan, 30 in Kalmykia, and 11 in Stavropol Krai.
Chechen officials have dismissed as unsubstantiated reports that a medical student infected with H1N1 recently returned to Chechnya from Moscow. But officials say swine-flu vaccines are available to people traveling outside the republic, with the priority going to pilgrims planning to participate in this year's hajj.
Azerbaijan: The Business Angle
Remember bird flu? Azerbaijanis do -- as a bonanza for government agencies eager to capitalize on the scare.
The World Bank allotted $5.1 million to Azerbaijan for its battle against avian flu, which claimed its first human victim in the Caspian country in 2006. Of that, just $3.6 million was transferred to the Health and Agriculture ministries to fight the pandemic -- leaving Azerbaijanis to speculate what might have happened to the remaining $1.5 million.
This time around, the government has promised to provide free swine-flu vaccines but has yet to receive any stocks.
Private clinics, meanwhile, have adopted the entrepreneurial spirit, offering flu vaccines for $30 apiece -- an extravagance in a country where the average monthly salary is just $380.
The price of face masks, likewise, has risen as much as fivefold.
Azerbaijan this week confirmed its first case of swine flu, in a woman who recently returned to the country from Ukraine.
Serbia: Vaccinate Now! Or Whenever You Get Around To It...
Belgrade last week announced it was setting up an emergency fund to finance the purchase of 3 million swine-flu vaccines.
Health Minister Tomica Milosavljevic promised that vaccinations would be available to every citizen requesting one by mid-December. Since then, however, Serbia's vaccination drive appears to have shifted into low gear.
So far, only one pharmaceutical company has submitted a bid to the Serbian tender -- the Swiss firm Novartis, which says it can provide only a half-million vaccines, and only 25 days after the deal is signed.
The remaining 2.5 million doses would come only in mid-March.
"Maybe the minister didn't know the order of events. Or maybe the tender committee met later than he thought. Or maybe he just said what he wanted to be true," Doctor Milena Jaukovic, the director of the Urgent care center in Belgrade, said. "But the reality is different."
Serbian officials have reportedly decided to hold off on declaring a state of emergency, which could allow health officials to ease out of their pledge for an immediate vaccination drive.
Serbia currently has 258 registered cases of swine flu; seven H1N1 deaths have been confirmed.
Turkmenistan: Flu Of A Different Feather
A well-intentioned but apparently misguided attempt by Turkmen authorities to inform citizens about the risks of swine flu has ended, RFE/RL's Turkmen Service reported on November 5.
In October, correspondents in Ashgabat and in the Mary and Lebab provinces reported that one-page leaflets explaining flu symptoms and preventative measures were being distributed among the population.
The hitch was that the leaflets -- which advised people with symptoms to check their temperature, stay in bed, and to take nonprescription flu medications -- discussed bird flu, not swine flu.
RFE/RL's Belarus, Ukrainian, Moldovan, Russian, North Caucasus, Azerbaijani, Turkmen, and Balkan services contributed to this report
;
written by Daisy Sindelar