Abu-Umar Ahmadov says most of the eight- to 16-year-old students in his evening and weekend classes on Islamic principles and ethics are sent to him by well-intentioned parents.
They merely want to keep their kids out of trouble.
"The majority of parents who bring their children to learn religious values here don't want their children to become overly religious," Ahmadov says. "All they want is that their children get some idea about the religion and most importantly, that they stay clear of bad behavior such as drugs [and] alcoholism. They only want to use religion to teach moral and ethical values for their children."
A graduate of a local religious school, or madrasah, himself, Ahmadov has an official license to teach in such Islamic schools and to conduct private courses. His classes, which take place inside the grand mosque is the village of Ponghoz, in Tajikistan's northern Sughd Province, are registered by local authorities.
It's how the Tajik authorities -- who maintain tight control over all things religious in this predominantly Muslim country -- insist things be run when it comes to Islamic education.
They take a tough line, and conduct regular raids on private homes and mosques where they suspect unsanctioned classes or underground madrasahs have been set up.
In early July, seven unregistered religious schools were uncovered during a single series of "madrasah" raids by law-enforcement agencies in Isfara, Istaravshan, Panjakent, and Ghafurov districts. Local authorities say almost all were being run inside private houses, where mullahs or madrasah-graduates had been teaching school-age children basic principles of Islam. The raids resulted in detentions and, in at least
some cases
, arrests that came weeks later.
Official Distrust
Tajik authorities continue their efforts to maintain control of how religion is spread, but the frequent raids suggest that official Islam is not meeting the growing demand for religious education and teachings.
According to a Gallup poll conducted two years ago, some 76 percent of Tajik respondents said religion played an important role in their daily lives, a stark difference from the secularism that dominated under Soviet rule.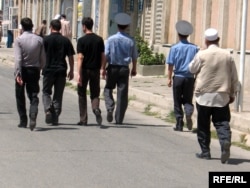 Police officers are among those headed to mosque in Dushanbe. (file photo)
While Tajik officials insist they are merely taking measures to eliminate the threat of religious extremism, their actions have come under widespread criticism for violating religious freedom and putting pressure on religious institutions.
Muhammad-jon Ortiqov, an imam of the grand mosque in Ghafurov district, says he is concerned about the authorities' apparent fear and suspicion of religious classes. He says such an approach is bound to alienate moderate Muslims.
Ortiqov's son, Muhammadi, is being fined by authorities for running unsanctioned religious classes.
Ortiqov, however, insists his son had merely been teaching the Koran to neighboring children upon their parents' request.
"Officials use all kinds of pretexts to attack us. For example, they say children are being turned into Hizb-ut Tahrir followers, or they are being taught some other teachings and so on," Ortiqov says in a reference to the banned group that seeks an Islamic caliphate in Central Asia. "We are not teaching the children anything but the Koran, but [authorities] questioned the students about what was being taught to them."
State-Sponsored Alternatives
Tajik authorities have taken steps to meet the demand for religious tutelage themselves. The Education Ministry recently introduced a new subject -- "The Knowledge of Islam" -- to the state school curriculum.
Saidbek Mahmadulloev, an expert on religion and laws at the state committee on religion, notes that Tajik laws do not ban the attendance of religious classes or the establishment of religious schools or classes.
"The only requirement is that they need to get an official permission from education officials to start such classes," Mahmadulloev says.
But religious leaders say the curriculum approved by the state does not go far enough, lamenting that the once-a-week lessons are taught by history teachers without formal training on religious subjects.
While there are some 20 officially registered madrasahs and an Islamic University in the country, and although every grand mosque has the right to run classes on religion, those institutions tend to favor urban areas. Grand mosques, for instance, may only be built in neighborhoods with at least 15,000 inhabitants.
'Good Discipline'
Village mullahs say there are simply not enough official madrasahs to go around. They say classes that have come under scrutiny usually entail children spending a few hours with a neighborhood mullah to learn the basic teachings of the religion and moral values.
Davlatphocho Azizova, a housewife in the village of Kamarob in the eastern Rasht district, sends her 14-year-old son to a local mullah's house to study the Koran and the basics of Islam. Neither Azizova nor the mullah suspects they could be doing something illegal.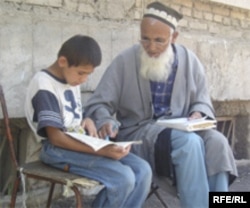 A man teaches Islam to a boy near the central mosque in Tajikistan's capital, Dushanbe.
"My son gets two hours of private English classes and one hour of math every week, and depending on his time, once or twice a week he goes to the mullah's house to learn about religion," says Azizova.
Azizova says it never occurred to her that the mullah and the other teachers are required by law to obtain official permission to teach. She says the reason many parents send their children to unofficial religious classes is that they don't have grand mosques or registered religious schools nearby.
"My son wants to become a pilot. But for us parents, the most important thing is that our son has good discipline," Azizova says. "That's why we send him to mullah to study the religious books, prayers."
Convenience plays a large part. Religious classes run in mosques and private homes are usually free of charge. They don't have full-time students and offer classes after hours or during weekends or school holidays.
The country's 20 official madrasahs, however, charge tuition fees. They offer full-time, three- or four-year courses with a curriculum that includes the English language and computer skills in addition to religious studies.
Ahmadov says he understands authorities' concerns about some unregistered religious schools.
"The majority of religious classes have no hidden agenda, I'm sure of that," Ahmadov says. "However, you can never be sure about every single person's intention. I wouldn't rule out that there are some people with radical ideas that should not be imposed on students."