The Russian republic of Tatarstan once boasted the largest mosque in Europe, the Kul-Sharif -- a lavish stone and marble edifice unveiled five years ago in the regional capital of Kazan.
Tatarstan also used to be run by Russia's most powerful Muslim regional leader and hosted the only Islam-themed international film festival in the country.
All this changed with the advent of Ramzan Kadyrov as Chechen president.
Since his appointment by the Kremlin in 2007, Kadyrov has aggressively sought to present Chechnya as Russia's new up-and-coming Muslim region.
"Chechnya is now actively positioning itself not only as a relatively autonomous part of Russia but also as a Muslim center," says Russian analyst Nikolai Petrov. "It is competing for the role of leader."
Although he and his feared militia are widely accused of abductions and torture, Kadyrov also enjoys a measure of popularity at home for overseeing a massive reconstruction campaign following two devastating wars.
Commentators say the political retirement of Tatar leader Mintimer Shaimiyev has fired up Kadyrov's ambitions to unseat Tatarstan's dominance.
Mintimer Shaymiev stepped down as Tatar president in March.
Shaimiyev stepped down in March after ruling over Tatarstan for nearly two decades, handing his powers over to his trusted but considerably less charismatic prime minister, Rustam Minnikhanov.
"Shaimiyev was able to successfully lobby Moscow, but the potential for Minnikhanov is much more limited," says Vladimir Gelman, a professor of political science at St. Petersburg's European University.
"A blessed place never remains empty; Kadyrov sees an opportunity to benefit from this situation. He is a more energetic, imposing figure, and he is trying to draw resources his way."
Vying For Moscow's Favors
Kadyrov made his latest move last week, when he announced that he dreams of building the world's largest mosque in Chechnya, in addition to the giant Central Dome mosque that already towers over the province's capital.
Grozny's Central Dome mosque, which can accommodate as many as 10,000 worshippers, was unveiled in October 2008, supplanting Tatarstan's 3-year-old Kul-Sharif as the largest mosque in Europe. Russian Prime Minister Vladimir Putin attended the ceremony.
Kadyrov named the sprawling $20-million mosque after his late father, former Chechen President Akhmad-Haji Kadyrov, who was killed in a bombing attack in 2004.
Grozny is also being considered as a new venue for Russia's Golden Minbar international festival of Muslim films. The festival has been held in Kazan since its creation in 2005, but the event's Moscow patrons are currently mulling alternative host cities following a dispute with Kazan authorities.
Tatarstan, however, seems undisturbed by the prospect of other Russian cities hosting the Golden Minbar. It opened its own version of the festival, now titled Kazan International Festival of Muslim Film, on September 15.
Grozny already hosts Noah's Ark, an annual international film festival launched in 2008 to foster tolerance between Islam and other confessions.
Kadyrov has repeatedly described himself as a devout Muslim and has taken a number of steps to enforce a stricter observance of Islam in Chechnya. But many accuse the Chechen leader of using religion for political and financial gain.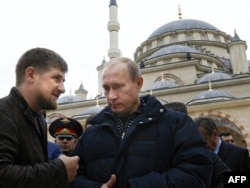 Russian Prime Minister Vladimir Putin (right) speaks with Chechen President Ramzan Kadyrov in Grozny while visiting the newly built Central Dome mosque in October 2008.
"Today, religion is a powerful bargaining chip," says Gelman. "In the 1990s, it was ethnic issues. Mintimer Shaimiyev used this blackmail tool very effectively; he was continuously extracting concessions from Moscow. He used to say Tatars were going to secede and create an independent Tatarstan, terrifying Moscow into giving him everything he wanted."
In secular spheres, too, Chechnya has been jockeying with Tatarstan for Moscow's favors.
Kadyrov announced last month that his republic would apply to host international football matches as part of Russia's 2018 World Cup bid. His comments came just one day before FIFA inspectors visited Kazan, which also hopes to be a host city.
But despite Kadyrov's coziness with the Kremlin, Chechnya's odds of becoming the new Muslim heartland of Russia are slim at best.
Tatarstan dwarfs the war-battered Caucasus republic both in size and population. It also enjoys vast oil resources, a centuries-old Muslim history, and a relatively high degree of autonomy from Moscow thanks to a power-sharing treaty signed in 1994 by then-President Boris Yeltsin.
So far, Kazan has looked on mostly silently at Kadyrov's efforts to promote his republic as a new Muslim hub.
In June, however, Tatar religious leaders clashed angrily with Chechnya and other North Caucasus republics over an initiative to commemorate the adoption of Islam in Russia, with each of the two regions proposing its own date.
Tatarstan's deputy mufti Valiulla Yaqub made it clear that his republic would not tolerate attempts to challenge its preeminence.
"Tatars form the largest Muslim people in Russia," he said. "We have been part of Russia longer than the others."
Dangerous Game
On the whole, the rivalry so far has been largely harmless. But some are concerned it could eventually harm the interests of both regions and play into Moscow's efforts to curb regional autonomy.
"Uniting would give them a chance to win their battle for more autonomy," says Fandas Safiullin, a former State Duma deputy and ethnic Tatar. "Turning them into rivals is convenient. Tatarstan and Chechnya are two strong ethnic republics in Russia; disagreements and splits only weaken them."
Kadyrov's growing religious drive also has many worried.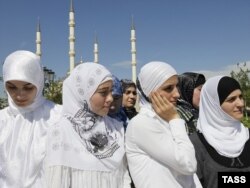 Women, dressed in head scarves, take part in a Beauty of Chechen Women march in Grozny on September 16.
While Tatarstan advocates a moderate Islam, sometimes described as a "Euro-Islam," Kadyrov has been promoting what critics denounce as an increasingly radical Islam.
Among other controversial measures, Kadyrov has introduced rules forcing women in Chechnya to observe the Islamic dress code. Although these measures have not been codified into law, women who refuse head scarves are effectively banned from working in the public sector and from attending university.
"Kadyrov truly aspires to the role of spiritual leader instead of being simply the secular leader of his republic," notes analyst Nikolai Petrov. "This poses a threat not so much to Tatarstan as to Russia and Moscow. If Chechnya, from a de facto autonomous Russian region, becomes the leader of a whole group of regions, we will face a very dangerous situation."
Human Rights Watch in August called for an end to Chechnya's forced dress code, which it said contravenes international human rights law. The group also voiced concern over reports about groups of men harassing women in the streets of Grozny for not covering their hair or for wearing clothes deemed too revealing.
Kadyrov has openly defended this practice. In a July television interview, he commended the men engaging in such activities and said that women who fail to respect the Islamic dress code should be ashamed to the point of "disappearing from the face of the Earth."
Critics were further dismayed when Kadyrov's spokesperson, recently weighing in on the debate about whether regional leaders should be allowed to call themselves presidents, suggested changing Kadyrov's title to "imam."

RFE/RL's Tatar-Bashkir Service contributed to this report