If ever an institution typified the blend of social and religious conservatism wrapped up in Iran's Islamic Revolution, it is the Tehran bazaar -- home to an array of carpet sellers, textile traders, and food merchants instinctively suspicious of the alien values of Western commerce.
Yet now this sprawling "city within a city" -- which is also home to several mosques, in keeping with its close ties to the Islamic clergy -- is in open revolt against President Mahmud Ahmadinejad as he tries to impose swingeing tax rises to compensate for budget shortfalls.
This week, the bazaar -- situated on the southern tip of Tehran's vast city center -- forced the government to backtrack on a plan to increase income tax on traders by 70 percent after many vendors closed their doors, slowing trade to a crawl and prompting the authorities to dispatch security forces.
After gold and jewelry stores closed on July 6, traders throughout the bustling market followed suit. A hastily arranged meeting between merchants and Finance Ministry officials was followed by an announcement that measures to collect the new tax would be "suspended" until "necessary guidelines are issued." In the meantime, taxes would remain at their current levels of between 6 and 15 percent -- thus depriving the government of an estimated $20 billion it hoped to raise in revenues.
Souring Friendship
The confrontation has already left a trail of bitterness amid signs that the bazaaris' reprieve could be short-lived.
Opposition websites have reported that police and intelligence were met with jeers and chants of "Death to the dictator!" when they tried to force traders to open their shops.
The
Human Rights Activists In Iran News Agency website
reported that the representative of the textile traders organization, whom it identified only by his surname, Mo'tamedian, was arrested on July 8 when he called for a further demonstration.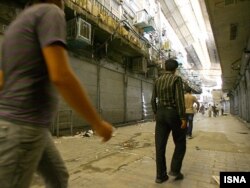 Many Grand Bazaar shops were shuttered after the July 6 threat emerged of a 70-percent tax hike.
According to the opposition website
Rah-e Sabz
, bazaaris have announced they will continue their protests until the government repealed the new tax law altogether. Some reports have suggested the government has tried to quell the protest with violence, although details are impossible to confirm. One unverified account said a merchant died in hospital from injuries sustained in a clash with security forces.
What is certain is that the government is now at loggerheads with an institution that has long been loyal to the Islamic republic and which played a key role in toppling the Western-backed Shah when it staged a long shutdown in the lead up to the revolution in 1978.
Ahamadinejad already backed away from one standoff with bazaaris two years ago, when he abandoned a plan to impose a 3 percent value-added tax on traders.
But this time the government's retreat may be temporary, with hard-line supporters calling for a fierce crackdown after identifying the striking traders with the Green Movement opposition that protested against Ahmadinejad's reelection last year.
...And 'Settling Scores'?
In an apparent reference to the former president, Ali Akbar Hashemi Rafsanjani, one government supporter wrote to the pro-Ahmadinejad
Jahan News website
that "all these disturbances are the work of the green coup d'etat plotters affiliated with the mafia godfather."
The accuser then went on to ask: "When will the judicial power close ranks? Isn't it time to [settle] a score?"
Jamshid Assadi, an Iranian economist with the EC Groupe Business School in Dijon in France, believes Ahmadinejad may use the dispute as a pretext to hand many of the bazaar's key economic functions to his allies in the Islamic Revolutionary Guards Corps (IRGC).
"If this dispute with the bazaar continues, I think Ahmadinejad will try to take it over and hand it to the Pasdaran [Islamic Revolutionary Guards Corps]," he said. "[That would involve] taking over many of the activities which are now run by the bazaaris -- food, importation, current products, current goods, textiles."
Such an approach, Assadi says, would be consistent with populist attacks on the rich carried out by President Hugo Chavez of Venezuela, whom Ahmadinejad is believed to see as a role model. Ominously, it may also be accompanied with a further increase in repression that could see the arrests of some of the bazaar's leading merchants.

Powerful Symbol
The bazaar dispute takes place against a troubled economic backdrop that has reportedly seen strikes over unpaid wages, including among sugar workers in the provinces of Mazandaran and Gilan on the Caspian Sea, and an ongoing row between Ahmadinejad and parliament over the president's plans to end subsidies.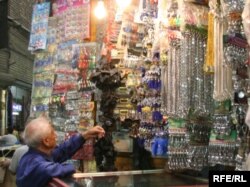 A man stands in front of an imitation jewelery shop in the Grand Bazaar. (file photo)
The transfer under Ahmadinejad of vast swaths of Iran's economy into the Revolutionary Guards' control means that the bazaar -- whose wares range from chadors to bikinis -- may not be the political force of old.
But following the ongoing rift with former establishment figures like Rafsanjani and
Mir Hossein Musavi
over Ahmadineajd's 2009 presidential election, alienating it has huge symbolic importance and will leave Ahmadinejad politically isolated, Assadi believes.
"It means that sociologically, the institutions you would expect to be supportive of the government of Ahmadinejad are against it," he said. "Sociologically there is a big change. Institutions that are supposed to be supportive of the Islamic republic of Iran, they are more and more against it."
While that may render the government politically weaker, it is also likely to make it more ruthless, Assadi added.
"The bazaar is symbolically very significant, so Ahmadinejad is highly isolated," he argued. "Unfortunately one of the outcomes of that isolation is that, to keep the government in power, the Pasdaran are going to increase repression and control over the society."