Ten years after the start of NATO's air campaign over the Kosovo conflict, Serbian and Kosovar Albanian officials continue to point fingers at each other over who was responsible.
Human rights organizations have estimated that 500 civilians were killed by the 11 weeks of NATO air strikes that came in response to a violent crackdown by Serbian forces against Kosovo's majority ethnic-Albanian population. The air campaign also destroyed infrastructure across what was then the Federal Republic of Yugoslavia -- including Serbia, its province of Kosovo, and Montenegro.
Officials in Belgrade, who are marking the anniversary by setting off memorial air-raid sirens, still claim civilian casualties there were much higher -- as many as 3,000.
Serbian Defense Minister Dragan Sutanovac told Reuters he looks back on NATO's air strikes as a great mistake.
Tracer fire from air defenses light up the sky over Belgrade early on April 30, 1999.
"I must say that, my opinion, then and now hasn't changed. Then and now, I think it was a great mistake by the NATO alliance and that the bombing shouldn't have happened," Sutanovac said.
"I believe that at the crossroads of two millenniums and two centuries, it was absolutely unnatural that one nation -- and when I say nation I think about all the citizens of the then Yugoslavia -- to be bombed. And I think that the goals which NATO wanted to achieve could have been done with less energy, and citizens could have been spared from what happened."
But in Pristina, capital of what is now a newly independent Kosovo, opinion is different.
Prime Minister Hashim Thaci recalls the violent crackdown by Serbian forces against Kosovar Albanians in the months before the NATO strikes began -- and after then-Yugoslav President Slobodan Milosevic refused to sign an internationally brokered peace deal at Rambouillet, France, that had been signed by leaders of Kosovo's ethnic-Albanian independence movement.
Mounting
Violence
Kosovo was a province of Serbia when members of the majority ethnic-Albanian population there held renegade elections in 1992 and pacifist leader Ibrahim Rugova was elected president of their self-declared republic.
But Kosovo's attempted secession was largely ignored by international media amid the wider Balkan wars in Bosnia and Croatia. That is, until the late 1990s, when the wars in Bosnia and Croatia were over and ethnic-Albanian fighters in the Kosovo Liberation Army launched an armed rebellion.
Yugoslav police and Serbian paramilitary forces retaliated in 1998 with a series of attacks that forced hundreds of thousands of ethnic Albanians from their homes. Altogether, some 800,000 Kosovar Albanians fled or were expelled to Macedonia and Albania before Milosevic's campaign was stopped by the NATO attacks.
In an exclusive interview this month with RFE/RL, former U.S. Secretary of State Madeleine Albright talked about the international mood ahead of the NATO campaign in Kosovo and its legitimacy:
In the Czech Republic, which joined NATO just weeks before the alliance's Kosovo campaign began, Michael Zantovsky was serving as chairman of parliament's committee on foreign affairs, defense, and security. Zantovsky now says that it is important to remember the historic context of the Balkan wars of the 1990s.
Zantovsky notes that European diplomats had failed repeatedly to broker an end to the earlier conflicts in Bosnia and Croatia. Milosevic's ultranationalist rhetoric already had fanned the flames of ethnic and religious hatred in order to strengthen his hold on power in Belgrade after the fall of the Berlin Wall and the collapse of the Soviet Union.
"All of a sudden, NATO became the only game in town that could effectively stem the tide of nationalism which threatened to engulf the countries emerging from decades of totalitarian rule -- in particular, in the Balkans," Zantovsky said recently. "And I think that we should never forget that it was NATO that stopped the fighting in the Balkans. We can argue about the way it was done. We can argue about the force that was used. But it is not arguable that it was NATO who stopped it."
Albright also looked back on the lessons of the 1999 crisis:Beginning Or End?
Riza Greicevci, a Kosovar Albanian writer in Pristina, told Reuters that is the way most Kosovar Albanians remember NATO's campaign today -- not as the beginning of a war against Belgrade, but as the start of the end of oppression from Belgrade.
"Albanian people, old and young, are grateful to the most powerful military organization, NATO -- Western countries, America, and their allies -- that took part in punishing the evil, crime, and genocide caused by Serbia against the Albanian people," Greicevci says.
Indeed, killings and forced deportations of ethnic-Albanian civilians in Kosovo by Yugoslav police and Serbian paramilitary forces became the basis of war crimes and genocide charges against Milosevic at the UN's war crimes court in The Hague.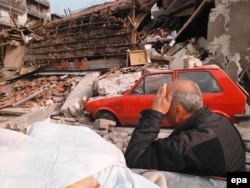 An elderly man reacts after his and the homes of four other families were destroyed following NATO air attacks in the Belgrade area on April 30, 1999.
Although Milosevic died in custody before a verdict was reached at The Hague, five senior Serbian officials eventually were convicted for Kosovo war crimes. They were sentenced last month to prison terms of 15 to 22 years.
The closest the panel of judges ever came to issuing a verdict on Milosevic's charges came when the court acquitted Milan Milutinovic -- the president of Serbia in 1999 and the leader of the Yugoslavian government's negotiation group at the peace talks in Rambouillet.
The judges ruled that, in practice, "it was Milosevic, sometimes termed the supreme commander, who exercised actual command authority" over Serbian troops and security police responsible for war crimes in Kosovo during the NATO campaign.
Meanwhile, in the decade since the NATO bombings, most Kosovar Serbs have fled their homes south of the Ibar River to escape revenge attacks by ethnic Albanians.
"It is a terrible feeling when you have only a couple of hours to decide what to do and where to go and how to break the so-called barricades -- what you will take from home in a plastic bag, the only things you can take," says Milivoje Mihajlovic, a journalist who is among those exiles. "It is a terrible experience that I wouldn't like anybody to have."
NATO's Air War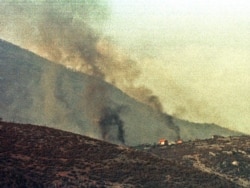 NATO's Air War
Reuters' archival footage of the March 1999 NATO campaign in Yugoslavia and the aftermath of the bombings. Play