(RFE/RL) -- Students in the Georgian capital, Tbilisi, wave national flags as they chant around a bonfire -- one of the first in a series of ceremonies marking what one student recalls as Moscow's aggression against her country:
"Today, with the help of this fire we want to show that we are cleaning up Georgia from Russia's aggression," she says. "This fire is the symbol of purification, of our unity and these kind of fires will be lit all over Georgia."
On this day a year ago Georgia started shelling South Ossetia after days of clashes with pro-Moscow separatists.
It was also the culmination of years of rising tensions between the former Soviet republic and its giant northern neighbor.
One year later, each side has a competing version of events.
Georgia claims Russian forces had already begun crossing through a tunnel into South Ossetia before Georgian forces were ordered to act. In Tbilisi's view the war was Russia's way of punishing it for turning to the West; in particular, seeking NATO membership.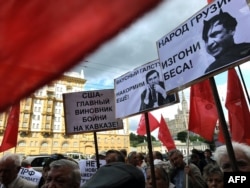 Communist protestors rally outside the U.S. Embassy in Moscow.
Angry Words
Speaking in Gori, near Georgia's border with South Ossetia, Georgian President Mikheil Saakashvili blamed Russia, not only for the first fighting, but also for Moscow's eventual incursion into Georgia proper.
"A year ago, on August 7 -- after days of continuous bombings of our villages, our citizens, our policemen and our soldiers by heavily armed forces -- the invasion of Georgia started," Saakashvili said. "Once again, after so many times in history, our beloved nation was fighting for its very existence."
Moscow has a different narrative, one in which Russia acted to counter Georgia's "barbarian aggression," in the words of Russian Foreign Ministry spokesman Andrei Nesterenko.
"On that night, Mr. Saakashvili's regime carried out a foul, inhuman attack on [South Ossetia's] peaceful citizens and Russian peacekeepers who had for many years defended the peace and security of the peoples living in a fragile Trans-Caucasus region," Nesterenko said. "Georgia, in the course of its aggression, used inhumane weapons -- including cluster bombs, multiple-rocket launchers, 500-kilogram bombs -- on a massive scale."
Russia's president, President Dmitry Medvedev, speaking in an interview broadcast on Russia's NTV television on August 7, insisted that authorizing military action was a difficult decision but proved to be the correct one.
Medvedev blamed Georgia for starting the hostilities and said his government held back on taking any action until it had no alternative.
"Until the very last moment, we hoped at that time that the Georgian regime would have the honor, the decency, the intelligence, after all, not to make any fatal mistakes that would cost human lives and have very serious geopolitical consequences," Medvedev said.
Quick, Bitter Conflict
The conflict lasted just five days.
Russian forces quickly drove back the Georgian military in South Ossetia.
They then moved deeper into Georgia, at one point coming within 40 kilometers of Tbilisi, and carried out bombing raids.
And Russian forces also moved from bases in another breakaway region, Abkhazia, further into Georgia proper.
By the time the EU brokered a cease-fire on August 12, nearly 400 civilians had died and nearly 200,000 people had been displaced.
Russia agreed to pull back its forces to prewar positions. But it boosted its military presence in both breakaway regions and recognized both as independent states.
One year later, Amnesty International says some 30,000 people, mostly ethnic Georgians, remain displaced by the conflict.
Pointing Fingers
Both sides continue to trade accusations of blame for who started the war.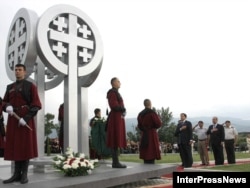 Georgian President Mikheil Saakashvili at a commemoration ceremony.
And tensions have risen in the run-up to the anniversary, with Georgia and South Ossetia accusing each other of carrying out small-scale attacks and "provocations."
Competing ceremonies on the anniversary reflect that divide.
Georgian President Mikheil Saakashvili, who laid a wreath to soldiers killed in the war, is to make an address to the nation.
Russian television is airing an interview with his Russian counterpart, Dmitry Medvedev, in which he says the decision to send troops in was "the hardest thing, but in the end we got it right."
And South Ossetia's separatist leader, Eduard Kokoity, has used the occasion to press his case for independence.
with news agency material
Chronology Of The Russia-Georgia Conflict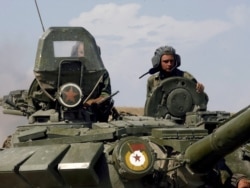 Chronology Of A Conflict
One year after war broke out between Russia and Georgia, many issues remain unresolved. South Ossetia and the breakaway region of Abkhazia unilaterally declared independence, tens of thousands of Georgians are still displaced, and political tensions between Tbilisi and Moscow are simmering. Here is a look back at the key events in the conflict over the past 12 months. Play