MOSCOW -- These days, you'll see more BMWs and Mercedes than the boxy Ladas and Volgas that once clogged the streets of the Russian capital. But as the city grows richer, it is also growing more nostalgic.
New magazines and museums are cropping up dedicated to the glory of the vintage Soviet automobile -- everything from boxy, toylike Ladas from Tolyatti's AvtoVAZ to high-end luxury sedans manufactured by Moscow's ZiL automakers for the Kremlin elite.
And for those with the money, a blooming restoration industry means more Chaika M13s and first-series '56 Volgas are returning to collectors' garages, if not necessarily to the roads.
"It's a fad. It's like when the head of the government wears Brioni [menswear], then all the bureaucrats also wear Brioni. Or Blancpain," Gazaryan says. "We all know that Putin loves Blancpain [watches], and that's why in the government you see Blancpain."
Putin, an avid booster of the USSR's technological triumphs, is more than happy to show off his Volga, taking Orthodox Patriarch Kirill for a ride and even famously allowing then U.S. President George W. Bush to sit behind the wheel. (Bush politely declined a trip in Putin's other vintage car, a diminutive Zaporozhets, which in its heyday was known as the "hunchback" because of its aesthetically challenged silhouette.)
Medvedev's 'Victory' Car
Putin isn't alone. President Dmitry Medvedev has a white 1948 Pobeda, the people's "victory" car created at the end of World War II. And when politicians recently declared their earnings and property, a virtual fleet of vintage cars was among the holdings.
Russian President Dmitry Medvedev (right) and his Ukrainian counterpart, Viktor Yanukovych, hop into a vintage Pobeda in Gorki on April 5.
Deputy Prime Minister Igor Shuvalov owns a ZiL-41047, a limousine designed especially for Soviet Politburo members. Vladimir Resin, the deputy mayor of Moscow, has three vintage cars from Nizhny Novgorod's GAZ manufacturers. And Viktor Bogdanov, governor of the Kursk region, keeps a ZiL and a luxury Chaika, cars used by the Soviet nomenklatura, to complement his three Bentleys.
Vintage-car fans with less money to spend can head to Moscow's Autoville Museum, which holds close to 30 Soviet and foreign models of cars. Among its displays is a monstrously heavy 1940s limousine that once transported Josef Stalin. Across the room is Putin's spurned Zaporozhets, a cheap compact car so small it looks as if it could be packed neatly into the limo's trunk.
Upstairs is a humble Moskvich, originally owned by Moscow Mayor Yury Luzhkov and his now-billionaire wife, Yelena Baturina. (Baturina's construction company, Inteko, built the Autoville museum.)
'When The Smell Hits Him...'
Many in the ranks of Russia's super rich developed a taste for foreign vintage cars in the 1990s. But they soon grew tired of imported brands, which had technical allure but none of the emotional resonance of the Soviet-made models, says Ilya Sorokin, the organizer of a vintage car fair and the publisher of a magazine called "Old Timer: Toys for Grown-Ups."
Stalin is a figure we don't understand. One day, we will say that he was 70 percent good and 30 percent bad...Of course, cars belonging to such people are special."
"When a person goes to an exhibit where there is a humble Pobeda or Moskvich -- the one that dad or grandad used to drive -- he asks to get in the car," Sorokin says. "And when the smell hits him, he immediately gets tears in his eyes as he remembers his childhood. He has a nostalgia for that time."
If an Alfa Romeo from 1938 is followed by a Bugatti from 1939, Sorokin says, people will grow tired and complain that they are seeing variations on a theme. Today, vintage car enthusiasts prefer to see Soviet models, with their deep and familiar history.
Some collectors are so obsessed with their nostalgia for old cars that they are willing to pay huge sums to re-create their first car. Sorokin knows of one collector who is paying a restoration company a small fortune to restore a lowly Zhiguli to match the color and conditions of the car he first owned as a young man in the 1970s.
"[To get] the same kind of color, the same interior as he had in his youth, he's paying, let's say, 50,000 euros. For that kind of money he could buy a good car," Sorokin says. "I was in a friend's restoration garage and he was working on what they call the Kopeika -- the first model of the Zhiguli -- for 50,000 euros. I said, 'What, is he crazy?'"
Soviet Throwback
Last month, Medvedev took the mania a step further, suggesting Russia's top leaders swap their traditional work Mercedes for domestic models, in a throwback to Soviet days that could also boost ailing domestic car makers.
Vladimir Kozhin, the head of the presidential property department, told Ekho Moskvy radio station said the idea was being explored, adding he didn't rule out the possibility that a modern version of the old ZiL limousines might someday replace the current German-made fleet.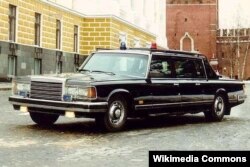 The classic Russian ZiL-41047 limousine
Fascination with the Soviet past has been a recurring theme in Russian popular culture as the country grew richer and stronger during the past decade. A recent exhibit in Moscow featured a limousine that had played a role in an assassination attempt on Soviet leader Leonid Brezhnev in 1969.
Viktor Ilyin, an army deserter, had disguised himself as a policeman and fired at the car as it approached the Kremlin, believing he had spied Brezhnev inside. The limousine, in fact, was carrying four cosmonauts, including Georgy Beregov, who bore a slight resemblance to the Soviet leader. Ilyin's shots killed the driver. Brezhnev, who was traveling in a separate car behind the first limousine, escaped unscathed.
The car was eventually purchased by a Russian collector who restored it but left the historic bullet holes intact. Sorokin said the car exhibit drew large crowds of people eager to learn more about a critical event in their nation's history.
"For me, Kremlin, Brezhnev and the cosmonauts -- these aren't empty words. This car is linked to the fact that cosmonauts, people who were beloved by the nation, were shot at," Sorokin says. "The Kremlin is also holy. And Brezhnev was a leader who we once might have laughed at, but now respect a little, as we understand that it's not that easy to control such a country."
Links To Stalin
Cars with proven ties to history are in high demand. The "Robb Report" website recently posted an ad putting a 1940s limousine used by Stalin up for sale. The air of mystique is especially thick around cars with links to the most notorious Soviet dictator.
"Stalin is a figure we don't understand. One day, we will say that he was 70 percent good and 30 percent bad, like the Chinese say about Mao Zedong," Sorokin says. "I think it will be like that. Of course, cars belonging to such people are special."
A 1960 GAZ Chaika parade car
Even those who eschew most forms of Soviet nostalgia admit to being drawn by the lure of vintage cars. Vladimir Pribylovsky, a former dissident and political analyst, condemns the romanticization of the country's often grim past. Still, he says that if he had the money, he'd be happy to have a restored Pobeda, a car he classifies simply as "cool."
It remains to be seen if Russia's ailing automakers will succeed in creating a new generation of automobiles that captures the spirit of old Soviet models.
Moscow's ZiL produced a special convertible limousine for Russia's Victory Day parade on May 9. Defense Minister Anatoly Serdyukov took a spin in it, saluting the armed forces marching to celebrate the end of World War II.
But the car did not please more pedantic vintage car fans, including Sorokin, who said simply, "Black is not a parade color." According to tradition, he said, the color of the parade car should have matched Serdyukov's suit.
Nor is it certain that the expensive habit of vintage-mania will survive the economic slowdown. Russian metals giant Oleg Deripaska, one of the country's richest men, had sought to resurrect the Pobeda, which last rolled off the assembly lines in 1958. The financial crisis forced him to change his plans.
Such ambitions are a mystery to Gazaryan, even as publications like the "Robb Report" profit from the country's appetite for high-priced flights of fancy. In the end, he says, what makes a Soviet vintage car better than any other?
"I don't understand this irrational love for Soviet brands. Of course, the Pobeda is not a bad car and the Volga 21 isn't a bad automobile. It's good for a collector. If you're patriotically inclined, then you can collect," Gazaryan says. "But to turn it into a national idea or to show your loyalty to your own country is quite silly."