WATCH: "Armenian Elvis" croons at home for our correspondent.
YEREVAN -- Narek Markarian is the first to admit that physically, he isn't a dead ringer for the late King of Rock and Roll, despite his glossy pompadour and sleek black sideburns.
But Markarian, who's come to be known as the "Armenian Elvis," says that preserving the musical memory of Elvis Aaron Presley -- born 75 years ago today -- is what matters to him most.
The 26-year-old Markarian began to collect Presley's recordings and memorabilia while he was still a schoolboy.
"I mainly collect the records," he says. "Songs are the greatest riches that Elvis has left to us."
Now an entire room of his home in Yerevan is devoted to the King, with hundreds of books, posters, and recordings. There are even articles of clothing that once belonged to Presley, who died in 1977 at the age of 42.
"It may seem odd to have a thousand CDs by the same artist, but when you get to know these people [who produce these CDs], you begin to understand that what they've done is put serious research into a cultural phenomenon," Markarian says. "Elvis is a cultural phenomenon with a lasting influence. And people continue to study that phenomenon and give lectures on it. It's very interesting. And it's very important that history should not be forgotten."
Markarian has a day job as a teacher at Yerevan's Bryusov Linguistic University.
But at night, he revels in a second career, donning shiny suit jackets, swiveling his hips, and performing "Suspicious Minds," "Jailhouse Rock," and other Elvis hits at clubs all over Armenia.
He has also performed in the United States and, in 2007, performed as Elvis in a charity concert in the Kyrgyz capital, Bishkek.
Markarian says he uses his stage shows to introduce his audiences to a lesser-known side of Elvis, in addition to performing the classics.
"Elvis has a large repertoire that includes more than 700 songs. I perform a hundred of them," Markarian says. "I always try to include songs that, for whatever reason, aren't known to wider audiences but deserve to be. That way people aren't listening only to things they've already hear a hundred times."
Markarian has also created an Armenian website dedicated to Elvis (www.elvis.am). But the country has no dedicated Elvis fan club. For that, Markarian has had to join a club in neighboring Russia.
WATCH: Markarian sings and gyrates his way through a medley of Elvis classics:

This year, Markarian is hoping to record his first album, filled mainly with songs from Elvis's repertoire.
He says he also hopes to write a book about the role of the King of Rock and Roll in the USSR, where he was revered at the height of the Cold War on a level with the Beatles as a symbol of the West.
"My concept is to talk about Elvis in the context of the Soviet Union, because there's no point in writing another basic biography about him," Markarian says. "I don't like it when a person reads four or five serious books and then writes another dull, 100-page biography based on that. A lot of things are either incorrect or a repetition."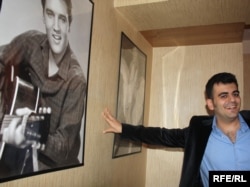 Markarian has hundreds of books, posters, and recordings, and even clothing that once belonged to "The King."
No special Elvis commemorations were planned for today in Armenia, where most people are still preoccupied with the country's January 6 Christmas celebrations.
Instead, celebrations have been pushed back to February, when Elvis fans around the world are poised to mark the 50th anniversary of the end of Presley's U.S. Army service in 1960.
Markarian, whose possessions include an army uniform modeled after one worn by the King, is preparing for the event with a set of performances in a Yerevan club next month.