President Dmitry Medvedev has recognized the breakaway Georgian regions of Abkhazia and South Ossetia as independent states. It is the latest salvo in the diplomatic war that has raged between Russia and the West ever since the fighting in Georgia quieted down.
And this war -- like the five-day war on the ground -- has its own goals and logic. Russia's current goals in its dealings with the West, particularly the European Union, are the legitimization of its actions, the acknowledgement of the status quo (that is, the "independence" of South Ossetia and Abkhazia as Russian protectorates), and -- if possible -- the emergence of a split within the West over these issues. At the same time, Russia is clearly showing that it does not seek a common language with the West, that it no longer seeks integration, and that it does not share Western values.
For the West, particularly the EU, it is important to stabilize the situation on the ground, develop a new international format for the peacekeeping mission in Georgia, and the deployment of peacekeepers. The EU also seeks Moscow's recognition of Georgia's territorial integrity by refusing to allow Russia unilaterally to change borders in Europe and illegally use its military might under the cover of "humanitarian intervention."
Psychologically, both sides find themselves in different positions. Russia is swept up in the euphoria of its real and imagined military and geopolitical successes. However, the emerging political balance may not be in Russia's favor. There have been several negative results, including a growing anti-Russian mood in the West, particularly among the elites; the position of Republican candidate John McCain -- known for his harshly anti-Russian positions -- in the U.S. presidential race has been bolstered; Washington and Warsaw have signed an agreement on basing elements of the U.S. missile-defense system in Poland; relations with Ukraine have deteriorated significantly and new tensions have emerged regarding the Black Sea Fleet; tensions have grown in relations with other Commonwealth of Independent States (CIS) members; the Russian stock market has fallen by about 15 percent; and the ambitious economic program put forward by Vladimir Putin and Dmitry Medvedev has been thrown into doubt.
The West is also considering an array of more serious measures, as well, including excluding Russia from a number of international forums.
Moscow's Surprise
As for Russia's gains, the main ones relate to the triumph of the ultrapatriotic ideology of national revanche. But throughout the crisis in South Ossetia, Russia demonstrated quicker reactions and stronger political will than the West, particularly in comparison to the latter's indecision regarding effective help for Georgia.
The West, by contrast, undertakes this diplomatic battle in a mild state of shock. The challenges that Moscow has thrown down were so unexpected that some people argued the war was a trap set by Russia into which Georgian President Mikheil Saakashvili blundered. But the fact that Russia had prepared for a conflict is not surprising. Any General Staff is obligated to undertake such preparations, and both Russia and Georgia had done just that over the last two years.
The surprising thing, though, was that Russia had prepared so much better than anyone expected, Saakashvili perhaps most of all. But there can be no doubt that Saakashvili's attack on Tskhinvali did not come as a surprise to Russia, whose satellite intelligence enabled them to see the precise disposition of Georgian forces.
The West's confusion is explained by the fact that it has almost no concrete means of influencing Russia positively and its negative levers will provide no direct relief to Georgia. And that is the West's current priority. For that reason, all ideas for "punishing" Russia, including revising the entire specter of relations, can be put off until another day, since the main thing now is to "win the peace" -- that is, to support Georgia and shield Ukraine from a similar fate. And all this must be done in negotiations with Russia that recognize the fact that, no matter what, Russian forces will remain in Abkhazia and South Ossetia, just some 70 kilometers from Tbilisi.
This is the environment in which the questions of the status of the two republics and the fate of Georgia's territorial integrity must be decided.
'Solidifying Conflict'
Russia is following a precise logic in its actions. Now it has recognized independence, Moscow will likely conclude agreements on political, military, and economic support with them. Furthermore, as Medvedev promised, Russia will give international guarantees to both republics, meaning that it will lobby for their recognition by the United Nations. From a legal point of view, international organizations can ignore pleas from the unrecognized republics themselves, but they cannot ignore appeals from Moscow.
In making those appeals, it seems Russia is not likely to stress the idea of self-determination, which is a potentially explosive argument for Russia itself and other CIS countries. Instead, it will actively push arguments related to charges of Georgian "genocide" and the legally "incorrect" way in which Georgia left the Soviet Union in 1991. In the latter case, Moscow will argue that the peoples of Abkhazia and South Ossetia never wanted to take such a step.
It seems unlikely that any Western countries will acknowledge the two republics anytime in the foreseeable future, just as Russia and most CIS countries will not recognize Kosovo. In addition, Russia's main Asian partners -- Iran, China, and India -- will also decline to recognize Abkhazia and South Ossetia, inasmuch as they have their own real and potential ethnic troubles. But Russia will be satisfied even if the two regions establish a status similar to that of the Republic of Northern Cyprus, which has been recognized only by Ankara for decades.
The strengthening of Russia's position in the CIS will lead to increased tensions with almost all countries that have significant Russia populations or large numbers of Russian citizens. Primarily, this means Ukraine, Kazakhstan, and Belarus.
As for Georgia's territorial integrity, it has clearly fallen victim to Moscow's insistence that Georgia never join NATO. Before the war, Moscow tried to achieve this goal through the frozen conflicts. Now, despite the war, Moscow's main aim is unchanged.
The presence of Russian forces and the creation of buffer zones on Georgian territory will simply solidify the state of conflict and complicate Tbilisi's efforts to join NATO. On the one hand, all NATO members have expressed solidarity with Georgia and are ready to offer help. On the other hand, granting NATO membership to a country entangled in a military confrontation with Russia will certainly not be easy. It is possible the United States might conclude a bilateral agreement with Georgia, similar to the one it concluded with Poland as part of the missile-defense accord.
Moscow is also no doubt hoping that, with time, Georgians will become increasingly enraged about the losses of Abkhazia and South Ossetia and will replace Saakashvili with a leadership that is more acceptable to Russia. Moscow might facilitate this scenario by stimulating separatist feelings in Mingrelia and Ajara, which border Abkhazia. These efforts could lead to the disintegration of Georgia or, at least, to that country losing its access to the Black Sea.
In order to counter such a scheme, the West would have to find quick and effective methods of integrating both Georgia and Ukraine into the Euro-Atlantic community.
Crisis In Georgia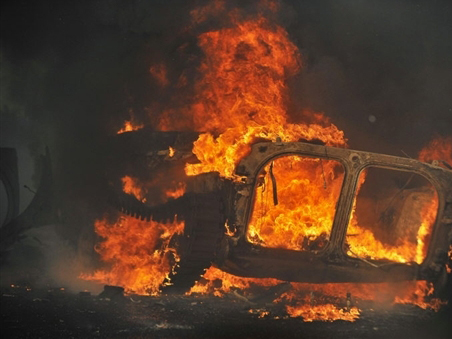 For RFE/RL's full coverage of the conflict that began in Georgia's breakway region of South Ossetia,
click here
.