The scene was calm and quiet in front of the Kyrgyz Embassy in Washington, D.C. this afternoon.
The average passerby would be forgiven for thinking that this was an ordinary day of business for Ambassador Zamira Sydykova and her staff.
But an innocuous-looking sign taped to the door of the embassy suggested that not all was calm and quiet inside:
"Today We Are Closed"
Today, April 7, is not a Sunday, nor is it a national holiday in Kyrgyzstan.
But with protests raging and the government apparently on the brink of collapse in Bishkek, the embassy was evidently told to close down operations for the day.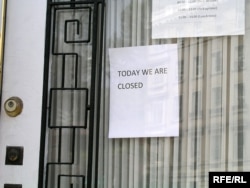 Ambassador Sydykova, a former journalist who was jailed for her criticism of former President Askar Akaev, could not have missed the irony of her day off: Among the protesters' demands is for the government to end its crackdown on media freedom.
When I rang the embassy's doorbell, one young man did answer. He told me he knew nothing about the whereabouts of President Kurmanbek Bakiev, who reports say has fled the capital. Nor did the embassy have any comment about the president's son, Maksim, who, according to a U.S. State Department spokesperson, was due to arrive in Washington today.
He was scheduled to participate in annual bilateral consultations between U.S. and Kyrgyz officials on April 8 and 9. The State Department says those talks have now been postponed. A new date has not been announced.
RFE/RL's Kyrgyz Service reports that this morning, members of the Kyrgyz opposition in the United States were planning to organize a picket in front of the building in expectation that the younger Bakiev might show up.
Last year, President Bakiev named his son to head the newly formed Central Agency for Development, Investment, and Innovation, a body entrusted to jumpstart the sagging economy.
Embassy officials reportedly told the opposition members that Maksim Bakiev was not coming, and the picket never occurred.
Some of the opposition members are now reportedly heading to Bishkek, where leaders of the movement claim to have ousted the government.
RFE/RL's Kyrgyz Service also reports that Kyrgyz migrants held a small demonstration in front of the Kyrgyz Embassy in Moscow.
All may seem quiet at the embassy in Washington, but the situation is likely far more chaotic within.
--Richard Solash