His tranquil demeanor has earned him the moniker "Gandhi." But Kemal Kilicdaroglu will need to show an altogether more pugnacious face if he is to meet the rising tide of optimism unleashed by his election as leader of Turkey's main opposition party.
In just a few days, this unprepossessing mustachioed former civil servant has been transformed from obscurity into a potent symbol of hope that the long-dormant Republic People's Party (CHP) can complete the long march from opposition to the corridors of power that were its intended destiny when it was established by Mustafa Kemal Ataturk, modern Turkey's founder, nearly 90 years ago.
Kilicdaroglu, 62, assumed the burden of expectation from the country's secularist center-left after being elected party leader last weekend to replace the disgraced Deniz Baykal, who stepped down this month over the release of a video that appeared to show him having a sexual liaison with his former secretary.
His elevation defied efforts by Baykal supporters to engineer his return to the leadership and confounded expectations that the post would go to one of the former leader's loyal lieutenants.
Now commentators are lauding Kilicdaroglu as the man who can transform the CHP from the bedraggled time-warped outfit over which Baykal presided -- when the party, belying its supposed social-democratic identity, became identified with chauvinistic nationalism, intolerance of minorities, and elitism. Baykal, 71, was widely perceived to have become a barrier to reform -- and to winning power -- by adopting intransigent attitudes.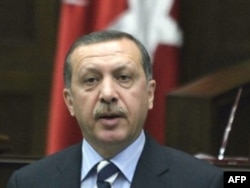 Is Erdogan getting nervous?
In a barnstorming acceptance speech, Kilicdaroglu fed hopes that change was at hand by vowing to take the party back to government and launching a vitriolic attack on Turkey's imperious prime minister, Recep Tayyip Erdogan, whom he belittled by calling "Mr. Recep." He also promised to target the corruption he said Erdogan's Justice and Development Party (AKP) government had ushered in and to focus on helping the poor.
Taking On The AKP...And CHP
The euphoria surrounding Kilicdaroglu has caught the Islamist-rooted AKP, in power since 2002, off-guard. From concentrating on a constitutional reform package designed to weaken the twin secularist bastions of the judiciary and the military, the party now appears suddenly worried about losing office at the next election, which must take place no later than next year. Seemingly rattled, Erdogan has warned of dispossessed establishment "oligarchs" seeking to regain their former power.
Soli Ozel, a political scientist at Istanbul Bilgi University, says Kilicdaroglu now has the opportunity to restore the CHP to a governing status it has not enjoyed for decades.
"It's quite obvious that the government is feeling very uncomfortable about this new development and there is no doubt in my mind that there is demand for change in the country," Ozel says, "partially because of AKP fatigue, partially because there are so many problems that have not been solved and partially because the arrogance of the AKP, after so many years in power, is finally getting to people."
Yet the optimism over Kilicdaroglu's could turn out to be a false dawn. "There is no question that there is an incredible, almost storm of hope, but how prepared he is we don't know," Ozel says.
For example, Ozel says that "on foreign policy his speech was rather miserable." While he says Kilicdaroglu represents "a hope for change," the CHP "is a very difficult body to change. I personally wish him well, but I think he is going to have a very hard time to do whatever it is he wants to do."
Baykal Looms In The Background
One cause for concern is the continuing influence of Baykal and his cohorts over the party's direction. After his election, Kilicdaroglu cemented his leadership by purging Baykal loyalists from senior office-holding positions -- from which they were running the CHP "like members of the politburo," in the words of one reformer, Bedri Baykam -- and replacing them with modernizers.
However, he heavily owes his position to the machinations of the CHP secretary-general, Onder Sav, who swung behind Kilicdaroglu's candidacy and thereby ruled out the return of Baykal. In owing Sav, Kilicdaroglu is indebted to one of the party's most powerful old-guard figures who is also one of Baykal's oldest friends and allies.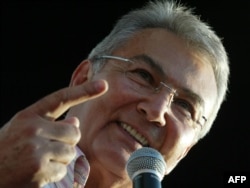 Deniz Baykal expects to stay in politics.
Nor has Baykal himself left the stage. Even Kilicdaroglu's supporters acknowledge that he will need to tap the vast experience Baykal gained in 19 years as party leader to get a grip on the CHP apparatus.
Baykal's looming shadow might be bad news for those like reformist Baykam, who blames the former leader for driving away party supporters who are now being tempted back by Kilicdaroglu.
"He did not care about people who had resigned, people who had left politics because they felt they were left aside, people who had gone to other parties, people that were even fired from the CHP," Baykam says. "Kilicdaroglu has brought such a wave that all these persons are coming back."
In a series of interviews on Turkish television, Baykal has pledged to continue influencing events. "Making politics doesn't just mean engaging in politics as a party leader. Only my room has changed. I will continue to make politics," he told CNN Turk.
His TV appearances have reinforced fears that the conservative forces some modernizers have dubbed as "Baykalism" will remain predominant, even under Kilicdaroglu. Baykam accuses the former leader of misleadingly claiming that the CHP's sudden revival is unconnected with his resignation.
"He tries to present it to the general public that we were on our way up anyway," Baykam says. "But the reality is, of course that his resigning did boost the CHP."
The "Gandhi" show may be the only one in town for the moment. But the performance lines of his predecessor have not been forgotten.