"I read 'Ruhnama' to the end. It is a mixture of soup, rice, pepper, and poison. I would say it shows Turkmenbashi's thought process. The ideas are not in order. It's chaotic. The beginning of the thought is in the middle, the middle is at the end, and the end is at the beginning."
Such criticisms, made about the book of poems and spiritual guidelines set out by the late Turkmen leader Saparmurat Niyazov can bring real trouble in Turkmenistan.
The lifting of some restrictions on the Internet, however, is allowing some Turkmen to express themselves in an open forum while providing outsiders a rare look into their everyday problems.
If you are pregnant, you have to pay a bribe. If you want to study in a good school, you need to pay a bribe. To get any document, you have to give bribes.
The comment about Niyazov, the country's eccentric and longstanding former president, was posted by "Juneythan" on talyplar.com, a Turkmen-language social-networking site intended for students.
Set up in the United States, the site and others like it are still online minnows but they are slowly growing in popularity among Turkmen both inside and outside the country.
It is a small window made possible by Turkmenbashi's successor, President Gurbanguly Berdymukhamedov, who since taking power in December 2006 has taken baby steps toward opening the energy-rich Central Asian country to the outside world.
Small Measures Of Freedom
During Niyazov's decades-long rule, the Internet was available only for a select few, mostly government officials and well-connected families in the capital, Ashgabat.
Berdymukhamedov, in his first months of office, freed things up a bit, providing greater access to the Internet that led to the opening of dozens of Internet cafes in the capital and other regions.
Now, the economy, corruption, and domestic finances are among popular topics on blogs and forums, and while the Turkmen president might be responsible for the newfound openness compared to his predecessor's rule, it does not spare him from criticism.
"Berdymukhamedov promised to invest billions of dollars in Dashoguz Province during his first year as a president. I think it was $4 billion. I went to Dashoguz in 2009, nothing has changed. This is just one example," writes Sirat on teswirler.com.
In another post, Sirat says government policies are simply "wrong."
"Why there is so much corruption around?! If you are pregnant, you have to pay a bribe…. If you want to study in a good school, you need to pay a bribe. To get any document, you have to give bribes. Bribery is in our blood now. Why? Because salaries are low, prices are high. There is only one employed person in most families. Many families survive on pensions," Sirat writes.
An unnamed subscriber on the same chat thread laments the situation and calls for laws regulating corruption to be strengthened.
"Corruption has reached the maximum degree. And the reason for this is that there are no regulations on this issue and there is no rule of law," the user writes. "During Soviet times, shopkeepers would get jail sentences only for embezzling a penny."
'Worst Enemy Of Internet'
Despite the small changes, Turkmenistan still has a long way to go in its on-line liberalization.
In its 2010 report, the Paris-based Reporters Without Borders (RSF) listed Turkmenistan among the Worst Enemies of the Internet -- along with North Korea, Burma, China, Iran, and Cuba.
According to the RSF report, the government still has the Internet under its strict control, filtering its content and blocking many sites.
For instance, Facebook and other social-networking sites such as the Russian Odnoclassniki (Classmates) are blocked, along with many foreign news sites and YouTube.
Access to the net also comes at a high cost, placing the Internet beyond the reach of ordinary Turkmen citizens. An hour of surfing the net at an Internet cafe costs about $2.10, while surfing at home costs $0.42 per hour in addition to a monthly subscription fee of $4.20. Such prices are prohibitive in a country where, despite vast energy wealth, some 30 percent of the population lives in poverty, and the average monthly salary is about $200.
Many blame high prices as the main hurdle for the expansion of the Internet in Turkmenistan. According to Pyramid Research, a telecommunications research organization, the number of individual subscriptions in Turkmenistan at the end of 2009 was just 13,200 and the estimated total number of users was about 127,000.
That's out of a population of roughly 5 million.
In Turkmenistan, virtually all domestic publications, broadcast media, and news agencies operate under government control. State media is a mouthpiece of the government, and as Feya describes the situation in a comment posted on talyplar.com in September, they offer little to attract most Turkmen.
"If they broadcast interesting news, if they reported about the situation in our country, no one would watch foreign channels. They have good television programs only on New Year's Eve. But they repeat those programs during the whole year. People are tired of the same things," writes Feya.
"Given the state of the media in Turkmenistan, the Internet is basically the only space, where alternative views -- however limited -- can be expressed," says Lucie Morillon, co-author of the "Enemies of the Internet" report.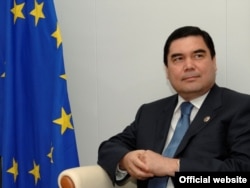 Turkmen President Gurbanguly Berdymukhamedov
Morillon says autocratic regimes such as Turkmenistan's are suspicious of social networking sites "because it could be a tool for the mobilization of civil society." But for now, she says there is reason for limited optimism about developments in the country.
"The fact that some bloggers are able to raise some sensitive issues and discuss it with [other] Turkmen based not only in the country but also abroad, may bode well for the future," Morillon says.
"I think we need to see whether they will be free to continue doing that or whether the government will decide to increase its grip on the Internet, because they are afraid it's maybe a space that is not under their control and could destabilize the regime. We'll see. But if they let it go, it could be a way of opening up the country and the society and giving some sound information to the people, which is much needed in Turkmenistan."
Bridge Abroad
Talyplar.com and teswirler.com, set up three years ago, have steadily built up a following, with several hundreds of users visiting the two sites each day, compared to only 10-15 users a day two years ago. The type of personal information commonly offered by users of Facebook and other sites is not to be found on these sites -- the majority of users go by nicknames and hardly ever mention their location or profession.
But it is obvious from the content of many posts that they provide a rare communication bridge to the outside world.
Turkmen students studying abroad ask those in Turkmenistan about job opportunities and salaries at home. School graduates in Turkmenistan post questions asking about university entrance exams, education fees, and living costs for students abroad.
"Where to study medicine?" asks Begenchmurat, who says he is a school-graduate in Turkmenistan.
"It is better to study in your own country than in Kyrgyzstan, Belarus, or Ukraine," replies "Forbidden."
"Feya" advises caution, noting: "there is one problem.... I will have to pay bribes here in addition to the tuition fee. Double expenses. Plus students need to attend many bureaucratic gatherings. They take us to endless ceremonies and meetings."
Of course, like the society it reflects, the discussion is not all serious. There is plenty of room for comments on weather, sport, friendly banter, and searches for long-lost friends or elusive love.
The important thing, advises Vladimir Torin on talyplar.com, is expressing and sharing ideas. "Don't keep your ideas inside your head," he writes. "If an idea comes to your head, implement it. If you have no plans to implement, then share it with the world and put your signature underneath."
RFE/RL's Turkmen Service contributed to this report