Turkmenistan and Iran have opened a new natural-gas pipeline to much fanfare, but considering its relatively modest capacity, the ribbon-cutting ceremony might have more political significance than anything.
Iranian President Mahmud Ahmadinejad arrived in the Turkmen capital on January 5 on the second leg of a Central Asian tour that began in Tajikistan and focused on regional and economic cooperation.
Ahmadinejad picked up where he left off in Ashgabat, where he was expected to travel last week until an ongoing political crisis at home forced a delay.
After a warm welcome from Turkmen President Gurbanguly Berdymukhammedov, the two leaders retreated for private talks that were expected to result in agreements furthering bilateral cooperation.
The icing on the cake, however, is the opening today of the Dovletabat-Sarakhs-Khangiran pipeline, which comes at an opportune moment for both countries and which Ahmadinejad hailed as an opportunity to strengthen ties.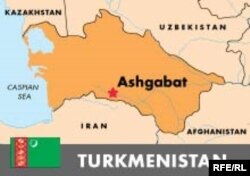 The pipeline, when fully operational, will more than double Turkmen gas exports to Iran -- from 8 billion cubic meters (bcm) annually to 20 bcm -- while furthering Ashgabat's efforts to lessen its dependence on Russian-operated export routes.
For Iran, the new gas supplies will alleviate gas shortages in its northern regions, while showcasing its value as a trade partner in the Caspian region at a time when its reputation is under question.
Iran boasts the second-largest gas reserves in the world, but its dependence on gas for half of its energy needs opens the way for trade with Turkmenistan, which has the world's fourth-largest reserves.
The importance of maintaining good trade relations with Ashgabat was exposed in early 2008, when a brief spat over prices led to a halt of Turkmen gas imports and left large areas of northern Iran without heat and electricity during an especially harsh cold spell.
Finding Export Markets
When the Soviet Union collapsed in 1991, all Turkmen gas was exported via Russian pipelines until the 200-kilometer Korpeje-Kordkuy pipeline connecting Turkmenistan and Iran opened in late 1997.
That pipeline has a capacity of 8 bcm but has rarely pumped more than 6.8 bcm, leaving Turkmenistan largely dependent on Russian pipelines until a new Turkmenistan-China pipeline (capacity 40 bcm) was opened last month.
When 2009 started, Turkmenistan had contracts to sell 50-60 bcm of gas to Russia (it only amounted to a bit more than 11 bcm due to an April explosion that closed the pipeline to Russia) and 8 bcm to Iran annually. Russian-Turkmen bickering over the price for Turkmen gas and responsibility for the pipeline explosion finally ended last month when the two countries' presidents met in Ashgabat. But the new contract calls for 30 bcm of Turkmen gas, not 50 bcm.
Nader Devlet, a professor of international relations at Istanbul Trade University, tells RFE/RL's Turkmen Service the launch of the new pipeline to Iran is well-timed, since it demonstrates Turkmen gas can be exported in different directions.
"This is a very good opportunity for Turkmenistan to acquire an alternative route for its gas exports at a time of misunderstanding with Russia," Devlet says.
With the opening of the Dovletabat-Sarakhs-Khangiran pipeline, Turkmenistan starts 2010 with contracts to sell some 40 bcm to China, 30 bcm to Russia, and at least 14 bcm to Iran.
And Turkmenistan is partially compensated for the reduction in exports to Russia by the new exports to Iran. The gas for the new pipeline to Iran comes from the same field, Dovletabad, that Turkmenistan has been using to supply Russia.
Iran's Regional Influence
Tehran, meanwhile, faces the prospect of additional international sanctions as a result of its defiance over its nuclear program.
Aside from demonstrating Tehran's worth as a trade partner, it also highlights Tehran's policy influence in an energy-rich Caspian region where it has good ties, including an oil-swap program with Kazakhstan.
Devlet says the new pipeline shows Iran is still able to "improve its relations with its neighbors."
Iranian-Turkmen cooperation could prove to have influence beyond the region as well. Iranian media reported in August and September that new deals with Ankara would include shipping Turkmen gas to Turkey via Iran. Turkish Energy Minister Taner Yildiz will be at the launch ceremony in Turkmenistan.
Iranian media claimed at the time that up to 35 bcm of Turkmen gas would be sold to Turkey via Iran despite the fact there is presently no pipeline network capable of delivering such volumes.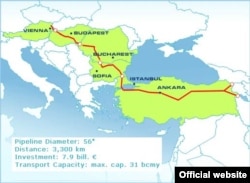 The projected Nabucco pipeline has a spur going to Iran.
Supporters of the European Union-backed Nabucco gas pipeline surely took notice of the report, since Turkmenistan has been courted as a source of gas for Nabucco.
The current political situation has prevented Nabucco shareholders and EU officials from directly approaching Tehran about the construction of a branch of the pipeline through Iran, although that route is the easiest way (and the Nabucco website shows the pipeline connecting at both the Turkish-Georgian and Turkish-Iranian borders).
Nabucco aims to carry some 31 bcm of gas from the Middle East and the Caspian Basin to the heart of Europe, but lack of an Iranian spur would require the construction of a pipeline along the Caspian Sea bottom from Turkmenistan (or Kazakhstan) to Azerbaijan, then across the Caucasus to the Georgian-Turkish border.
Russia and Iran, two of the five Caspian littoral states, have already made clear they will oppose construction of such a pipeline for environmental reasons, guaranteeing a legal battle that could last for years.
Following Iranian media claims that Tehran intends to pipe Turkmen gas abroad, Turkmenistan's government has said it does not want its gas reexported, and has increasingly been in contact with Nabucco officials.
New Trade Route
Another new export route that is part of President Ahmadinejad's visit to Turkmenistan is the North-South railroad. The new railway line will connect Kazakhstan to Iran's Persian Gulf ports, with stops in Turkmenistan along the way.
An earlier, albeit more modest, attempt at such a railway -- the Sarakhs-Meshhed -- has helped boost trade but has not proven to be the "junction of the world" that former Turkmen President Saparmurat Niyazov said it would be when the line opened in 1995.
When President Berdymukhammedov attended a ceremony starting construction of the North-South line in December 2007, he said it would provide more than a dozen countries with convenient access to the Persian Gulf and European markets.
With proper railway connections in place, Iran would stand to increase trade with Russia and China, two permanent UN Security Council members that, unlike most Western states, are still doing business with Iran. A new trade route in the heart of the Eurasian continent could mitigate the effect of international sanctions on Iran.
RFE/RL's Turkmen Service contributed to this report