WASHINGTON -- New media websites like Twitter, Facebook, and YouTube have opened a window of freedom for people living in closed societies around the world.
Whether by "tweeting" information to their fellow citizens, posting videos online, or publishing non-state-controlled news stories, democracy advocates have embraced new technologies.
With it, they are organizing protests, recruiting others to their cause, exposing corruption, and shining a light on human rights abuses.
When mass protests arose in Iran last summer following a presidential election that many people believed was rigged in favor of President Mahmud Ahmadinejad, news of the demonstrations and subsequent bloody government crackdown got out of the country via Facebook and YouTube and Twitter.
Journalists were banned from reporting the events, so Iranians took it upon themselves to tell the world what was going on. The leader of the protesters' Green movement, Mir Hossein Musavi, reached his supporters then, and now, via his blog and Facebook.
So powerful was the force of this "citizen reporting" that, at the peak of the protests, the U.S. State Department quietly asked executives at Twitter to delay its scheduled maintenance on the site in order to avoid an interruption of service.
The ability of these new technologies to bypass government censors has also caught the attention of lawmakers in Washington.
Congress's own human rights panel, the U.S. Helsinki Commission, recently asked a group of technology experts for a briefing on how new media is changing social activism and civil society in countries with repressive regimes, and more importantly, what the U.S. government can do to help.
The Power Of New Media
Nathan Frietas is a software developer who, among other things, has invented technology that allows people to exchange data between mobile devices over wireless networks.
He's also a veteran social activist who has helped organize pro-democracy protests in the United States, China, Tibet, and India. Frietas even designed a course that he now teaches at New York University titled "Social Activism Using Mobile Technology."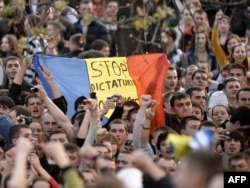 Demonstrations against the results of a parliamentary election in Moldova were organized via Twitter.
This self-described geek-activist introduced himself to the commission as "a representative of the countless technology and new-media advocates who believe that the most amazing and groundbreaking innovations of our generation should be used more than for the acquisition of wealth or distraction or entertainment, but should be used to really do good in the world."
Frietas helped create something called "Twitter Vote Report," an open-source software program that merges Internet-based data with reports from election poll monitors to produce a real-time report of where and when fraud might be happening. It was used in the 2008 U.S. elections, and since then, in India and Afghanistan.
Frietas said Burma's failed 2007 "Saffron Revolution," in which monks and citizens peacefully protested for days against the country's military junta, was the first time the world realized how new media technology can blast through government-imposed barriers.
"The fascinating thing about what happened in Burma in 2007 was the emergence of the video journalist -- someone with a very cheap digital camera broadcasting their message using the Internet, instant messaging, FTP file transfer, and ending up on the BBC," Frietas said.
More Than Technology Needed
Citizens across the former Soviet Union are using new media to assert their rights and challenge abuses of power, Freedom House's Daniel Calingaert told the panel.
Calingaert, who runs Freedom House's civil society and media programs, described how activists in Russia documented instances of election fraud in this month's local elections. They broadcast photos, posted videos, and blogged about what they saw. The result was a criminal investigation of a district election commissioner and a walkout in parliament by three opposition parties.
In Belarus, where the state tightly controls the media, Calingaert said most people with access to the Internet turn to nonstate sources of news. Only three of the 20 most viewed websites in Belarus are state-run.
In Kazakhstan, when a law to restrict the Internet was introduced last July, the free-speech group Adil Soz organized an online campaign using blogs, Facebook, and Twitter to mobilize opposition. The bill ultimately passed, but the campaign harnessed opposition in a way that had never been seen before.
All these examples -- and there are many more -- are a testament to how new media technology is empowering civil activists in ways never before possible.
But Calingaert said it will take more than Twitter and YouTube to bring democracy to places where there is none. "New media alone cannot undermine authoritarian regimes," he said. "Authoritarian regimes in the former Soviet republics and elsewhere continue to repress their citizens, and this repression extends to digital media."
The Authorities Push Back
In Russia, Internet freedom is declining as bloggers fall prey to hacker attacks, legal prosecution, and physical violence. State officials regularly pressure Internet service providers to remove objectionable content on websites. The director of the company Masterhost told Freedom House he gets 100 requests a day to remove content deemed "inconvenient."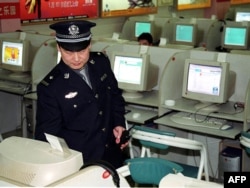 In Big Brother reading your e-mails?
In Belarus, the authorities conduct surveillance on Internet users and require cybercafes to register everyone's browsing history.
And in China -- where bloggers have been sentenced to jail terms and Western Internet sites are regularly blocked -- the authorities plant monitors in online chat rooms to guide discussions away from sensitive topics and toward pro-government positions.
"New media has created significant opportunities for advancing freedom in countries ruled by authoritarian regimes. It has expanded the space for free expression and facilitated civil activism," Calingaert said.
"But authoritarian regimes have pushed back. They have restricted Internet freedom in a variety of ways and they are likely to further limit the space for free expression and civic activism on the Internet unless the U.S. government works proactively and vigorously to keep that space open."
NYU's Frietas also warns that as more and more citizens embrace these new methods of electronic communication, they run the risk of being found out by the state -- not only them, but their family, friends, and fellow activists.
"Mobile phones are unique identifiers that track their user. Laptop computers are full of incriminating documents. Digital viruses deliver powerful espionage tools [to activists' computers] such as Ghostnet," Frietas says.
"One slip, and your entire e-mail box and social network can be revealed." As he put it, you can't Twitter your way out of a beating by the security police.

Providing Tools To Fight Repression
So what does the future hold in countries where the state has begun to grasp just how dangerous new media is to its tight control on society?
Calingaert predicts more repression unless citizens fight to keep the Internet free from government interference. He urged the United States to get involved in that fight, by:
Preventing the use of U.S. technology in violation of peoples' rights;
Building coalitions among democratic governments in defense of Internet freedom;
Investing in technology to circumvent censorship and strengthen user privacy; and
Supporting citizens' efforts wherever possible to expand free expression online.
Shiyu Zhou is already deep into the fight again state censorship. As the deputy director of the Global Internet Freedom Consortium, Zhou is part of a small group of Chinese engineers spending their own money on anticensorship systems that anyone can use to bypass state controls.
Two of their most popular programs, FreeGate and UltraSurf, provide users with encrypted connections to secure proxy servers around the world. The servers' Internet protocol (IP) addresses are constantly switched -- as many as 10,000 times an hour -- to make it harder for the censors to block.
Zhou said that during the protests in Iran, Internet traffic from inside the country to his IP switching program soared by 600 percent. During the 2008 Beijing Olympics, when mass protests in Tibet broke out, traffic increased 400 percent.
Zhou told the Congressional panel that Internet censorship firewalls have become a 21st-century Berlin Wall -- one that separates nations from the rest of the world as effectiv ely as the original.
"When people in closed societies get a taste of freedom and are given a way to share information, they will no longer acquiesce to tyranny and injustice," he said. "Internet freedom has the potential of transforming closed societies in a peaceful but powerful way that must not be underestimated."