UN Expert Urges Yerevan To Address Obstacles Faced By Rights Activists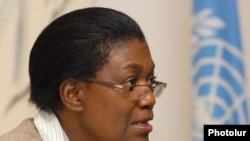 The UN Special Rapporteur on the situation of human rights defenders today urged the Armenian authorities to address the ongoing obstacles faced by human rights defenders in the country.

Speaking at the end of a five-day mission to Armenia, Margaret Sekaggya expressed worry about cases of "ongoing violence, assaults, intimidation, harassment, and stigmatization" against rights defenders and journalists.

Sekaggya is to present her report to the Geneva-based UN Human Rights Council on March 2011.
About This Blog
"Watchdog" is a blog with a singular mission -- to monitor the latest developments concerning human rights, civil society, and press freedom. We'll pay particular attention to reports concerning countries in RFE/RL's broadcast region.
Journalists In Trouble
RFE/RL journalists take risks, face threats, and make sacrifices every day in an effort to gather the news. Our "Journalists In Trouble" page recognizes their courage and conviction, and documents the high price that many have paid simply for doing their jobs. More