The UN war crimes tribunal in The Hague has sentenced two former Bosnian Serb army officers to life in prison on genocide charges for their role in the massacre of more than 7,000 Muslim men and boys near Srebrenica in July 1995.
Four other officers and a police official were found guilty of war crimes and crimes against humanity and given prison sentences ranging between five and 35 years.
But legal experts say it is the decision against the highest-ranking security officers -- Vujadin Popovic and Ljubisa Beara -- that could have the biggest impact on the ongoing genocide trial against Bosnian Serb wartime leader Radovan Karadzic.
Both Popovic and Beara were found guilty of the worst crime in the war-crimes statute -- genocide. The charges against them also included "extermination as a crime against humanity" and "murder as a violation of the laws and customs of war."
Merdijana Sadovic, the director of the International Justice program in Sarajevo for the Institute for War and Peace Reporting, says the rulings against Popovic and Beara are significant because they establish that there was an organized chain of command for systematic genocide at Srebrenica and elsewhere in Bosnia during the 1992-95 war.
"The judges at the trial chamber established that there was a genocidal intent to destroy a group, or a part of a group, based upon their ethnic background. That is very important," Sadovic said.
Question Of Intent
Sadovic explains that "genocidal intent" is what UN war crimes prosecutors also must prove in their case against Karadzic.
"The main problem with the Hague Tribunal so far has been establishing the existence of genocidal intent," Sadovic says. "Without that, you cannot prove that somebody is guilty of genocide. You can only say that he was aiding and abetting or was complicit in genocide. The difference is quite big."
"In order to commit genocide, you have to have this genocidal intent," she continued. "You have to plan this in advance. If you are found guilty of aiding and abetting genocide, that means that you were only following orders -- not planning it yourself."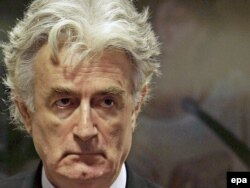 Bosnian Serb leader Radovan Karadzic at his trial in The Hague
Sadovic stresses that Popovic and Beara have a right to appeal the ruling by the UN trial court. She says it is the decision by the appeals court that will determine whether the June 10 ruling also can be used as evidence in Karadzic's trial.
"Because Popovic and Beara were subordinate to Karadzic, if their genocide conviction is confirmed by the appeals chamber, it would seem only logical that Karadzic would also be found guilty of genocide if all other evidence provided in this trial supports these convictions," she says. "In case the appeals chamber confirms this conviction, it will definitely make it easier for the prosecutors to prove genocidal intent and Radovan Karadzic's responsibility for genocide [at Srebrenica]."
Lack Of Proof
But there also is a possibility that the appeals chamber of the UN court will overturn the genocide rulings against Popovic and Beara. It has done so in past cases against Bosnian Serb military officials.
Radislav Krstic, a 62-year-old former Bosnian Serb general, was convicted of genocide in 2001 by The Hague tribunal. But the UN appeals court overturned that conviction in 2004 -- saying that there was not enough proof to support a ruling of "genocidal intent."
Krstic, who had been the chief of staff and a deputy commander of the Drina Corps at Srebrenica, is now serving a 35-year-sentence at the high-security Wakefield Prison in the United Kingdom on reduced charges of "aiding and abetting genocide."
Those same charges resulted in a conviction and 35-year prison sentence on June 10 against a third suspect -- former Bosnian Serb army brigade security commander Drago Nikolic. Four others also were given sentences ranging from 5 to 19 years in jail. But those convictions do not bolster the prosecutors' case against Karadzic.
What the UN court's June 10 ruling does establish is that Popovic, Beara, and Nikolic were all in the chain of command of General Ratko Mladic, the Bosnian Serb military commander who remains a fugitive 15 years after he was indicted on charges of genocide and crimes against humanity.
Critically, it also establishes that there was a premeditated plot by the Bosnian Serb leadership to carry out genocide against Bosnian Muslims. The judges wrote that the defendants' most brutal crimes were carried out under a directive issued by Karadzic to create "an unbearable situation of total insecurity with no hope of further survival" for the Srebrenica population.
Lasting Trauma
The convictions also involved crimes related to the 1995 fall of the UN enclave Zepa. The court said the forcible removal of Bosnian Muslims from the Zepa and Srebrenica enclaves was a "joint criminal enterprise."
Of some 7,000 Bosnian Muslim men missing since Srebrenica was overrun by Bosnian Serb forces in July 1995, most were killed while trying to escape through the woods, or arrested and then taken to places of execution before burial in mass graves.
The Hague tribunal said it has identified the bodies of at least 5,336 victims of the Srebrenica massacre and that the total number of victims could be almost 8,000.
Some relatives of Srebrenica victims tell RFE/RL that they were not satisfied with the sentences issued by the UN court.
"Why didn't they give [the suspects] to the Srebrenica mothers so we can try them?" asked one woman.
Another survivor, Hajrija Selimovic, is still looking for the bodies of her two sons and her husband -- missing since the Srebrenica killings 15 years ago. "Of my husband, they found only his head. Nothing else. I don't know what happened to them. I am afraid that I will die and that I will not find out anything," she said.
But Kada Hotic, a member of the Association of Mothers of the Srebrenica and Zepa Enclaves, told RFE/RL that the ruling is significant not just for the individual sentences handed out, but because it confirms that genocide was planned by the Bosnian Serb leadership.
"It would be good if [Ratko] Mladic joined them over there so they can finally get on with it and he can be tried for genocide as well," Hotic said.
RFE/RL's Balkan service contributed to this report from The Hague and Prague.