GENEVA -- Nearly 100,000 people have been driven from their homes by the conflict in Georgia, the United Nations refugee agency has said.
A UN High Commissioner for Refugees (UNHCR) cargo plane carrying shelter and other aid supplies for civilians landed in the Georgian capital Tbilisi on the morning of August 12, to be followed later in the day by medical supplies being flown in by the International Committee of the Red Cross, officials said.
"The first UNHCR humanitarian airlift flight carrying relief supplies for civilians affected by the South Ossetia conflict arrived in Georgia this morning as the estimated number of people uprooted by the fighting approached 100,000," Ron Redmond of the UNHCR told a news briefing.
The estimate is based on figures from the Georgian and Russian governments. Georgia launched an offensive last week to retake the pro-Russian region of South Ossetia, which broke away from Georgian rule in 1992. Moscow responded with a huge counteroffensive.
Russian officials in North Ossetia say 30,000 people from South Ossetia remain in the Russian Federation, Redmond said. Georgian officials say several thousand have fled south into Georgia proper from South Ossetia. Up to 12,000 people are estimated to be displaced within South Ossetia.
A UNHCR team that reached Gori, just south of the boundary with South Ossetia, was told by local officials on August 10 that up to 80 percent of the population had left the town, fearing further attacks.
"That would amount to some 56,000 people from Gori on the move. Officials said most had gone toward Tbilisi and that most would return home once the threat subsided," Redmond said.
Russian President Dmitry Medvedev ordered a halt to military operations in Georgia on August 12, just before French President Nicolas Sarkozy was to hold peace talks in Moscow.
Aid agencies renewed their appeal for opening humanitarian corridors that would provide safe and unhindered access to civilians caught up in the crisis. Fighting and insecurity are preventing them from entering South Ossetia.
"The situation on the ground is deteriorating, sparking a significant movement of population," said Elisabeth Byrs of the UN Office for the Coordination of Humanitarian Affairs.
"We need unrestricted humanitarian access to the civilian population and to the wounded and to enable medical personnel and ambulances to take care of the dead and wounded," she said.
The Red Cross, which on August 11 visited two wounded Russian pilots held by Georgian authorities, said it was seeking access to all people captured or arrested in connection with the conflict.
"One of our top priorities when it is possible will be to get safe drinking water to Tskhinvali," added Red Cross spokeswoman Anna Nelson, referring to the South Ossetian capital.
The Red Cross flight en route to Tbilisi is carrying equipment to provide clean water to some 20,000 people.
Crisis In Georgia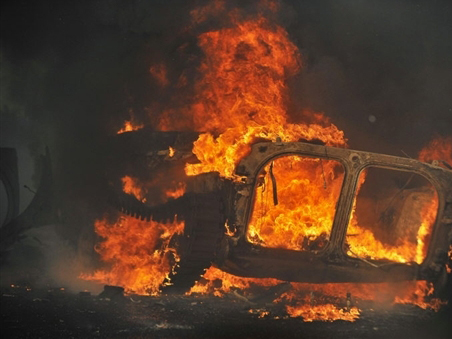 For RFE/RL's full coverage of the conflict that began in Georgia's breakway region of South Ossetia,
click here
.