WASHINGTON -- It is a day that the country's first black president-elect has been dreaming about since he was a little boy. Last year, his kindergarten teacher told a reporter that the young Barack Obama had once written an essay called, "I Want To Become President."
At approximately noon local time, when he lays his hand on the Lincoln Bible and swears to protect and uphold the Constitution of the United States, he will do just that.
Across the United States, a mood of optimism and hope has swelled in anticipation of the inauguration, as a country weary of war and worried by the economy looks to their new president to lead them into a brighter future.
The 47-year-old former state and Congressional legislator is expected to take the oath of office on the steps of the United States Capitol, with a crowd of more than 2 million people on hand and a billion others around the globe expected to watch on television.
More than 5,000 security cameras are providing electronic surveillance of the crowds and groups of police and National Guard can be seen everywhere, ready to offer assistance or spring into action if a threat erupts.
Bush Farewells
With the spotlight on Obama, the outgoing occupant of the White House has had a quiet final few days in office. President George W. Bush spent his last official weekend with his wife Laura at the Camp David presidential retreat, in the Maryland woods outside Washington.
"I will depart office proud of my administration's record," Bush told the nation in his final weekly radio address, also wishing his successor well. "And I will spend the rest of my life grateful for the opportunity to have served as president of the greatest nation on Earth."
Bush spent January 19 calling allies, friends, and sometimes rivals around the world to tell them he has enjoyed working with them, the White House said. Bush spoke to British Prime Minister Gordon Brown, Israeli President Shimon Peres, Danish Prime Minister Anders Fogh Rasmussen, Georgia President Mikheil Saakashvili, Italian Prime Minister Silvio Berlusconi, Japanese Prime Minister Taro Aso, and both Russian Prime Minister Vladimir Putin and Russian President Dmitry Medvedev, according to White House spokesman Gordon Johndroe.
Johndroe said Bush "expressed his gratitude for the kind hospitality all these leaders showed him and Mrs. Bush over the years and told them how much he enjoyed working with them during his two terms."
Bush spent his final night in the White House at a small family dinner in the residence quarters with his wife, twin daughters, and son-in-law.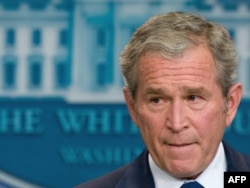 Outgoing President George W. Bush will have lunch with his successor before leaving the nation's capital.
Bush will attend the inauguration and then a luncheon with his successor and various political dignitaries before departing the nation's capital.
The couple will fly to Midland, Texas, to attend a welcome rally, and then fly on to their ranch in Crawford.
When Obama and his wife Michelle and daughters Malia and Sasha enter the White House at around 5:00 local time (2300 GMT), all of their furniture and personal items will be in place.
Defense Secretary Robert Gates will not attend the inauguration because he is the designated successor to Obama in case of a catastrophe. Nearly every member of Congress and Cabinet member will be at the swearing-in event, while Gates will stay at a secret location well away from the Capitol.
It's common practice for one senior U.S. official to sit out major events, like the annual State of the Union speech, to ensure that the U.S. government has clear leadership in the event of disaster or attack.
'New Era Of Responsibility'
A few details of Obama's inaugural speech have leaked out. It is said to be 17 minutes long, and have a theme of "a new era of responsibility."
Obama and his wife spent the day before the inauguration volunteering at community service projects in Washington, in honor of Martin Luther King Day, which commemorates the slain civil rights leader. Obama helped paint part of a center for homeless youth and visited wounded veterans at an army hospital; Michelle Obama helped assemble packages for U.S. troops serving in Iraq and Afghanistan.
Obama told a group of volunteers at a secondary school that he hoped they would continue to give back to their community. He pledged that as president, he would work to increase jobs, expand health care, and grow the economy.
"But I can't do it by myself; Michelle can't do it by herself. Government can only do so much," Obama said. "And if we're just waiting around for someone to do it for us -- if we're waiting around for somebody else to clean up the vacant lot, or waiting for somebody else to get involved in tutoring a child -- if we're waiting for somebody else to do something, it never gets done. We're going to have to take responsibility, all of us, and so this is not just a one day affair."
Even before taking office, Obama is enjoying public approval ratings that most presidents can only dream of. A new CBS News/New York Times poll found that 79 percent of Americans are optimistic about his leadership, the highest such rating for any of the last five incoming presidents.
The optimism appears to span party lines: More than half of the respondents who said they voted for Obama's opponent in the general election, John McCain, said they are optimistic about the country in an Obama administration.
With the oath of office and an eagerly awaited speech that has typically done much to define the early stages of so many American presidencies, it falls to the 47-year-old former state and Congressional legislator from Illinois to try to prove them right.
Bush's Legacy
Key moments from George W. Bush's two terms as U.S. president
Photogallery