Perched on top of an armored vehicle, the exultant U.S. soldier's shouted boasts left no room for doubt as his troop convoy trundled into Kuwait: "We're goin' home, we won. It's over. America, we brought democracy to Iraq. I love you, I love you."
As a snap summary of a highly symbolic moment -- the departure of the last major batch of U.S. combat troops from Iraq more than seven years after the U.S.-led invasion -- it at least had the merit of clarity. As a statement of fact, however, it concealed a multitude of sins, failures, unintended consequences, and doubts about the future.
For as soldiers of the 4th Stryker Brigade, 2nd Infantry Division, poured out of Iraq under cover of darkness early on August 19 -- two weeks ahead of President Barack Obama's August 31deadline -- they left behind a country plagued in some ways by as much uncertainty as when the self-styled "coalition of the willing" invaded to topple Saddam Hussein's regime in March 2003.
Saddam may be long gone but -- contrary to the soldier's emotive claims -- who "won" is far from clear. And in contrast to the impression meant to be conveyed by the departure of U.S. fighting forces, Iraq today is far from secure. Militant insurgents remain ominously active.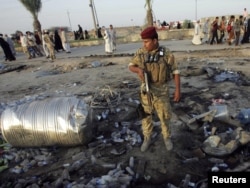 An Iraqi soldier stands guard at the site of a bomb attack in Karbala on July 27.
On 17 August, a suicide bomber killed 61 Iraqi Army recruits in central Baghdad, while five government employees were killed in roadside bombings and other attacks the following day. Iraqi officials say July saw the deaths of more than 500 people, including 396 civilians, making it the deadliest month for more than two years.
The prospects for further violence in a conflict, which --- according to the independent monitoring group, Iraq Body Count -- has already accounted for the deaths of between 97,000 and 106,000 civilians, are all too real.
Expectations Not Met
As for democracy, Iraq has not had a functioning elected government for more than five months, following disagreements about the results of last March's general election, leaving a political vacuum ripe for violent insurgent groups like Al-Qaeda to flourish.
The country's economy, too, remains unstable, while its social cohesion is badly fractured.
According to Pentagon figures, the war in Iraq has cost the lives of at least 4,415 U.S. soldiers -- so the exuberance of the departing U.S. forces was understandable. But whatever they are leaving behind, it is hardly peace and stability.
The outcome of the war is very different from that envisaged in 2003, when President George Bush ordered the invasion, says Paul Rogers of the Department of Peace Studies at Bradford University in England.
"It is so different from what was expected 7 1/2 years ago, when the expectation was that Iraq would rapidly move to a peaceful pro-Western country with a very effective and vibrant free-market economy," Rogers says. "The result instead has been over 100,000 civilians killed and 4 million refugees and a very protracted war, which, at least for the moment, has left a high degree of instability." The continued lack of a government just makes this worse, he adds.
Iraq's, Region's Winners And Losers
That confounding of expectations becomes clear when trying to sort out winners from losers.
Iraqis march in early July, four months after the elections, calling for the formation of a government.
Among Iraqi groups, the Kurds appear to be plain gainers, having established autonomy in the northeast of the country over a region that is relatively stable.
Arguably even bigger winners are the majority Shi'ite community, which has gained a degree of political power from which it was excluded during Saddam's rule, when the Sunni minority held the reins. The Sunni community, by contrast, is widely believed to have lost out in the unfolding political flux of the past seven years.
But most striking -- and dismaying from the perspective of U.S. policymakers -- has been the strategic advantage gained by the United States' longtime adversary, Iran, which has gained from the removal of a regime that it fought in a bloody eight-year war during the 1980s. The theocracy in Tehran has also been able to exploit its shared Shi'ite faith with Iraq's majority to gain an important political foothold.
"Iran has probably gained the most, one would have to say," Rogers argues, "Saudi Arabia probably much less so and there are concerns in the kingdom because of the way in which Iran has gained. It's not that the Shi'as in Iraq are very much beholden to Iran. Theologically, one would say that Shi'a Islam probably has more important sites in Iraq than it does in Iran and there is a belief in a sense that one has to be cautious on the Iranian side about trying to gain too much influence. But probably in broad terms, Iran is the biggest single beneficiary of the changes in Iraq as far as the region is concerned."
Iran's gain may be Israel's loss. In the run-up to the war, the then-Israeli government of Ariel Sharon fervently favored Saddam's removal -- with memories still fresh of Iraqi Scud missile attacks against Tel Aviv in 1991, when a U.S.-led military coalition began operations to expel Iraqi troops occupying Kuwait. Talk in Israel in the immediate aftermath of invasion was of investing in post-Saddam Iraq and even of Israeli tourists flocking to a country from which thousands of Jews had fled in the aftermath of the Jewish state's establishment in 1948.
Instead, Israeli policymakers are now preoccupied by the resultant rise of Iran as a regional adversary and potential threat.
Dependant On U.S. Support
But even amid such domestic and regional power realignments, the depiction of the August 19 troop departure as a final U.S. withdrawal is something of a fiction.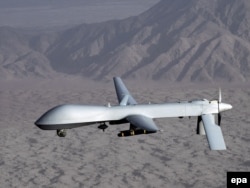 Iraq will continue to look to U.S. support in the air.
While U.S. combat operations will officially terminate at the end of this month, when 6,000 support troops withdraw, another 50,000 U.S. forces will remain until the end of 2011, officially in an "advisory" capacity but with the potential to become more directly involved if the need arises.
In reality, U.S. military input is almost certain to remain tangible, especially given the recent warning from Iraq's top army officer, Lieutenant General Babaker Zebari, that his troops may not be ready for another decade and that the United States is pulling out too soon.
The United States is likely to stay closely involved in Iraq's defense irrespective of its troops' presence, says Hamid Fadhil, professor of political science at the University of Baghdad. He notes that U.S. Embassy in Baghdad is the biggest in the world in terms of size and number of employees.
"But I have to mention that Iraq is still dependent on the U.S. in many ways," Fadhil adds. "For example, there is some ambiguity when it comes to the aspect of external security and about the commitment of the U.S. to defend Iraq from any external attack."
Privatizing Security
One key component of Iraqi security likely to remain in the hands of the United States is air defense, a role Iraq is presently unequipped to adopt since it lacks an air force.
Following the departure of U.S. forces next year, responsibility for training Iraqi police to deal with insurgents is to be taken over by the State Department. The task will be carried out by contractors and is certain to result in a rapid increase in the presence of private security organizations. Already, according to "The New York Times," the State Department is planning to double the number of private security guards to around 7,000 to protect civilians.
Rogers says the U.S. troop drawdown will not end the involvement of external forces but will simply privatize it -- ensuring a large foreign involvement for many years to come.
"I think for the next 18 months, the reality is that there is going to be a large formal American military presence," Rogers says. "You may call them advise-and-assist brigades, but they do have a combat function if need be.
"But what is clearly going to happen is the privatization of foreign-security involvements in Iraq. That's already at a pretty heavy level, with many tens of thousands of security personnel from abroad. That I think, if anything, will at least increase but certainly not diminish. So in a sense, there is a transition over the next 18 months to two years towards at least a partial privatization of foreign security intervention in Iraq. I think that will persist for a long time."
RFE/RL's Radio Free Iraq contributed to this report