An American journalist held for nearly five months in an Iranian prison says she was happy to hear about the release by Iranian officials of French lecturer Clotilde Reiss, RFE/RL's Radio Farda reports.
Journalist Roxana Saberi told Radio Farda that she sympathized with the plight of the 24-year-old Frenchwoman, who was released by the Iranian authorities on May 16. Reiss was arrested in Iran's postelection crackdown last June and accused of spying.
"I'm very glad she is able to go back to France finally to be with her family and friends," Saberi said. "I know what it's like when you live with uncertainty and you're falsely accused of a crime."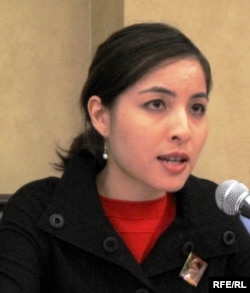 Roxana Saberi
Saberi and Reiss had both been held during their detentions in Tehran's notorious Evin prison.
Saberi, 33, told Radio Farda about her own experience with Iran's legal system, which she describes in a recently published book, "Between Two Worlds."
When first arrested in January 2009, Saberi told Iranian officials that she had engaged in espionage. She said she was forced to make the false confession, which she retracted even before leaving prison in May.
Saberi told Radio Farda about the dilemma she faced.
"I was very scared because nobody knew I was in Evin prison. None of my friends knew; my family didn't know," Saberi said. "And I knew about the history of Evin prison -- that many prisoners had been held there, some for months, some for years, some had never come out. ...
"And at the same time my captors were threatening me, saying that if I did not make the statement that they wanted me to make that I could stay in prison for a long time -- for 10 years, for 20 years, or even get the death penalty. But if I made those statements then they would release me."
Saberi, whose father is an Iranian-American, explained that many political prisoners in Iran have been pressured to make such confessions.
"And I knew about other political prisoners before me who had to make so-called 'confessions' on camera, and I had seen some of those on state-run television in Iran. And I remember those prisoners looked like they were under quite a lot of duress, under a lot of pressure, when they made these statements," Saberi said.
"[And I remember them] apparently confessing to crimes and then afterward many of them [were] released and they [recanted] their statements, saying these were lies they had been forced to make. So I thought this is just the way things work in the Islamic republic."
Reiss, like Saberi, had also confessed her guilt to the authorities. And like Saberi, Reiss also maintains her innocence.