Annual U.S. Report Shines Spotlight On Religious Repression Worldwide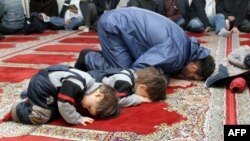 The U.S. State Department has released its annual International Religious Freedom report drawing attention to the repression of religious expression, persecution of believers, and toleration of violence against religious minorities by governments around the world.
The report also notes those countries where officials protect and promote religious freedom.
Iran and Uzbekistan are designated "Countries of Particular Concern," which are defined as "countries that have engaged in or tolerated particularly severe violations of religious freedom," along with Burma, China, North Korea, Sudan, Eritrea, and Saudi Arabia.
Read RFE/RL correspondent Heather Maher's full report
here
.
About This Blog
"Watchdog" is a blog with a singular mission -- to monitor the latest developments concerning human rights, civil society, and press freedom. We'll pay particular attention to reports concerning countries in RFE/RL's broadcast region.
Journalists In Trouble
RFE/RL journalists take risks, face threats, and make sacrifices every day in an effort to gather the news. Our "Journalists In Trouble" page recognizes their courage and conviction, and documents the high price that many have paid simply for doing their jobs. More