WATCH: The Russian and U.S. presidents sign the nuclear arms treaty at Prague Castle.
(Reuters video)
PRAGUE (RFE/RL) -- U.S. President Barack Obama and Russian President Dmitry Medvedev have signed a new arms deal to restrict the number of nuclear weapons each country holds.
Under the deal signed in Prague today, each country is to shrink its stockpile of nuclear warheads to 1,550 over seven years, down from the current limit of 2,200.
The deal will also reduce the number of bombers and missiles, the so-called delivery vehicles, to 700 for each side, and calls for a regime of 18 inspections a year.
Obama hailed the deal as a sign that the two countries, which together hold 90 percent of the world's nuclear weapons, are committed to responsible global leadership.
"Today is an important milestone for nuclear security and nonproliferation, and for U.S.-Russia relations," Obama said. "It fulfills our common objective to negotiate a New Strategic Arms Reduction Treaty. It includes significant reductions in the nuclear weapons that we will deploy. It cuts our delivery vehicles by roughly half. It includes a comprehensive verification regime which allows us to further build trust."
Medvedev said "a historic event has taken place" and that the new treaty is "important for the entire planet."
"We have achieved a document that fully maintains the balance of interests of Russia and the United States," Medvedev said. "The main point is that there are no winners and losers here. This is, as they say, a 'win-win situation.'"
The landmark deal is the much-anticipated successor to the 1991 Strategic Arms Reduction Treaty (START), which expired last December.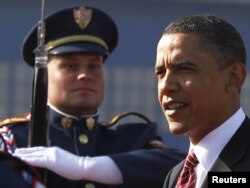 Barack Obama arrives at Prague's Ruzyne Airport
Today's signing at Prague Castle took place almost a year to the day after Obama called for a nuclear-free world in front of huge crowds just outside the castle's gates.
"One year ago this week, I came here to Prague and gave a speech outlining America's comprehensive commitment to stopping the spread of nuclear weapons and seeking the ultimate goal of a world without them," Obama said.
"I said then and I'll repeat now that this is a long-term goal, one that may not even be achieved in my lifetime," he said. "But I believed then, as I do now, that the pursuit of that goal will move us further beyond the Cold War, strengthen the global nonproliferation regime, and make the United States and the world safer and more secure."
Lasting Disagreements
However, while both presidents sounded optimistic about future cooperation, tensions around some points clearly remain. The most prominent is the issue of missile defense.
Medvedev warned that Russia could withdraw from the treaty if the United States increased its missile-defense systems in a way that poses a threat to Russia's strategic nuclear potential.
"We believe -- and our American partners know this, as it is our declared position -- that the agreement can be valid and effective only in the absence of a qualitative and quantitative upgrade in any missile-defense system, which could ultimately pose a threat to Russia's strategic forces," Medvedev said. "That is the point of our statement, which is being made upon the signing of this agreement and which will of course be published."
The statement Medvedev referred to was distributed by the Kremlin today just before the two presidents appeared for their joint press conference. Almost immediately after the Kremlin statement was released, the official White House website described it as "unilateral," saying no such provisions were included in the treaty wording.
The White House website said: "If we had agreed to it, the issue would be put into the treaty text, or issued as a 'joint' statement. In fact, the United States issued its own unilateral statement, indicating that it plans to continue to develop and deploy its missile-defense systems in order to defend itself. Neither the Russian statement nor the U.S. statement is legally binding on the other party."
Obama did not comment directly on the disagreement, but said that he and Medvedev have agreed to expand their discussions on missile defense.
This will include regular exchanges of information about our threat assessments as well as the completion of a joint assessment of emerging ballistic missiles," Obama said. "And as these assessments are completed, I look forward to launching a serious dialogue about Russian-American cooperation on missile defense."
Ratification Drive
Both presidents pledged today to work hard to get ratification for today's treaty from their respective legislatures. Obama said he looks forward to working with the U.S. Senate to achieve ratification of the treaty later this year.
The two presidents also addressed the wider issue of nonproliferation and their shared concern over the Iran nuclear crisis.
Obama said the talks to reach an arms treaty with Russia had yielded closer cooperation toward achieving sanctions against Iran's nuclear ambitions. And he vowed that nations which violate their obligations under the Nuclear Nonproliferation Treaty (NPT) will face international isolation.
"Those nations that follow the rules will find greater security and opportunity. Those nations that refuse to meet their obligations will be isolated and denied the opportunity that comes with international recognition," Obama said. "That includes accountability for those that break the rules; otherwise the [Non-Proliferation Treaty] is just words on a page. That is why the United States and Russia are part of a coalition of nations insisting that the Islamic Republic of Iran face consequences because they have continually failed to meet their obligations."
Medvedev responded that "unfortunately Tehran hasn't responded to a series of constructive compromises that have been offered. We can't shut our eyes to that. That's why I don't rule out that the UN Security Council will have to take up the matter again."
But in Moscow's opinion, Medvedev said, "sanctions by themselves seldom achieve results." And he cautioned that "sanctions should be smart and not produce a humanitarian catastrophe for the Iranian people."
Turning to the global threat of terrorism, Obama said that "a nuclear weapon in the hands of terrorists is a danger to people everywhere." He noted that to help prevent that danger, 47 countries will come together in Washington next week to discuss steps they can take over the next four years to safeguard nuclear materials around the world.
Trust-Building Measure
Analysts say the treaty is more significant for politics than security. Military expert Aleksandr Golts says the deal calls for only minor reductions on both sides, and is far more significant as a trust-building measure.
"It opens the opportunity to cooperate in many other real security issues such as Afghanistan or cooperation on Iran or any other varieties of cooperation that could be very fruitful for both sides," Golts says.
Washington sees the arms deal as a first step toward another, deeper round of nuclear arms cuts that will be far more difficult to achieve. But Golts believes Moscow is interested in further talks because its ageing nuclear arsenal is deteriorating and it will have to make further cuts with or without a new treaty.
Veteran foreign-policy scholar Georgy Mirsky says the new treaty will help change the tone of relations by quieting anti-American propaganda in Moscow.
"It will be a lot more difficult now for all those anti-American people, those who are full of hatred and dislike for America, to teach people that America is to blame for everything," Mirsky says.
But Mirsky says while today's signing will improve the climate of relations for now, the treaty itself will affect neither the balance of power between the two sides, nor, probably, the nature of their relations.